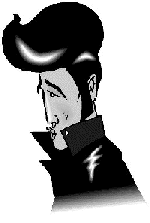 Two of the 20th century's multimedia stars took their final bows within two months of each other in 1977. One's death was a premature tragedy, the other's a triumphal exit. Bing Crosby and Elvis Presley remade the music scene in America in their heyday. Bing mastered the microphone and turned the volume down on popular singing. His eclectic style made him America's most popular singer from the early 1930s into the 1950s. His hit records included many musical genres, including jazz, country, Hawaiian, Irish, religious and light opera.
By the time Elvis burst on the scene in 1956 Bing's interest in sustaining a full-time career had ended and he was slipping into semi-retirement. Elvis introduced Americans to the beat of rock and roll. Elvis transformed musical performance into a kinesthetic as well as an audio experience. He didn't croon into a microphone, he had sex with it. The gyrating hips caused concern among many members of Bing's generation, although Bing seemed merely amused.
Contrary to an often-repeated quote attributed to Bing about Elvis, Bing expressed respect for Elvis as a musician in many interviews, including a 1957 interview with journalist Pete Martin.
He's going to be a very big star in a lot of fields, other than the one in rock and roll. He's got an appealing personality. He's a good looking kid. He sings in tune and he's got good rhythm. He just hasn't developed enough voice yet to handle a ballad, but that will come. If he keeps yelling and screaming he'll develop enough strength.... He's got a Peck's bad boy look in him -- a sly smile. Women like that. (Listen to the interview in mp3 audio, 4 minutes)
The preceding statement contrasts sharply with an widely-quoted account presented in Shepherd and Slatzer's sensational 1981 biography of Bing, The Hollow Man. According to the authors:
Vern Taylor, who accompanied Portland, Oregon, radio celebrity and Crosby fan John Salisbury to Hillsborough for an interview with Bing in the fall of 1975 describes how Salisbury tossed names at Bing for comment as he taped the interview for a broadcast. Bing spoke glowingly of Sinatra, Louis Armstrong, Connie Boswell and the like, but when Salisbury mentioned Elvis Presley, Taylor said that Bing's blue eyes suddenly went cold and he said, "He [Presley] never contributed a damn thing to music!"

Taylor says that Salisbury was startled by Bing's pronouncement and that he was momentarily non-plussed. "Elvis?" Salisbury said. "Elvis Presley?"

"No," Bing said. "He was successful -- hard to account for. Oh, he sings well enough, I suppose." (page 221-222)
Fortunately the interview was recorded and the recording reveals the extent to which Shepherd and Slatzer's book exaggerated Bing's response. Click on the link to listen to the interview, which actually took place in 1972 or 73, in which Bing gives his views on Elvis and the Beatles.
Although Bing and Elvis never met, spoke or corresponded, Bing did attend an Elvis concert in Las Vegas in 1956. Bing exchanged several letters with Elvis' manager, Col. Tom Parker, from 1956 through 1965. The correspondence was initiated by Parker and included an Elvis recording of Bing's biggest hit, White Christmas. Bing responded "Sounds quite beautiful and I'm sure it's a possible hit." (BING #138 page 26). Bing's musical influence is apparent on Presley's ballads, although Elvis favored one of Bing's imitators, Dean Martin.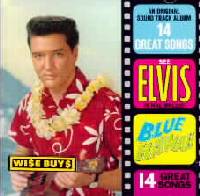 Elvis recorded many songs that were earlier hits for Bing and they shared some hits, the most notable was Robin and Rainger's "Blue Hawaii" from the 1937 Crosby movie "Waikiki Wedding." Elvis reprised the tune quite successfully in his own movie that took the name of the song. Although Bing called Elvis' version of White Christmas "beautiful," apparently Irving Berlin, the song's author, thought otherwise and tried to stop it from being played on radio.
Elvis' most successful song about Christmas turned out to be "Blue Christmas," which reflects the mood if not the pace of "White Christmas."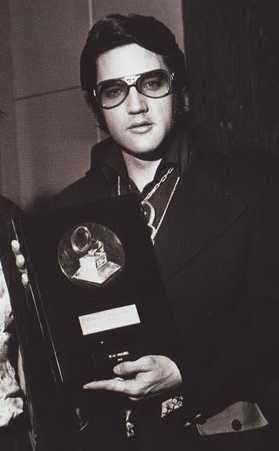 The only major music industry award voted to Elvis during his lifetime was then called the Bing Crosby lifetime achievement award from the National Academy of Recording Arts and Sciences in 1971 (photo right). The five previous recipients were Crosby in 1962 (for whom the award was named from 1963-72), Frank Sinatra, Duke Ellington, Ella Fitzgerald and Irving Berlin.
Elvis aspired to be the multimedia king of his generation, as Bing had been to his. Elvis did achieve financial success with his motion pictures, but without the critical acclaim that Bing attained. A typical title of an Elvis movie was "Girl Happy," which also featured Bing's son, Gary, in a supporting role. Tired of the monotonous roles he had been offered Elvis eventually abandoned his movie career in his 30s -- an age at which Bing's greatest movie successes were still to come.
Bing and Elvis both had their bouts with drugs. Bing's career and first marriage were nearly KO'd by alcohol in the early 1930s. He did a remarkable turnaround when his first wife gave him a "me or the bottle" ultimatum. And at the request of his second wife, Kathryn, Bing also gave up his 30-year cigarette habit with, seemingly, little effort.
Elvis' use of drugs began with his stint in the military. By the mid-1970s he was overweight, chronically constipated, abusing numerous drugs and psychotic. Shortly before his death he called President Jimmy Carter to complain about being followed by sinister forces and asking for a pardon for a friend. President Carter later reported that Elvis was "totally stoned and didn't know what he was saying. His sentences were almost incoherent." He stopped taking Elvis' calls.
Elvis died 16 August 1977 at his mansion in Memphis from heart failure while on the toilet. He was 42. Later that day Bing told NBC news:
"Oh, I'm shocked, it's a sad thing to hear. A young man like Presley, just a young fella, so vibrant, so influential all through the years of American popular music and now you tell me he's gone. It's hard to believe. It'll be a great loss".
The deaths of Bing and Elvis within 2 months of each other sparked intense media attention and a resurgence of interest in both careers. Interest in Elvis proved more enduring, no doubt in large part because his fans were still young and his style of music still reigned.
Elvis wanted to be his generation's Bing. ||| Bing and Elvis -- A Comparison |||
Bing from an Elvis Perspective
---