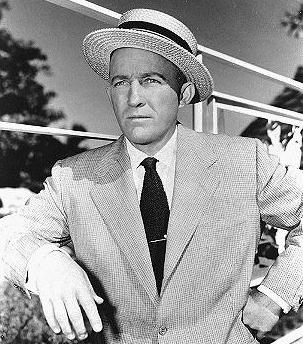 1954:
END OF THE
CROSBY ERA
Written by Steven Lewis and first published July 1991 in "Bingang," the journal of the Club Crosby.
The year 1931 is well-known to Crosby fans as the time Bing burst into the spotlight of American popular culture. It was then that CBS signed Bing to his first nationwide prime-time radio show. Shortly thereafter Bing began a record-breaking streak of 29 consecutive weeks at New York's Paramount Theatres. Early in 1932 Paramount Pictures signed Bing to star in a series of feature-length films beginning with "The Big Broadcast."
Crosby continued to earn his place at the top of the entertainment world for nearly a quarter century. But changes in American popular culture coupled with Crosby's advancing age proved that Bing, too, was a mortal pop idol.
More than any other year, 1954 marks the end of Crosby's reign over the entertainment world. This was to be Crosby's last year among the ten leading box office attractions in America. Crosby's first appearance on this list was in 1934. For 12 consecutive years -- 1943 through 1954 -- Crosby made this elite list. For 5 consecutive years -- 1944 through 1948 -- Bing topped the list. His final appearance in the Top Ten reflected the success of the 1954 movies "White Christmas" (released in October) and "Country Girl" (released in December).
Crosby's performance in Country Girl won him the respect of even the toughest movie critics. Hitherto, Crosby had been thought of as a light actor who played the same character -- himself -- in each of his movies. Now it was apparent he could do more.
Bing's prime-time radio variety show also came to an end in 1954, a victim of the shift of advertising dollars from radio to television. His last original show was broadcast by CBS on Sunday night, May 30, 1954, with sons Gary and Lindsay as his guests.
Gary took over the show for his dad for the summer, but the show never returned in the fall. Instead, Bing didn't return to radio until the evening of November 22 in a 15-minute daily broadcast for CBS. Gone were the guests, the studio audience and the orchestra. Ken Carpenter was still there, but Bing mostly played his recordings and talked of baseball or of his other interests.
Bing hosted his first television show in 1954 -- a half-hour special with guest Jack Benny and sponsored by General Electric. No doubt Bing could have moved to television with his weekly variety show, but Crosby never ventured seriously into television broadcasting until the 1964-65 season, when he starred in a weekly half-hour situation comedy and became a semi-regular host of a variety show, The Hollywood Palace, for ABC TV. Perhaps part of Bing's reluctance to join television on a weekly basis was related to the greater demands of the medium -- makeup, toupees, hot lights and scripts to be memorized.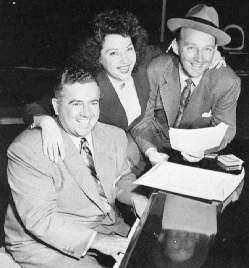 The end of Bing's radio variety show also marked the end of a 17-year association with John Scott Trotter (1908-75) as his musical conductor and arranger. Trotter (shown in the photo with Bing and Ethel Merman) moved to television where he composed and conducted for the "George Gobel Show" until 1960. Bing's last commercial recordings with Trotter were made in the spring when they cut "Lisa" and "In the Good Old Summertime."
Bing's most successful single of the year, "Count Your Blessings Instead of Sheep," was not recorded with Trotter, but with the Joseph Lilly Orchestra for the movie "White Christmas." The entire soundtrack for "White Christmas" was sold as an LP for $4.85. Missing from the soundtrack, though, were Rosemary Clooney and Vera Ellen, who were under contract to other record companies. Peggy Lee and Trudy Stevens sang in their place.
Bing recorded his musical autobiography in 1954. It was released in the Fall as a 5-record set that sold for $27.50. Bing introduced each of the 89 songs, many of which he recorded anew with the Buddy Cole Trio. Curiously absent from the set was any mention of his 1932 recording that became the anthem of the Great Depression, Brother, Can You Spare a Dime.
Bing's singing voice was becoming increasingly unpredictable as he moved along the sixth decade of his life. The smooth rolling baritone was as good as ever early in 1954. Some of his best vocals in 1954 were recorded as part of his General Electric radio show and not released commercially.
"Answer Me, My Love" is a song associated with Nat King Cole. Crosby's interpretation of this song on his February 24 radio broadcast makes Cole's hit version seem uninspired.
"Wanted" was a Perry Como hit when Bing sang it on his March 21 radio show. Trotter's arrangement and Bing's sensitive vocal seem much more in tune with the lyrics of the song than Como's curiously up-tempo version.
By the fall Bing's singing voice had aged noticeably. He wrote to Trotter on Sept. 9:
"John, I don't sing anywhere as good as I used to, and I feel sincerely that it's getting worse. I don't see any purpose in trying to stretch something out that was once acceptable and that now is merely adequate, if that. I don't know what the reason for this condition is, unless it's apathy. I just don't have the interest in singing. I am not keen about it any more. Songs all sound alike to me, and some of them so shoddy and trivial. I don't mean I didn't sing some cheap songs in the old days, but I had such a tremendous interest in singing and was so wrapped up in the work that it didn't matter. I don't know how to diagnose the condition, but it seems to me that possibly this apathy, this lack of desire, when I have to go to a recording session, transmits itself into nervous exhaustion and fatigue."
As Bing began to downsize his career, Frank Sinatra once again emerged as a significant force in the entertainment industry. Sinatra had almost disappeared in the early 1950s until his appearance in the movie "From Here to Eternity" won him an Oscar in March of '54.
Renewed success in the movies led to renewed recording success for Sinatra as well. When the Swooner turned Swinger for Capitol Records he managed to do in the '50s what he could not do in the '40s -- surpass Bing in record sales and earn the title "Chairman of the Board."
Elvis Presley, not Bing, turned out to be the Swinging Sinatra's major rival. The changing beat of popular music was heralded in 1954 by the success of "Rock Around the Clock" recorded for Decca Records on April 12 by Bill Haley and His Comets. Record sales were becoming increasingly dominated by teenagers while their parents watched television. The result was diminishing record sales and fewer hits for Crosby and his imitators.
Bing continued to be a popular entertainer throughout the remainder of his life, though he was no longer a force driving American culture. But for nearly a quarter of a century he excelled in more areas of the entertainment industry than anyone before or since.

---