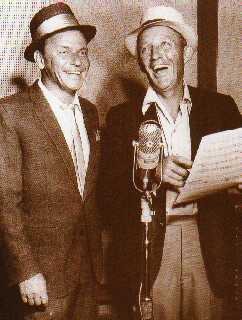 The Swooner
vs
The Crooner
---
Written 1983 by Steven Lewis for a multimedia festival celebrating the careers of Frank Sinatra and Bing Crosby.
Reprinted in the June 1989 issue of "Bingang," the journal of the Club Crosby.
---
William S. Paley was walking the deck of the S.S. Europa on his way to Europe when he passed a teenage boy playing a phonograph record. The voice from the phonograph drew Paley nearer. He leaned over the record and read: I SURRENDER DEAR. CHORUS BY BING CROSBY. Wasting no time, Paley, the head of CBS radio, cabled his office; SIGN UP SINGER NAMED BING CROSBY.
When Paley returned from Europe, he found that Crosby had not been signed. His aides explained that Crosby had a history of unreliability. Indeed, Crosby had been a heavy partier, and even had done time in jail for drunk driving. But Paley was furious. He wanted that singer!
Crosby brought his lawyer to New York and negotiated a radio contract with CBS calling for a minimum $1,500 a week -- an outrageous price for 1931. Within a matter of weeks, Crosby was the hottest singing sensation on radio.
Crosby was a natural for the radio. He championed a new style of popular singing that made the microphone an indispensable partner. The critics called it crooning. The style was easygoing and intimate, unlike the dominant style of the '20s that emphasized volume and masculinity.
Throughout the '30s and '40s Crosby's influence on popular singing was enormous. Most male singers who emerged during the period -- Perry Como, Dick Haymes, Dean Martin, Nat King Cole -- borrowed heavily from Crosby. The most famous imitator of all, however, was a skinny kid from Hoboken, New Jersey -- Frank Sinatra.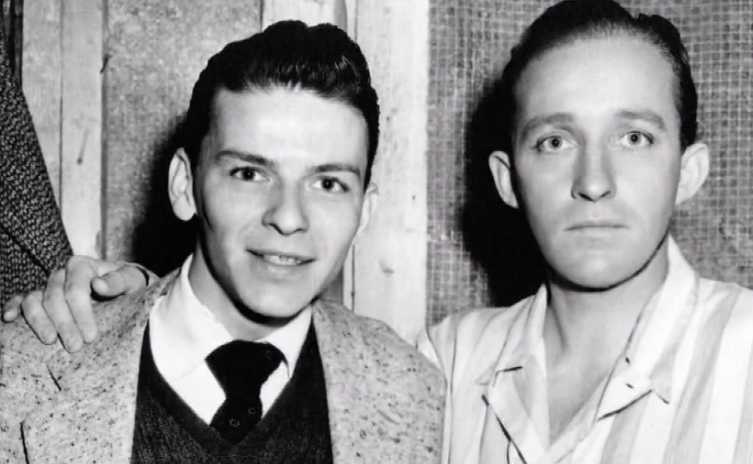 Sinatra grew up with a picture of Crosby in his room, and in 1935 met his idol briefly backstage at a Newark club. They would not meet again for almost a decade, when Sinatra would be contending for Crosby's throne.
Sinatra decided early not merely to imitate Crosby, but to develop his own style. In a 1965 article, Sinatra explained: "When I started singing in the mid-1930s everybody was trying to copy the Crosby style -- the casual kind of raspy sound in the throat. Bing was on top, and a bunch of us ... were trying to break in. It occurred to me that maybe the world didn't need another Crosby. I decided to experiment a little and come up with something different."
Sinatra's first big break came in 1939, when he was hired to sing with the Harry James orchestra. The following year he joined the Tommy Dorsey band. Dorsey's trombone playing inspired Sinatra to adopt an instrumental approach to singing. By the time he left Dorsey in September 1942 to start a solo career, Sinatra had developed a style totally unique. The public -- particularly young females -- loved it.
A series of appearances at New York's Paramount Theatre in December 1942 established Sinatra as a new show business phenomenon. Young girls in the audience screamed and swooned when Sinatra sang, almost drowning out the Benny Goodman band.
The girls never swooned and screamed when Crosby played the Paramount, so why were they swooning over Sinatra? Frank's singing, of course, must have been a factor. But there was also his apparent frailty, innocence and vulnerability that evoked the passions of the young females.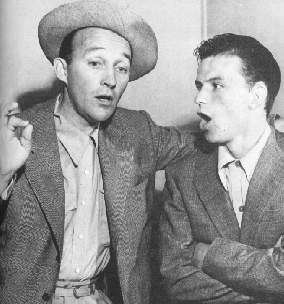 Some older listeners, however, rejected Sinatra's gentle sighing, moaning and mooing as not real singing. Crosby took Sinatra more seriously, complaining: "Frank Sinatra is the kind of singer who comes along once in a lifetime -- but why did it have to be my lifetime!"
Despite Crosby's words, he was by no means down for the count of 10. In fact, the period 1943-48 was the most successful of his career. He sold more records during this time than any other recording artist, he was the number one box office attraction each year and won an Oscar for best actor for his role as Father O'Malley in the 1944 movie, Going My Way. Bob Hope commented while opening a vein, "Any man with all those kids who could still play a priest deserves an Oscar."
So the stage was set for the battle of giants -- an American institution versus the pied piper of the bobby soxers. It would be the Swooner vs. the Crooner, and the radio would be the battlefield.
Crosby launched the attack saying, "Frankie weighed seven pounds at birth and has been losing ever since. When he went to school he didn't dare turn sideways for fear the teacher would mark him absent." Asked if Frank could be one of his boys, Bing replied, "Naw! Mine are all living."
Sinatra counterattacked by reminding folks of Crosby's receding hairline, his colorblindness and gaudy clothes, and his spread around the middle.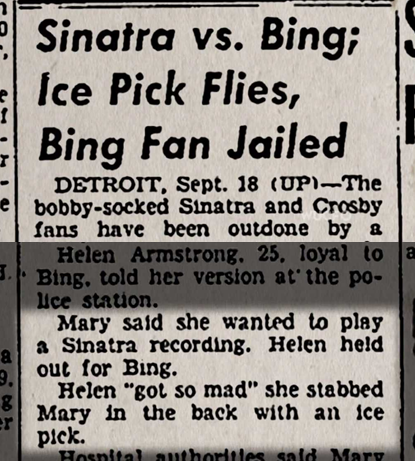 The phony feud climaxed when an angry female fan of Bing's plunged an ice pick into a loyal Sinatra worshipper. After that, the two stars began to cool it. Nevertheless, thanks to a handful of recordings made during the mid '40s, mostly for the Armed Forces Radio Services, we still can enjoy this classic radio feud in all its pomp and silliness.
The years that followed the feud saw Sinatra's career take a sudden nosedive beginning about 1947. In the early '50s he had neither a recording nor a movie contract. In 1953 he began one of the most remarkable comebacks in show business history.
Meanwhile, Crosby's career continued steady throughout the '40s and early '50s, and then began a decline brought on by his age and the emergence of rock 'n' roll.
Crosby and Sinatra were similar in that both achieved success as singers even though they were not formally trained as singers. Neither could read music. Each became successful movie stars and radio personalities as well. But the differences are more interesting.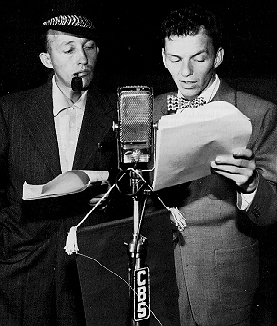 Crosby was casual and unpretentious -- almost self-deprecating. Sinatra was intense, rowdy, with little humility.
And though Crosby may have sold more records during his lifetime, Sinatra became the better singer. Sinatra would have settled for nothing less. He would work until he was the best. He had to be the best. Crosby, on the other hand, preferred spending his time golfing or fishing instead of rehearsing. He practiced as little as possible and became known as "one-take Crosby."
There are many who loved Sinatra's singing but who were put off by his numerous brawls, divorces and questionable political, business and social liaisons. Nevertheless, Sinatra's way with a song probably reflects the extremes of his life. As Sinatra admitted in a 1963 interview: "Being an 18-carat manic depressive, and having lived a life of violent emotional contradictions I have an overacute capacity for sadness as well as elations .... Whatever else has been said about me personally is unimportant. When I sing, I believe, I'm honest ...."
---
Highlights of the Sinatra-Crosby World War II Radio Feud:

AFRS Command Performance #104 (2-20-44) with Crosby, Sinatra, Dinah Shore

AFRS Command Performance #122 (6-3-44) with Judy Garland, Bob Hope, Sinatra and Crosby.

AFRS Command Performance #123 (6-3-44) with Crosby, Sinatra, Connie Haines, Bob Hope, Jerry Colonna.
AFRS GI Journal #105 (7-31-45) with Crosby, Sinatra, Claudette Colbert, Mel Blanc.

Kraft Music Hall (11-16-44) -- Frank is Bing's guest.

Frank Sinatra in Person (11-20-44) -- Bing is Frank's guest.

AFRS Command Performance #162 "Dick Tracy in B-Flat" (2-15-45) with Crosby, Sinatra, Hope, Garland, Shore, Durante, Andrews Sisters and Jerry Colonna.

AFRS Command Performance #165 (3-8-45) with Sinatra, Elizabeth Taylor, Margaret O'Brien, Roddy McDowell and Bing Crosby's 4 boys.

Frank Sinatra Show (5-2-45) -- Bing is Frank's guest.

AFRS Command Performance Victory Extra (8-15-45) -- Crosby and Sinatra duet on "You're the Top."
---
More Crosby versus Sinatra ||| Bing's Letter to Sinatra 1943
Sinatra-Crosby Compilations ||| JFK jilts Sinatra for Crosby
Sinatra in Kansas City ||| Sinatra's Last Days ||| Bing's Home Page