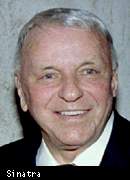 Frank Sinatra died 14 May 1998 of a heart attack.

---
Sinatra Family Plans
Funeral Fit for a King
by Pete Trujillo (April 1998)

Frank Sinatra's farewell will contrast sharply with the exit given to his boyhood idol, Bing Crosby. Crosby's will specified a small, private funeral. Plans are in the works to give Sinatra the most spectacular funeral sendoff of any showbiz legend.

Sinatra's wife Barbara, 72, and his three grown kids have hammered out a mind-boggling three-phase memorial service even more dramatic than President Kennedy's funeral. Plans are in place to dim the lights on the glittering Las Vegas strip where he often performed. The Empire State Building will be bathed in a sea of blue lights, and CNN will broadcast his rites live around the globe.

In the first months of 1998, Sinatra was rushed to the hospital twice. He's been plagued by vomiting and has had trouble breathing, say sources. Insiders say the ailing showman also suffers horrifying panic attacks, dizzy spells and Alzheimer's-like memory lapses. The sources say Sinatra's children -- Nancy, 57, Tina, 49 and Frank Jr. 54 -- finally realized their famed father could go at any time, so they've made plans for a private wake-burial followed by a massive public tribute.

"When Frank passes away, the family will begin with an open-casket wake in the massive oak sitting room where Frank and Barbara entertained guests during the past 22 years of the marriage," says the insider. Mourners invited to the wake will all be longtime buddies of the singer, including Jerry Vale, George Schlatter, Don Rickles, Tom Dreeson, Steve Lawrence and Eydie Gorme. Joining Frank's current wife will be ex-spouses Mia Farrow and Nancy Sr. Sinatra's other ex-wife, Ava Gardner, died in 1990.

The day after the wake the family and friends will fly to Palm Springs, where Frank will be buried next to his Mom, Dolly, and dad, Anthony, in the Desert Memorial Park cemetery.

Days later there'll be a massive public tribute based in a large L.A. auditorium that will be televised by CNN. A pal of Frank said the he joked to his kids in 1996 that he expected a big blowout when he died. He told them: "I want fireworks lighting the sky, all the former presidents in attendance and I want Luciano Pavarotti singing Ave Maria."
---
Bladder Cancer Plagues Sinatra
(February 1998) Frank Sinatra nearly died during his early February hospital crisis -- but despite a dramatic struggle, doctors were able to buy the fast-fading star only a little more time.
The feisty singer -- passing blood clots from his cancer-riddled bladder -- hadn't eaten in days when he was taken to Cedars-Sinai Medical Center where a blood transfusion rescued him from death's door.
"No one had expected Frank to come out of the hospital alive," a source close to the family told The Enquirer.
Although the tough-as-nails performer temporarily beat the odds, his loved ones agonized over a heartbreaking secret.
"The family had been warned that the bleeding would reoccur," divulged the close source. "The blood loss was slow but it would be only a matter of time before Frank had to go back into the hospital for another transfusion."
His wife and children also knew Frank would soon face an awful dilemma.
"At some point the family would have to decide when enough was enough," said the close source. "The time would come when Barbara, Nancy, Tina and Frank Jr. would have to tell the doctors, 'It's over -- let him pass away quietly and peacefully.'"
The life-and-death drama began late at night on Monday, February 9. Ol' Blue Eyes was in agony from passing the blood clots that had broken free from the lining of his bladder. He was ghostly thin and unrecognizable -- nourished only by intravenous solution dripping into his frail body.
One minute the king of show business was angry and the next befuddled and unable to recognize family members. One relative silently mulled over words that might be appropriate for the great entertainer's obituary. Others prayed.
Finally his wife Barbara got a call she'd been waiting for. Room 8121 had been booked for Sinatra on the celebrity floor at Los Angeles' Cedars-Sinai Medical Center. An ambulance would be arriving at the Beverly Hills mansion at 8:30 a.m.
When Sinatra was admitted to the hospital on February 10, his spokeswoman Susan Reynolds said only that he was "undergoing testing." But it was his second hospitalization in 18 days, and her calm words hid from the world the nail-biting drama that gripped the Sinatra house most of the previous day.
Soon after his hospital arrival, Sinatra received a blood transfusion that gave him new strength -- and for the first time an awareness of where he was. "He started getting grouchy and cranky and wanting to go home," revealed the close source. "He was overheard yelling at one nurse, and other came out of his room saying, 'Well, at least he still has his lungs.'"
Sinatra was finally allowed to leave the hospital February 12, but the bottom line was that doctors weren't able to do much more for Frank than stabilize his condition. He was much too weak for any surgery or aggressive treatment. He went home, but with another crisis just waiting to happen.
---
Sinatra's Last Birthday
(December 1997) Frank Sinatra's wife, Barbara, and his daughters, Nancy and Tina, are planning a quiet birthday party for the ailing crooner in the den of his Beverly Hills home Dec. 12. The guest list includes Frank's first wife, Nancy, his son Frank Jr., Don Rickles, Steve Lawrence, Eydie Gorme and Gregory Peck.
Sinatra has been largely confined to bed since he suffered a second heart attack last January. He has been diagnosed with bladder tumors, kidney failure and dementia. Frank was so out of his mind in June that his wife cancelled a big Father's Day bash. Sinatra receives round-the-clock care from nurses who bathe and shave him.
"Still, Frank has lucid moments," say friends. "He loves listening to music -- his own tunes as well as favorites by Tony Bennett and Ella Fitzgerald. He also loves to eat."
His ex-wife Nancy sends over some of his favorite dishes with their daughters. Pals say that Sinatra especially loves her pasta with beans and escarole.
---
Sinatra's Wife and Kids
Battle Over His Millions
by David Wright, October 1997
As an ailing Frank Sinatra approaches his final days, his children are secretly planning a no-holds-barred battle with his wife Barbara over his estimated $200 million-plus estate -- because they fear much of it will end up outside the family.
Daughters Nancy and Tina and son Frank Jr. believe their stepmother Barbara is getting more than her fair share of Frank's fortune.
And they're miffed that after the death of Barbara, Frank's fourth wife, her chunk of the estate will go to her son Robert Marx, age 46 -- who's not even a Sinatra.
So now they're preparing to go to court to challenge Barbara's half of the estate as soon as Ol' Blue Eyes dies.
The only bright spot in the simmering feud is that 81-year-old Sinatra -- now confined to bed or a wheelchair at his Beverly Hills home -- is unaware of the pending fight. "He's in sad shape -- completely out of it most of the time," said an insider.
The coming battle over Sinatra's will came to light just as the prestigious Wall Street Journal blew the lid off his jealously guarded financial empire.
The Sept. 26 Journal article detailed a massive conglomerate made up of real estate holdings, recording royalties, a beer distributing company, a priceless art collection, music publishing companies and deals licensing the Sinatra name and image on everything from pasta sauce and neckties to champagne and cigars.
When a deal was made to put details from Sinatra's own paintings on a limited edition of Korbel champagne, Tina reportedly complained that the artwork should have been on a higher-priced bubbly.
Tina said "she wouldn't touch Korbel herself, noting that Barbara likes it," the Journal revealed.
Barbara has told friends, "Why should I have any loyalty to Frank's ungrateful kids? If they want a fight, they're going to get it."
---
Sinatra's Fight for Life
by Steve Tinney and Beverly Williston, August 1997
Frail and feeble Frank Sinatra spends his tragic last days mostly flat on his back, alone, sans his toupe in a bedroom at his $5 million Malibu beach-front home.
Family members tell Star Magazine that Sinatra, 81, sleeps as much as 16 hours a day, lying on soft moleskin coverings that have been placed on top of snowy-white, Italian-made Pratesi sheets that cost an astonishing $2,500 apiece.
He wears white cotton socks because his blood circulation is so poor that he's always complaining of being cold. He has two pairs of pajamas, blue and white. Sinatra is most comfortable when he is sleeping with his rail-thin legs elevated.
On either side of Frank's king-size bed are small wooden tables laden with prescription heart medications, painkillers, aspirin and numerous other drugs, as well as boxes of tissues.
A pal says that Frank will awaken crying, "Mom, is that you? Mom, where are you? It's me, Frankie."
When Frank is begging his dead mom to answer him, his wife Barbara will reach out, hold his hand and say, "Dolly's probably playing craps or bingo right now, honey. She'll speak to you later."
Sinatra was Dolly's only child and they were devoted to each other. She made him check in with her over the years, usually by telephone every day, no matter where he was performing in the world. She died in a plane crash in 1977 en route to Frank's opening show in Las Vegas. Frank's father died in 1969.
Sinatra is fading fast due to multiple heart attacks, kidney failure, bladder cancer and senile dementia. Insiders say he is largely spoon-fed his meals by Barbara and a team of nurses. Pals say he eats only small portions.
Insiders claim no heroic measures will be taken should Frank's heart stop beating or if he stops breathing. These are Frank's orders. Frank told his family last January during an emotional visit to his bedroom that "I know I'm dying, and I want to die with dignity."
Others report that the terminally ill Sinatra has received the last rites from the Catholic Church at least twice over the past eight months
Tony Danza, Angie Dickinson, Robert Wagner, Jill St. John, Jerry Vale and Gregory Peck have all stopped by to see Frank, but more times than not he doesn't recognize any of his famous visitors. Sometimes he doesn't even recognize Barbara or his children.
When Sinatra dies, friends say he's to be buried in the desert community of Palm Springs in a plot next to his mother's grave.
---
Sinatra: The Final Curtain
by Pete Truillo, June 1997
Tragic showbiz legend Frank Sinatra is slipping in and out of a foggy, comalike state that has loved ones fearing Ol' Blue eyes will soon be taking his final bow, sources reveal.
"Frank has only weeks to live, according to his family," says a friend. "They realize he's in his final days."
The 81-year-old singer, who was hospitalized for a heart attack last year, is getting round-the-clock care from nurses. But he has become dangerously thin, frequently falls into a mental daze and babbles when he speaks, says the source.
"The past few months, Frank's lost 15 pounds off his already weak frame," says the friend. "He's suffering bouts of deep depression, dangerous high blood pressure, vomiting and dramatic lapses of memory. He has stared at his daughters blankly and called them by his wife's name."
Frank was so out of it on June 15 that Barbara, his wife off 21 years, had to cancel a big Father's Day bash at the Beverly Hills home. "She had to withdraw invitations to pals Edie Gorme, Steve Lawrence, Don Rickles and George Schlatter," says the friend.
Frank's daughter, Tina, rushed to her dad's home and found him in a deep, comalike sleep. "Tina tearfully clutched Frank's limp hand, kissed it, and said a quiet prayer," says the friend. "Sadly, Frank remained barely conscious."
Says a friend, "They all dread the final call, but they know it will come very soon."
---
LOS ANGELES (Jan. 17, 1997) - Entertainer Frank Sinatra, who has undergone treatment for eight days after suffering a heart attack, was discharged from the hospital Friday and is back home, his publicist said.
Doctors allowed the 81-year-singer and Oscar-winning movie actor to return home and have determined that his prognosis is ''good,'' Susan Reynolds said.
She declined to give any further details about Sinatra's eight-day stay at Cedars-Sinai Medical Center.
Sinatra suffers heart attack
By Steve James
LOS ANGELES (Jan. 9, 1997) - Frank Sinatra suffered a heart attack and was rushed to the hospital Thursday -- the third time in two months the entertainer known to his fans as ``Old Blue Eyes'' has been admitted to the medical center.
``He appears to have had an uncomplicated heart attack and is undergoing tests, observation and treatment,'' Sinatra's doctor Rex Kennamer said in a statement.
``His prognosis is good,'' the physician said of the legendary 81-year-old singer and Oscar-winning movie actor.
Charlie Lahaie, a spokeswoman for the Cedars-Sinai Medical Center, said Sinatra was brought in by paramedics, accompanied by his wife, Barbara. She said Sinatra was in a regular room at the hospital and not in the intensive care unit.
The entertainer had been released only 48 hours earlier from the same Beverly Hills facility after spending Monday night there for an undisclosed reason.
His publicist, Susan Reynolds, declined at the time to say why Sinatra was in the hospital and refused to say Thursday whether it may have been connected to his apparent heart attack.
He also spent eight days in Cedars-Sinai in November after being admitted for a pinched nerve and later developing pneumonia.
In an interview last month his daughter Nancy Sinatra said that when asked what he wanted for Christmas the singer replied, ``another Christmas.''
In recent years, he has suffered various health problems.
In November 1986, Sinatra underwent an emergency operation to remove a foot-long piece of his large intestine. In March 1994, he collapsed on stage from heat exhaustion in Richmond, Va., midway through ``My Way'' and was in the hospital briefly.
And in November 1995, when musicians spanning a half century from Tony Bennett to Bob Dylan and Bruce Springsteen joined together to wish him a happy 80th birthday, Sinatra appeared disoriented and off-key when singing his signature song ``New York, New York.''
Backstage, he wisecracked with reporters, but wife Barbara took him firmly by the hand to lead him out the room as his conversation rambled.
Since he took the microphone as a skinny 20-year-old at the Rustic Cabin roadhouse in Englewood, N.J., in August 1937, Sinatra has re-written the history of popular music.
He cut his first record -- ``From the Bottom of My Heart'' and ``Melancholy Mood'' -- in 1939 with the Harry James Orchestra.
Since then he had such hits as ``Witchcraft,'' ``I Get a Kick out of You,'' ``The Lady is a Tramp,'' ``Chicago,'' ``It Was a Very Good Year,'' ``Strangers in the Night'' and two songs he has made his own -- ``My Way'' and ``New York, New York.''
In addition to a recording career, which stretched from the Big Band years when he was an idol of teen-age ``bobby-soxers,'' to recent duets with the likes of Bono and Elton John, Sinatra has made some 50 movies ranging from the dramatic -- ``The Man with the Golden Arm'' (1956) and ``The Manchurian Candidate'' (1962) -- to musicals such as ``Guys and Dolls'' (1956), ``High Society'' (1956) and ``Pal Joey'' (1957).
He won the 1953 Oscar for best supporting actor in ``From Here to Eternity'' and was nominated for best actor playing a drug addict in ``The Man with the Golden Arm.''
Sinatra, known in the business as ``The Chairman of the Board,'' also was famous for the parties he threw with his ``Rat Pack,'' a group of friends including Dean Martin and Sammy Davis Jr. He was friends with President Kennedy and Kennedy's actor brother-in-law, Peter Lawford.
Sinatra married his childhood sweetheart, the former Nancy Barbato, and they had three children, Nancy, Frank and Tina, before their marriage broke up in 1951.
His stormy second marriage -- to actress Ava Gardner -- lasted less than six years and in 1966, when he was 50, he married actress Mia Farrow, then 21. They separated the following year and were divorced in 1968.
The singer's fourth wife, Barbara, is a former model and dancer who was married to Zeppo Marx, of the Marx Brothers.
---
Frank Sinatra's declining health
by David Duffy, John South and Tony Brenna Dec. 1996

War broke out when Barbara Sinatra took her 80-year-old husband, Frank, home after eight days in a Los Angeles hospital, where he had been fighting for his life after suffering a heart atttack, pneumonia, difficulty breathing and other health problems.

Sinatra's daughters Nancy and Tina and his son Frank Jr. ganged up on Barbara after their dad got home -- accusing her of putting his life at risk.

"He was raging at me, demanding to be released," Barbara told a friend. "I feared he was going to have another heart attack and knew we couldn't keep him in the hospital any longer."

During his hospital stay Sinatra thought he was so close to dying that he begged Barbara: "Pull the plug!" During his stay he was so mentally confused that he once asked "Where am I?"

Sinatra's brain is ravaged by creeping senility, and his failing heart threatens to stop at any time. His days at home are a nightmare of bewilderment.

He spends most of his time sleeping. Whatever time he gets up, he eats a bizarre breakfast of pasta and buttermilk pancakes. Then he shuffles around in pajamas, sometimes stopping to stare blankly at the TV or play his old records. But Sinatra often doesn't know he's the singer, said an insider.

"Once he was listening to one of his most popular records, and he asked Barbara, 'Who's that, honey? I like him.' Barbara could only reply, 'Yes, he's good.'"

Said a source, "Sinatra has difficulty recognizing his own children most of the time. When Nancy recently stopped by to visit, he called out 'Come in. Have you seen Nancy lately?'"

During his hospital stay, the star ordered a media blackout on information about his condition -- and ironically the blackout has been widened to include Sinatra himself. He's much worse off, both physically and mentally than he's been told.

Not only is Sinatra going senile, he's become so paranoid that he thinks people are waiting for him to kick off so they can laugh at him.

"When I die, I don't want anybody to know," he ordered Barbara. "It's none of their damned business! Dying is a sign of weakness. It's for lesser people. You've got to keep my death a secret. I don't want people gloating. Just bury me quietly. If you don't tell 'em I'm gone, nobody will ever know."
---