In the photo Bing tees off on the La Moraleja golf course near Madrid, Spain, on the afternoon of Oct. 14, 1977. He finished 18 holes of golf carding an 85 and, with his handicap and partner, defeated 2 Spanish golf pros. After his final putt Bing bowed to acknowledge the applause of some fans and remarked "It was a great game." As he was walking to the clubhouse about 6:30 local time (11:30 a.m. Central U.S. time) he collapsed from a massive heart attack. Bing made no attempt to break his fall and landed head-first on the red-gravel pavement, producing a large bruise on the left side of his forehead. "We thought he had just slipped," said one of his golfing companions. "Bing had shown no sign of fatigue. He was happy and singing as he went around the course." His 3 golfing companions carried Bing the remaining 20 yards to the clubhouse where a physician administered oxygen and adrenalin without success.
Bing's funeral began at 5 a.m. Oct. 18 at the Holy Cross Cemetery, Culver City, California. Bing's will specified that only his wife and 7 children should attend, but Kathryn invited Bing's siblings as well as Bob Hope, Rosemary Clooney and Phil Harris. The ABC reporter who covered the funeral, Geraldo Rivera, noted the early morning hour was when the blue of the night met the gold of the day.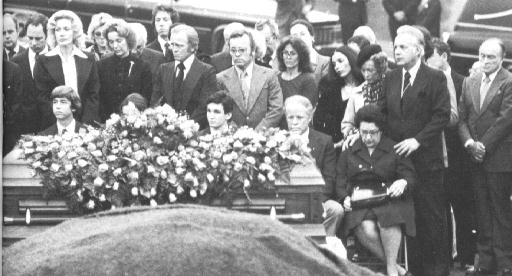 Bing's grave is near the entrance to the cemetery, which is about 3 miles north of Los Angeles airport. His headstone reads Beloved By All. Harry Lillis "Bing" Crosby. 1904-1977, reflecting the belief at the time that Bing was born in 1904 instead of 1903. Bing is buried next to his first wife, Dixie Lee, and his parents. He is buried 9 feet deep so that Kathryn can be buried with him. Nearby are the graves of Mack Sennett, Pat O'Brien, Ray Bolger, Dennis Day, Jack Haley, Spike Jones, Fibber McGee and Molly Jordan, and Jimmy Durante.

---