Phil Harris is dead at 91
RANCH MIRAGE, Calif. (8-11-95) -- Phil Harris, singer, band leader and comic who teamed with Jack Benny on radio and TV and was the voice of Baloo the bear in Disney's "The Jungle Book," died Friday at his home in Rancho Mirage. He was 91.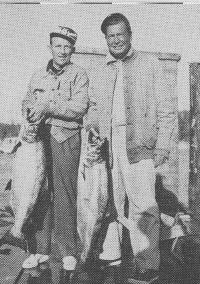 Harris died of heart failure, a family spokesman said. His wife of 54 years, actress Alice Faye, and his daughter, Phyllis Harris of St. Louis, were at his side.
He leaves another daughter, Alice Regan of New Orleans, four grandchildren and two great-grandchildren.
With a toothy grin and Southern accent gained during a childhood in Nashville, Harris created a caricature of himself as a lovable, heavy-drinking wiseguy.
His trademark was a finger-snapping rendition of "That's What I Like About the South," and he greeted Jack Benny with a snappy "Hiya, Jackson!"
"If it hadn't been for radio," he once said, "I would still be a traveling orchestra leader. For 17 years I played one-night stands, sleeping on buses. I never even voted, because I didn't have any residence."
In 1967, he emerged from retirement to provide the voice of the bear in Disney's cartoon version of "The Jungle Book." His voice and the song, "The Bare Necessities," brought him a new generaton of fans, too young to have known the old Phil Harris.
In addition to his work with Disney, Harris appeared in several other films, including two Bing Crosby films: Here Comes the Groom in 1951 and Anything Goes in 1956. In later years, after the death of Crosby, Harris took his place doing TV color commentary for the annual Bing Crosby Pro-Am Pebble Beach golf tournament.
Starting as a band leader in the 1930s, Harris' career flourished in radio.
As a regular for 16 years on Benny's radio show beginning in 1936, he revealed a talent for fast one-liners. It was there he originated the tipsy image that stuck with him.
In 1942, he and his 25-piece orchestra enlisted in the U.S. Maritime Service.
He and his wife teamed up in 1947 for radio's "The Phil Harris-Alice Faye Show," after they decided to have a family and settle in the Southern California desert some 100 miles east of Los Angeles. The show lasted until 1954.
His hit records included: "The Thing," "Smoke! Smoke! Smoke! That Cigarette" and "The Preacher and the Bear."
Harris wife, actress Alice Faye, died of cancer in 1998.
---