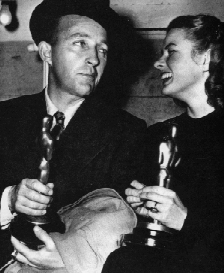 Bing was nominated three times for an Academy Award for best actor. He won the Oscar for best actor in 1945 for his portrayal of a priest, Father O'Malley, in the 1944 Paramount movie Going My Way. Even Bob Hope conceded that any man with 4 kids who could play a priest deserved an Oscar! Bing was handed the Oscar by his long-time friend, Gary Cooper. Bing's reaction to winning the award revealed he knew full well he was not the best movie actor of 1944. No doubt the Academy members knew that too. Bing won the Oscar because he had come to symbolize home to Americans through his recordings like "White Christmas" and his radio shows and movies. The Oscar award was more like a special thank-you card from America to Bing than a recognition of a great acting performance. There was little doubt by 1945 that Bing had become the undisputed multimedia king of the American entertainment world.
The following year Bing was nominated for best actor again for reprising his role as Father O'Malley in the "The Bells of St. Mary's." Here he was paired with best actress of 1944, Ingrid Bergman, (shown in photo with Bing) instead of Barry Fitzgerald. The movie was nominated for 8 Oscars, and won for best sound recording. Instead, Ray Milland took the honors that year for best actor.
Nearly a decade later Bing was nominated one more time for best actor for his role as an alcoholic entertainer in the sobering movie "The Country Girl" with Grace Kelly. Marlon Brando won the award for his role in "On the Waterfront." However, Bing's performance in The Country Girl was probably his most demanding role as an actor and demonstrated clearly he could successfully do more than play light musical-comedy.
---
The Movies of Bing Crosby ||| The Academy of Motion Pictures
More Bing FAQs ||| Bing's Home Page ||| Developed by Steven Lewis