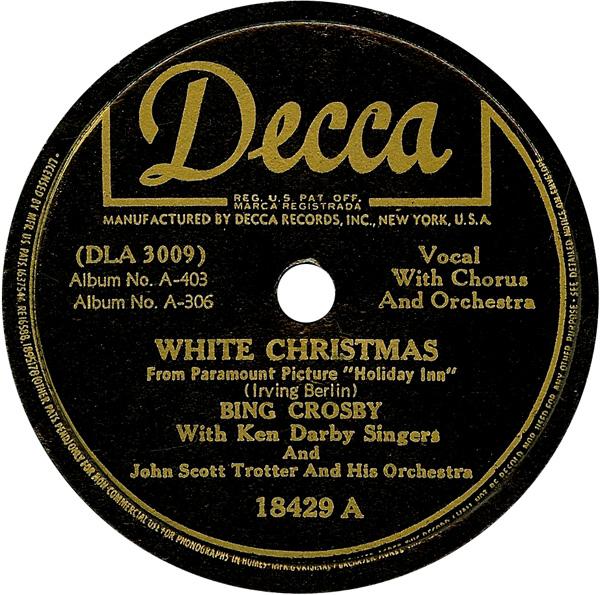 WHITE CHRISTMAS
(Irving Berlin)
Irving Berlin launched the age of popular Christmas music when he wrote this song for the Astaire-Crosby movie Holiday Inn. Bing later recalled that Berlin referred to the song as "an amusing little number" when he first auditioned it for him. Bing recorded the song for Decca with the John Scott Trotter orchestra May 29, 1942, at the depth of World War II. No doubt the separation brought on by the War heightened the impact and success of this simple song. Before the year's end, "White Christmas" topped the charts, where it stayed for 11 weeks. It topped the charts again in 1945 for two weeks, and again in 1947 for a week. Not bad for 18 minutes work -- the time it took Bing to record the song. Bing recorded "White Christmas" again for Decca on March 19, 1947, with John Scott Trotter's Orchestra. It seems the original masters had been worn out in all the pressings. "White Christmas" is Bing's largest selling recording, the largest selling Christmas single of all time and, according to the 2007 Guinness Book of Records, the largest selling single in history with an estimated sales of more than 50 million copies, which is about 20 million copies more than the recording in second place, Elton's John's tribute to Princess Diana, "Candle in the Wind." "White Christmas" also won the Academy Award for best song of 1942.
The sun is shining
The grass is green
The orange and palm trees sway.
I've never seen such a day
In Beverly Hills LA.
But it's December the 24th
And I am longing to be up North.

I'm dreaming of a white Christmas
Just like the ones I used to know.
Where the treetops glisten,
And children listen
To hear sleigh bells in the snow.
I'm dreaming of a white Christmas
With every Christmas card I write.
May your days be merry and bright.
And may all your Christmases be white.

Jack Kapp, Bing's record producer, thought the opening verse would be meaningless outside the film and persuaded Bing not to record it. He never did.