Irving Berlin: In and Out of Tune
Macleans, Sept. 3, 1990, p57(2)

In 1911, the song "Alexander's Ragtime Band" catapulted a 23-year-old composer named Irving Berlin to international stardom. Over the next five decades, he wrote a succession of hits, both romantic and rousing, that included "Blue Skies," "God Bless America," White Christmas and "There's No Business Like Show Business." The songwriter led a remarkable rags-to-riches life. A Russian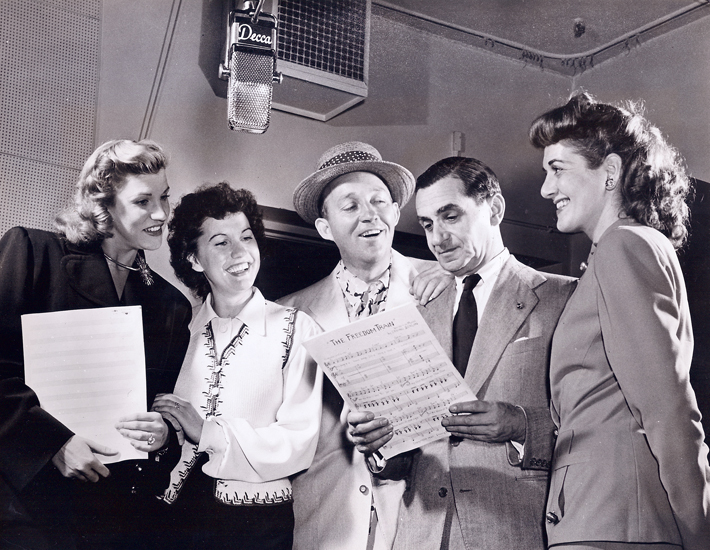 Jewish immigrant who grew up in a New York City tenement, he made a fortune in the music business before eloping with a glamorous Roman Catholic socialite in 1926. He died an immensely wealthy man in 1989--at the epic age of 101. But as Laurence Bergreen reveals in his thorough and absorbing biography of Berlin, As Thousands Cheer, the phenomenally popular composer was also a driven, embittered and profoundly insecure man. Bergreen relates the story of a woman who met Berlin at a party and exclaimed, "I guess there's no one who has written as many hits as you have." His response: "I know there's no one who has written so many failures."
Like many others who received a solid grounding in hardship before rising to fame, Berlin feared that his success would desert him. Born Israel Baline in Mohilev, Russia, he was the youngest child of cantor Moses Baline and his wife, Lena. The family of eight emigrated to the United States in 1893, when Israel was five, settling into New York's Lower East Side. Israel left home at 14 and began singing in Bowery saloons for spare change. In 1907, when he was working as a singing waiter in Chinatown, he earned his first songwriting credit with the words to Marie from Sunny Italy. In that year, he changed his name to Irving Berlin. By 1909, he was working as a staff lyricist on Tin Pan Alley.
He soon began composing his own tunes as well as lyrics, but he never learned to play a piano properly or to read music. On a conventional piano, he used only the black keys. Throughout his career, he relied on an instrument called a transposing piano, which made it possible to change keys with the shift of a lever. After composing a tune, Berlin either sang or played it for an assistant, who would then transcribe it into musical notation. In that way, he produced a lifetime catalogue of some 1,500 songs, including such long-forgotten numbers as Father's Beard and You Cannot Make Your Shimmy Shake on Tea, along with more enduring hits. He once said that he composed "under a nervous strain," adding, "more often than otherwise, I feel as if my life depends on my accomplishing a song."
With the success of "Alexander's Ragtime Band," the slightly built composer became a worldwide idol. An Italian newspaper reported that Giacomo Puccini wanted to write an opera with Berlin. In England, George Bernard Shaw announced that he had written lyrics for the composer to set to music. (Nothing came of either proposal.) In 1914, Berlin's first Broadway musical, Watch Your Step, was a major success and, by 1921, he was staging annual revues at his own Broadway theatre, the Music Box.
For most of that period of heady professional success, Berlin was a widower. His first wife, Dorothy Goetz, died of pneumonia and typhoid fever only five months after their 1912 wedding. His second marriage, in 1926--which lasted until his wife died in 1988--made the tabloids sizzle. Berlin, then 37, eloped with 22-year-old Ellin Mackay, the daughter of Long Island telegraph company magnate Clarence Mackay, a staunch Catholic who disinherited her after the wedding.
Compared with George Gershwin, Cole Porter and other accomplished composers of the time, Berlin was an unsophisticated musician. But the eloquent simplicity of his best songs went straight to the heart. By the 1930s, Berlin was writing for Hollywood as well as Broadway. He wrote the scores for three Fred Astaire and Ginger Rogers movies, including Top Hat (1933), which featured the ineffably romantic Cheek to Cheek.
The composer remained a formidable presence on Broadway with the musicals Annie Get Your Gun (1946) and Call Me Madam (1950), both of which starred Ethel Merman. But, as Bergreen writes, he had begun to lose touch with the tastes of everyday Americans. Tellingly, Berlin was so offended by Elvis Presley's 1957 rock 'n' roll version of "White Christmas" that he had his staff call radio stations across the country, urging their personnel not to play it. His last musical, Mr. President (1962), was a mammoth flop.
As his influence waned, he became increasingly reclusive, irascible and tightfisted. In 1952, when his sister Ruth was dying of cancer, he told his nephew that he would help with the medical expenses only "when you use up all of your money taking care of her." He began calling his business manager as often as 10 times in a single evening to ensure that his financial affairs were in perfect order. In the late 1960s, he stopped writing songs altogether. Many journalists and admirers, including Bergreen, tried to interview Berlin in his last years, but he rebuffed everyone.
For his book, Bergreen relied instead on extensive research and interviews with people who knew Berlin. The lengthy and occasionally repetitious As Thousands Cheer would have benefited from more stringent editing, but it is unquestionably a fine work. Bergreen skillfully delineates Berlin's complex personality, and celebrities ranging from Florenz Ziegfeld Jr. to Fred Astaire make memorable cameo appearances. One vivid odd-couple episode relates how Berlin and the Nobel Prize-winning dramatist Eugene O'Neill hit it off at a party--and stayed up half the night plunking out tunes on a piano.
Such anecdotes provide lively glimpses of the intensely private man who was Berlin. But, at the same time, samples of the songwriter's lyrics are notably absent from the pages of the biography. The composer jealously guarded his copyrights while he was alive, and Bergreen, like many other petitioners, was unable to obtain permission from Berlin's estate to reprint them. Fortunately, despite such obstructions, the best of Irving Berlin survives in the union of his great melodies and deftly written lyrics.
More about the life of Irving Berlin
---