aking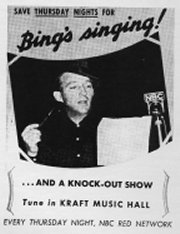 KRAFT MUSIC HALL
1935-46
Thursday was Bingsday from 1935-46 on the NBC network. The Kraft show began in 1933 hosted by Bing's former boss, Paul Whiteman. Bing began co-hosting the show from California with Whiteman in New York on December 5, 1935, then became the sole host on January 2, 1936. The Kraft show was one hour in length until cut to a half hour in January 1943. Although Bing starred in more than 300 Kraft shows, complete recordings of most of the hour broadcasts did not survive the War. In 1971 NBC donated its entire collection of radio recordings to the Library of Congress. Only six Kraft shows prior to 1944 were found in the collection. The earliest was 9 Jan. 1936; four were from 1942 (April 2, April 23, Oct. 8 and Oct. 29) and one survived from 1943 (March 18).
According to Carroll Carroll, principal writer on Bing's Kraft Music Hall:
"Back when the past was the present, and I was writing Bing Crosby's Kraft Music Hall Thursday nights on NBC, one of those rare few was our engineer Murdo MacKenzie. Each week he would save the big electrical transcriptions of the show, for what use no one really knew. When he was called to war, about 1943, I guess, he put his complete set of recordings in a closet at the old NBC studios at Sunset and Vine in Hollywood. He put an extra padlock on the door and a sign, PERSONAL PROPERTY OF MURDO MACKENZIE. DO NOT DISTURB. After he and a few million others had secured the peace he came back to find his closet had a new door and was full of brooms and mops. NBC execs could only say, 'We needed the space.' So the ability of future generations to rehear the hundreds of hours of Bing and his guests ... all the biggest names of the day ... were in a sense just one more casualty of WWII." (Carroll Carroll as quoted in Bingang, Dec. 1990, p13)
A few of the NBC affiliates recorded at least some of the Kraft broadcasts, and their recordings serve as the source of the few early shows that circulate today. Most likely the largest collection of transcription discs of Bing's radio shows are in the J. David Goldin Collection at the Marr Sound Archives at the University of Missouri at Kansas City. Other sources of Kraft material are incomplete recordings. For example, Bing's conductor, John Scott Trotter, recorded many of Bing's songs to archive the arrangements. Lost, however, perhaps forever are classic shows that featured Paul Robeson, Bob Hope's first appearance on radio with Bing, and Bing's first public singing of White Christmas (Christmas 1941).
One complete show that survives today featured a future president, Ronald Reagan, who was introduced in 16 April 1942 as "Ronald Reegan." Perhaps tucked away in someone's attic are transcription discs of the lost broadcasts of Bing's KMH.
The Kraft show was broadcast on Thursday evenings from Studio B in Hollywood's radio city at the corner of Sunset and Vine in Los Angeles. Scripts to the shows were sent to Bing on Monday, which he edited and returned the next day. Scripts can be found in the J. Walter Thompson collection at Duke University in Durham, North Carolina, and the Carroll Carroll Collection of the American Heritage Center of the University of Wyoming. The show was rehearsed Thursday afternoon and went live in the evening. After each show Bing selected the songs he wished to sing on the next week's show.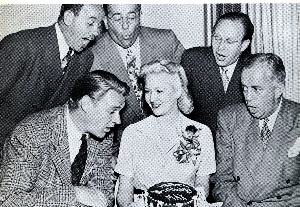 Hail KMH August 3, 1944!
Standing: Leo (Ukie) Sherin, John Scott Trotter, Carroll Carroll.
Seated: Sonny Tufts, Marilyn Maxwell, Tom Breneman.
Where's Bing?

Bing was absent during much of the fall 1944 season entertaining the troops in Europe. He disappeared again in the fall of '45 as a result of a contractual dispute ... Bing wanted to record his show. Kraft and NBC refused, and forced Bing to return for the spring 1946 season. As soon as his legal commitments were fulfilled, Bing walked away from Kraft and NBC to Philco and ABC, where he became the first major network star to transcribe his radio show for later broadcast.
The best years of the Kraft era for me were the 1943-44 seasons. Bing had just reached the pinnacle of the entertainment world, and these broadcasts clearly reveal him 'feeling his oats.' These shows were well written, well sung and at times irreverent. Bing's comedic sidekicks in the Hall included Bob "Bazooka" Burns (for whom the World War II GI's named a weapon). Burns added a rural flavor to the show from 1936-41. Comedian Jerry Lester replaced Burns when he departed in July of 1941 for his own show on CBS. Victor Borge took over as resident comic throughout 1942. Leo "Ukie" Sherin served as comedic foil to Bing throughout 1943-44. During the first year-and-a-half of the Kraft show Bing was backed by the Jimmy Dorsey orchestra. Dorsey was replaced 8 July 1937 by John Scott Trotter, who remained with Bing for the next 17 years. Bing's announcer through most of the Kraft years and beyond was Ken Carpenter. Often Bing is supported by female vocalists -- Connee Boswell (1940-41), Mary Martin (1942), Trudy Erwin (1943), Marilyn Maxwell (1944) or Eugenie Baird (1944-45) -- and choral groups The Paul Taylor Choristers (1936-39), The Music Maids (1939-44) and The Charioteers (1942-46).
The Kraft shows described below are only ones I have heard in their entirety. Although listed, I've not heard the complete 1941 Christmas broadcast where Bing first sang White Christmas. For a more complete list of Bing's Kraft shows see JazzDiscography or the International Club Crosby or RadioGoldIndex.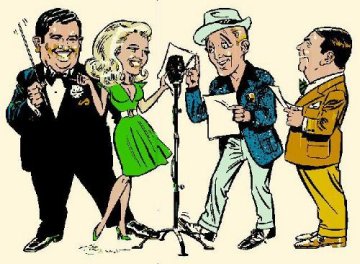 John Scott Trotter,
Marilyn Maxwell,
Bing,
and
Ken Carpenter
on KMH.





KRAFT MUSIC HALL (1-9-36) w JOE VENUTI, RADIO ROGUES, RUPERT HUGHES,
CLARK SISTERS, BOB BURNS, PAUL TAYLOR CHORISTERS, 
JIMMY DORSEY ORCHESTRA, DON WILSON (announcer)
1. Some of these days
2. When I grow up
3. Thanks a million
4. With all my heart

KRAFT MUSIC HALL (5-27-37) w ZASU PITTS, GAIL PATRICK, RUDOLPH GANZ,
BOB BURNS, PAUL TAYLOR CHORISTERS, JIMMY DORSEY ORCHESTRA, 
KEN CARPENTER (announcer)
1. How could you?
2. Here, there, everywhere
3. Time on my hands
4. My little buckaroo
5. Flight of the bumblebee (Jimmy Dorsey)
6. Where are you?

KRAFT MUSIC HALL (3-3-38) w MISCHA AUER, MAUREEN O'SULLIVAN,
THE FOURSOME, 
BOB BURNS, PAUL TAYLOR CHORISTERS, 
JOHN SCOTT TROTTER ORCHESTRA, KEN CARPENTER (announcer)
Broadcast relocated because of heavy California flooding.
1. Gypsy in my soul
2. On the sentimental side
3. Till we meet again
4. Thanks for the memory (from Bob Hope's movie "Big Broadcast of 1938")
5. If you're Irish (w O'Sullivan)
6. Let's waltz for old-times sake

KRAFT MUSIC HALL (5-19-38) w HUMPHREY BOGART, ADRIENNE AMES,
BOB BURNS, PAUL TAYLOR CHORISTERS, KEN CARPENTER (announcer)
1. You couldn't be cuter
2. Delightful was the day in gay Paris
3. Let me whisper I love you
4. Lovelife in the starlight with you

KRAFT MUSIC HALL (2-8-40) w RALPH BELLAMY, WALT DISNEY, 
MISHA LEVITSKY, BOB BURNS
(Bellamy promotes his movie "His Girl Friday" and Disney promotes "Pinocchio.")
1. Confucius Say
2. I thought about you
3. Silver threads among the gold
4. Indian summer
5. Hi Diddle Dee Dee (w Disney, Bellamy)
6. When I hold you in my arms (w Levitsky)
7. Love is the sweetest thing

KRAFT MUSIC HALL (3-6-41) w LIONEL BARRYMORE, EDDIE BRACKEN,
CONNEE BOSWELL, BOB BURNS, MUSIC MAIDS
1. Blues My Naughty Sweetie Gives to Me
2. Elegy of a Country Doctor (Barrymore)
3. Even Steven (Boswell)
4. You Walked By
5. Loch Lomond
6. Manhattan (w Boswell)
7. I Spoke to the Moon
8. May I Never Love Again (Boswell)
9. I'll Never See Her Bright Smiles Again

KRAFT MUSIC HALL (3-20-41) w EDWARD ARNOLD, CONNEE BOSWELL, 
BOB BURNS, MUSIC MAIDS
1. And the band played on
2. Amapola (Boswell)
3. Goodbye now
4. Rose of Tralee
5. You ain't kiddin' (w Boswell)
6. My mind's on you
7. It all comes back (Boswell)
8. May I never love again

KRAFT MUSIC HALL (5-1-41) w PAT O'BRIEN, JOSEPHINE TUMINIA, 
CONNEE BOSWELL, BOB BURNS, MUSIC MAIDS
1. A twist of your wrist
2. A little bit south of North Carolina (Boswell)
3. It makes no difference now
4. The things I love (Boswell)
5. Everything happens to me (w Boswell)
6. Two hearts that pass in the night
7. Listen to the mockingbird (Boswell, Tuminia)
8. I dream of you
9. Long long ago
10. Til revelry

KRAFT MUSIC HALL (5-29-41) w DUKE ELLINGTON, FRANK McHUGH, JAMES HILTON, 
CONNEE BOSWELL, BOB BURNS, MUSIC MAIDS
1. Can't you tell?
2. Carry dance (Connie Boswell)
3. It was wonderful then
4. Frankie and Johnnie (Ellington)
5. All through the night
6. Hut sut song (w Connie)
7. Maria Elena
8. Because of you

KRAFT MUSIC HALL (6-5-41) w HOPALONG CASSIDY, CONNEE BOSWELL, 
BOB BURNS, JERRY LESTER, MUSIC MAIDS
1. You're double lovely
2. Smile your troubles away (Boswell)
3. Yours
4. And the band played on
5. Yes indeed (w Boswell)
6. These things you left me
7. Play fiddle play

KRAFT MUSIC HALL (6-12-41) w ETHEL WATERS, CONNEE BOSWELL, BOB BURNS,
CHESTER MORRIS, DONALD CRISP, MUSIC MAIDS
1. Why Cry Baby
2. Hand me down my walking cane (Boswell)
3. Because of You
4. A Change in Me (Waters)
5. Motherless Child (Waters)
6. Rose of Tralee
7. Everything Happens to Me (w Boswell)
8. My Darling Clementine
9. Out of this world with you (Boswell)
10. I dream of you, sweetheart

KRAFT MUSIC HALL (6-19-41) w BERT LAHR, GAIL PATRICK, CONNEE BOSWELL, 
BOB BURNS, JIMMY O'BRIEN, MUSIC MAIDS
1. You're a double lovely
2. The Gay Ranchero (Boswell)
3. Maria Elena
4. Intermezzo (Boswell)
5. Hut Sut Song (w Boswell)
6. Makes No Difference Now
7. I'll Take You Home Again, Kathleen (O'Brien)
8. Low Backed Car (w O'Brien)
9. Yours

[Bob Burns leaves KMH after the July 10 show 
to host a half-hour weekly show on CBS.]

KRAFT MUSIC HALL (8-7-41 thru 10-23-41) 
DON AMECHE hosts while Bing takes a 3-month leave.

KRAFT MUSIC HALL (12-25-41) w FRANK McHUGH, FAY BAINTER, JANET BLAIR,
CONNEE BOSWELL (her last KMH show), THE MUSIC MAIDS
1. Adeste Fidelis
2. The Steam is on the Beam (Blair)
3. I Can't Give You Anything but Love (Boswell)
4. Chattanooga Choo-Choo
5. Oh! How I Hate to get up in the Morning
6. Rose O'Day (w Boswell)
7. White Christmas (Bing's first public performance of the song)
8. When Christmas is Gone (Boswell)
9. Shepherd Serenade (w Music Maids)
10. Silent Night

KRAFT MUSIC HALL (1-29-42) w SAM SNEAD, MARY MARTIN, VICTOR BORGE,
JERRY LESTER, IGOR GORIN, THE MUSIC MAIDS
(Broadcast was shortwaved to troops in the Philippines 
by request of General Douglas MacArthur.)
1. Caissons go Rolling Along
2. Chattanooga Choo Choo
3. You made me love you (Mary Martin)
4. Deep in the Heart of Texas
5. Blues in the Night
6. Rose O'Day (w Martin)
7. Home on the Range
8. Who Calls?

KRAFT MUSIC HALL (3-12-42) w PAT O'BRIEN, MARY MARTIN, VICTOR BORGE,
JERRY LESTER, WINGY MANONE, THE MUSIC MAIDS
1. How about you?
2. The story of Jenny (Mary Martin)
3. My darlin' Nellie Gray
4. That's a plenty (Wingy Manone)
5. Quartermaster Corp
6. Miss you
7. My country tis of thee (O'Brian)

KRAFT MUSIC HALL (3-19-42) w ALLEN JENKINS, NIGEL BRUCE, LESTER V. BARRY,
VICTOR BORGE, JERRY LESTER, MARY MARTIN, MUSIC MAIDS
1. Deep in the heart of Texas
2. Somebody else is taking my place
3. Did your mother come from Ireland
4. Rose O'day (w Martin)
5. You tell me your dream
6. Anniversary waltz

KRAFT MUSIC HALL (3-26-42) w ROBERT PRESTON, MARY MARTIN, VICTOR BORGE,
JERRY LESTER, BEANS REARDON, THE MUSIC MAIDS
1. How about you?
2. Iceland Polka (Martin)
3. Blues in the night
4. I remember you
5. The Couple in the Castle (w Martin)
6. K-K-K-Katy
7. You made me love you (Martin)
8. I miss you

KRAFT MUSIC HALL (4-2-42) w WALTER HUSTON, CLAUDE THORNHILL, 
VICTOR BORGE, MARY MARTIN
1. Army Air Corp song
2. She'll Always Remember
3. Moonlight Cocktail
4. Easter Parade
5. Sing Me a Song of the Islands

KRAFT MUSIC HALL (4-9-42) w WALTER PIDGEON, JUNE HAVOC, MAJOR JOHN DEWITT
1. Caisson Song
2. Skylark
3. Dreams (comedy routine with Victor Borge)
4. I don't want to walk without you
5. Honey
6. My Alice fair (w Pidgeon)
7. Tank talk
8. Ma, he's making eyes at me (Mary Martin)
9. I remember you

KRAFT MUSIC HALL (4-16-42) w MARY MARTIN, VICTOR BORGE, RONALD REAGAN,
SPIKE JONES, SABU
1. K-K-K-Katy
2. I miss you
3. Make believe
4. Little Bo Peep (Spike Jones)
5. It's Mary
6. The way you look tonight (Martin)
7. Apple blossom time (w Martin)
8. Song of the Islands

KRAFT MUSIC HALL (4-23-42) w MARY MARTIN, VICTOR BORGE, CAPT. FLOYD SWEET
1. The Marines' Hymn
2. Skylark
3. Somebody Else Is Taking My Place
4. Pretty Baby
5. Lily Of Laguna (w Martin)
6. Oh By Jingo (Martin)
7. Just Plain Lonesome 
(Program shortened 15 minutes for war-news from Washington.)

KRAFT MUSIC HALL (4-30-42) w LARRY ADLER, GENE TUNNEY, SUSAN HAYWARD
1. Hey, Mabel!
2. He Comes From Timbukthree (Mary Martin)
3. Friendship (w Martin and Hayward)
4. It's Mary
5. Victor Borge teaches Bing to play the piano
6. Not Mine
7. I'll be with You In Apple Blossom Time (w Martin)
8. Malaguena and Blues in the Night (Adler on harmonica)
9. Oh! How I Miss You Tonight
10. Embraceable You (Mary Martin)
11. I Remember You

BING MISSED THE NEXT TWO WEEKS.

KRAFT MUSIC HALL (5-21-42) w CAROL LANDIS, VIRGINIA WEIDLER, ADMIRAL I.C. JOHNSON
1. Don't Sit Under The Apple Tree
2. Count Me In (w Weidler)
3. Skylark
4. The Lamplighter's Serenade
5. Lily Of Laguna (w Mary Martin)
6. Great Day
7. Night And Day
8. Miss You

KRAFT MUSIC HALL (5-28-42) w RUTH HUSSEY, FRANK McHUGH, DAVID FREEMAN
1. The Bombardier Song
2. Embraceable You (Mary Martin)
3. Not Mine
4. Jingle, Jangle, Jingle (w Martin)
5. Hey, Mabel! (w McHugh)
6. You're A Grand Old Flag
7. The Knitting Serenade (Martin)
8. Jersey Bounce (Trotter Orchestra)
9. Johnny Doughboy Found A Rose In Ireland

KRAFT MUSIC HALL (6-4-42) w JOHN GARFIELD, ROSEMARY LANE, MARY MARTIN,
VICTOR BORGE, MUSIC MAIDS
1. Don't sit under the apple tree
2. Yip ay yaddee ay yeah (Mary Martin)
3. Just plain lonesome
4. Wait til the sun shines, Nellie (w Mary Martin)
5. Mary is a grand old name
6. Ain't misbehavin (Martin)
7. Sleepy lagoon

KRAFT MUSIC HALL (10-15-42) w CASS DALEY, CHARLES RUGGLES, MARY MARTIN,
VICTOR BORGE, MUSIC MAIDS, CHARIOTEERS, CHAPLAIN E.J. BURNS
1. Gal in Kalamazoo
2. Take back your gold (Martin)
3. The last time (Daley)
4. At last
5. On the Glory Road (Charioteers)
6. People like you and me (w Martin)
7. Dreaming you (Martin)
8. My buddy
9. My devotion

KRAFT MUSIC HALL (10-22-42) w MARY MARTIN, JUDY CANOVA, ANDREW TOMBES, 
SGT. RAYMOND HUNT, VICTOR BORGE, MUSIC MAIDS, CHARIOTEERS
1. Everything I've got belongs to you
2. 'Sposin' I'm in love with you
3. Moonlight becomes you (from the film "Road to Morocco")
4. I had a dream (w Charioteers)
5. I'm a cranky old yank in a clanky old tank
6. White Christmas

KRAFT MUSIC HALL (10-29-42) w BOB HOPE, EVE ARDEN, MARY MARTIN,
VICTOR BORGE, MUSIC MAIDS, CHARIOTEERS, TED HUSSERL (USN)
1. My hero (Martin)
2. My devotion
3. I'm getting tired so I can sleep (Martin)
4. Darktown Strutters Ball (Charioteers)
5. Summertime (Charioteers)
6. Dear old pal of mine
7. My five by five
8. Boy in khaki, girl in lace

KRAFT MUSIC HALL (11-5-42) w CASS DALEY, RICHARD HAYDN, 
HELEN FLETCHER (Red Cross), Col. LEROY HUNT, LEO "UKIE" SHERIN, 
MARY MARTIN (final show), VICTOR BORGE, MUSIC MAIDS, CHARIOTEERS
1. Hymn of U.S. Marine Corps (Halls of Montezuma)
2. Where were you last night? (w Cass Daley)
3. By the light of the silvery moon
4. Running wild (Charioteers)
5. Rolleo rolling along -- the bicycle song (w Martin)
6. So long (Charioteers)
7. At last
8. Daybreak

KRAFT MUSIC HALL (11-12-42) w GINNY SIMMS, EDGAR BUCHANAN, ED BROPHY, 
MRS. VICENTE LIM, VICTOR BORGE (final regular appearance), 
MUSIC MAIDS, CHARIOTEERS
1. Praise the Lord and pass the ammunition (w Charioteers)
2. Rose of Tralee (Charioteers)
3. Moonlight becomes you
4. Dearly beloved (w Simms)
5. Ho hum (from the film "Road to Morocco")
6. Brother Bill (Charioteers)
7. June in January
8. Dear old pal of mine

KRAFT MUSIC HALL (11-19-42) w BRODERICK CRAWFORD, ELLA MAE MORSE
KRAFT MUSIC HALL (11-26-42) w GEORGE TOBIAS, JANET BLAIR
KRAFT MUSIC HALL (12-3-42) w DOROTHY LAMOUR
KRAFT MUSIC HALL (12-10-42) w JINX FALKENBURG, RICHARD HAYDN, CLIFF EDWARDS
KRAFT MUSIC HALL (12-17-42) w TRUDY ERWIN

KRAFT MUSIC HALL (12-24-42) w JACK CARSON, JANET BLAIR, 
CHARIOTEERS, LEO "UKIE" SHERIN
1. Adeste Fidelis
2. Red River Valley (Charioteers)
3. Why don't you fall in love with me?
4. Good Morning Mr. Zip Zip Zip
5. That soldier of mine (Blair)
6. God rest ye merry gentlemen
7. Silent Night

KRAFT MUSIC HALL (12-31-42) w JOHNNY MERCER, BETTY HUTTON, RICHARD HAYDN

*** KRAFT MUSIC HALL SWITCHES TO 30 MINUTES ***

KRAFT MUSIC HALL (1-7-43) w JANET BLAIR, CHARLES RUGGLES, BETTY HUTTON

AFRS MUSIC HALL (1-14-43) w CASS DALEY, JANET BLAIR
1. Hip Hip Hooray
2. Why don't you fall in love with me?
3. Embraceable You
4. Bob White (w Charioteers)
5. Lonesome and Sorry
6. While I'm Away
7. There are such things
8. Ballin' the Jack

KRAFT MUSIC HALL (1-21-43) w ANDY DEVINE, LEO "UKIE" SHERIN
1. Good Morning Mr. Zip Zip Zip
2. Stormy Weather (Charioteers)
3. I've Heard that Song Before
4. Some Sunny Day
5. Ezekial Saw the Wheel (Charioteers)
6. Brazil

KRAFT MUSIC HALL (1-28-43) w FRANK McHUGH, GINNY SIMMS, MUSIC MAIDS, 
CHARIOTEERS, LEO "UKIE" SHERIN
1. Anchors away
2. You'd be so nice to come home to (w Simms)
3. Yes indeed (Charioteers)
4. Why don't you fall in love with me
5. As time goes by

AFRS MUSIC HALL (2-4-43) w VICTOR BORGE, TRUDY ERWIN
1. For Me and My Gal
2. Constantly (w Erwin)
3. Night Train to Memphis (Charioteers)
4. Sweet Little You
5. Stormy Weather (Charioteers)
6. Brazil

KRAFT MUSIC HALL (2-11-43) w EDGAR BUCHANAN

AFRS MUSIC HALL (2-18-43) w FAYE MacKENZIE, ALLAN HALE
1. Touch of Texas
2. Cochita (MacKenzie)
3. Sheep Back Home (Charioteers)
4. Angel Child
5. Hit the Road (w Trudy Erwin)
6. Moonlight Becomes You

KRAFT MUSIC HALL (2-25-43) w BERT LAHR

AFRS MUSIC HALL (3-4-43) w CASS DALEY, TRUDY ERWIN, CHARIOTEERS
1. Touch of Texas
2. Hallelujah (Charioteers)
3. It's Always You
4. My Heart Stood Still (w Trudy Erwin)
5. Sheep Back Home (Charioteers)
6. Moonlight Becomes You

AFRS MUSIC HALL (3-11-43) w EDDIE BRACKEN
1. Anchors Away
2. Road to Dreamland (w Trudy Erwin)
3. Get on Board (Charioteers)
4. Whenever You're Lonely
5. What's Become of Sally
6. My Gal Sal (Charioteers)
7. As Time Goes By

KRAFT MUSIC HALL (3-18-43) w BERT LAHR

KRAFT MUSIC HALL (3-25-43) w BERT LAHR
1. Great Day
2. It's Always You
3. My Disposition Depends on You (w Trudy Erwin)
4. Dear Old Girl / Girl of My Dreams (Charioteers)
5. As Time Goes By

KRAFT MUSIC HALL (4-1-43) w LUCILLE BALL
1. You are my sunshine
2. Darling Je Vous Aime Beaucoup
3. A song in my heart (w Trudy Erwin)
4. That old black magic

KRAFT MUSIC HALL (4-8-43) w RAGS RAGLAND
1. McNamara's band
2. Please think of me
3. Among my souvenirs
4. Melancholy baby (Charioteers)
5. In dreams

KRAFT MUSIC HALL (4-15-43) w FRANK McHUGH
1. Hip, Hip Hooray!
2. We Mustn't Say Goodbye
3. I've Got You Under My Skin (Trudy Erwin)
4. I Need You Tonight
5. By the light of the Silvery Moon (Charioteers)
6. That Old Black Magic

[Bob Crosby substitutes for Bing for the next 8 weeks.]

AFRS MUSIC HALL (6-24-43) w ED BROPHY
1. McNamara's Band
2. Would it be Wrong?
3. Summertime (Charioteers)
4. Something to Remember You By (w Trudy Erwin)

KRAFT MUSIC HALL (7-1-43) w FALSTAFF OPENSHAW
KRAFT MUSIC HALL (7-8-43) w FRANKLIN P. ADAMS
KRAFT MUSIC HALL (7-15-43) w RAYMOND WALBURN
KRAFT MUSIC HALL (7-22-43) w WILLIAM FRAWLEY

AFRS MUSIC HALL (7-29-43) w RAGS RAGLAND
1. Thank Your Lucky Stars
2. People Will Say We're in Love (w Trudy Erwin)
3. Please
4. Joshua Fought the Battle (Charioteers)
5. Something to Remember You By (w Trudy Erwin)
6. Sunday, Monday, or Always

KRAFT MUSIC HALL (8-5-43) w WILLIAM FRAWLEY

AFRS MUSIC HALL (8-12-43) w ED "ARCHIE" GARDNER
1. I've Got Sixpence
2. Riding Herd on a Cloud (song premier, co-written by Perry Botkin)
3. Wade in the Water (Charioteers)
4. Dancing in the Dark (w Trudy Erwin)
5. Down by the Old Millstream (Charioteers)
6. You'll Never Know

AFRS MUSIC HALL (8-19-43) w OSCAR LEVANT
1. What did you do in the infantry?
2. The Right Kind of Love (w Trudy Erwin)
3. Them There Eyes (Charioteers)
4. Paper Doll
5. In the Blue of the Evening (Trudy Erwin)
6. Nevada

KRAFT MUSIC HALL (8-26-43) w RAGS RAGLAND

KRAFT MUSIC HALL (9-2-43) w FRANK McHUGH
1. Beautiful Morning (w Trudy Erwin)
2. Riding Herd on a Cloud
3. Pistol Packin Mama (Charioteers)
4. Looking for a Dame (parody)
5. If I Had My Way
6. Nevada

KRAFT MUSIC HALL (9-9-43) w PHIL SILVERS, FALSTAFF OPENSHAW
1. Coming in on a Wing and a Prayer
2. Wait for me Mary (w Trudy Erwin)
3. Brother Bill
4. Stardust (w Silvers)
5. It's always you
6. Basin street blues

KRAFT MUSIC HALL (9-16-43) w JINX FALKENBURG, FALSTAFF OPENSHAW
1. Get on the road to victory
2. Beautiful Morning (w Trudy Erwin)
3. Put your arms around me
4. I dug a ditch in Wichita (Charioteers)
5. If you please

KRAFT MUSIC HALL (9-23-43) w GEORGE MURPHY
1. What did you do in the infantry
2. I heard you cry last night (Trudy Erwin)
3. Pistol Packin Mama (Charioteers)
4. I'll be home for Xmas
5. Cuddle up a little closer
6. Sunday, Monday, Always

KRAFT MUSIC HALL (9-30-43) w PHIL SILVERS
1. Victory Polka
2. Poinciana
3. Swing Low Sweet Chariot (Charioteers)
4. The Way You Look Tonight (w Trudy Erwin)
5. Victory Polka (w Phil Silvers)
6. If You Please

KRAFT MUSIC HALL (10-7-43) w LUCILLE BALL
1. Get on the road to victory
2. I'll be home for Xmas
3. Nobody's Sweetheart (Charioteers)
4. One Alone (w Trudy)
5. Sunday, Monday, Always

KRAFT MUSIC HALL (10-14-43) w JACK DOUGLAS

KRAFT MUSIC HALL (10-21-43) w CASS DALEY
1. Anchors Away
2. Riding Herd on a Cloud
3. Pistol Packin Mama (Charioteers)
4. Where the Blue of the Night
5. How Sweet You Are

[Bing was absent for 6 weeks.]

KRAFT MUSIC HALL (12-2-43) w ED "ARCHIE" GARDNER
1. Victory Polka
2. How Sweet You Are
3. Way Down Yonder in New Orleans (Charioteers)
4. My ideal (w Trudy Erwin)
5. I'll be home for Xmas

DUFFY'S TAVERN (12-7-43) w BING CROSBY
1. How Sweet You Are

KRAFT MUSIC HALL (12-9-43) w LUCILLE BALL
1. Paper Doll
2. My Wonderful One
3. Poinciana

KRAFT MUSIC HALL (12-16-43) w PHIL SILVERS, JOAN DAVIS
1. Pistol Packin' Momma
2. Oh, What a beautiful morning (w Trudy Erwin)
3. I used to love you
4. Shoo Shoo Baby (Charioteers)
5. White Christmas

KRAFT MUSIC HALL (12-23-43) w TRUDY ERWIN
1. Adeste Fidelis
2. My Heart Tells Me
3. Sweet Leilani
4. Silent Night

KRAFT MUSIC HALL (12-30-43) w CASS DALEY
1. Happy Holiday
2. The Way You Look Tonight (w Trudy Erwin)
3. Don't Talk Too Much (Charioteers)
4. As Time Goes By
5. He Hugged Me Until the All Clear Came (Daley)
6. Poinciana

KRAFT MUSIC HALL (1-6-44) w WILLIAM FRAWLEY, NAN WYNN
1. Shoo Shoo Baby
2. Speak low (Wynn)
3. I dug a ditch in Wichita (Charioteers)
4. My ideal
5. Will I be sorry if I do

KRAFT MUSIC HALL (1-13-44) w GEORGE MURPHY, JANE FRAZEE, MARILYN MAXWELL
1. San Fernando Valley
2. Shoo Shoo Baby (Frazee)
3. Straighten up and fly right (Charioteers)
4. It had to be you (group)
5. I'll be seeing you
6. Candlelight and wine (from the 1943 film "Around the World" 
starring Kay Kyser)

KRAFT MUSIC HALL (1-20-44) w DALE EVANS, MARILYN MAXWELL
1. What Do You Do in the Infantry?
2. Mairzy Doats (Charioteers)
3. You Brought a New Kind of Love to Me
4. Surrey with the Fringe on Top (w Evans)
5. My Ideal

KRAFT MUSIC HALL (1-27-44) w WILLIAM BENDIX, GLORIA DeHAVEN
1. Shoo Shoo Baby
2. One Sweet Letter from You
3. This is the Army Mr. Jones / GI Jive (Charioteers)
3. Candlelight and Wine

KRAFT MUSIC HALL (2-3-44) w DONALD O'CONNOR, MARILYN MAXWELL
1. San Fernando Valley
2. Tess's torch song (Marilyn Maxwell)
3. Little David Play on Your Harp (Charioteers)
4. Small Fry (w O'Connor)
5. I'll be seeing you

KRAFT MUSIC HALL (2-10-44) w MISCHA AUER, MARILYN MAXWELL
1. Shoo Shoo Baby
2. September Song
3. Poinciana

KRAFT MUSIC HALL (2-17-44) w CASS DALEY
1. Iowa
2. I've got a lot in common with you (w M. Maxwell)
3. After you've gone
4. Coins for my country (Daley)
5. I'll Be Seeing You

KRAFT MUSIC HALL (2-24-44) w PHIL SILVERS
1. San Fernando Valley
2. I never knew I could love anybody (M Maxwell)
3. GI Jive (Charioteers)
4. It's Only a Paper Moon
5. I'll be seeing you

KRAFT MUSIC HALL (3-2-44) w LUCILLE BALL
1. There'll be a hot time in the town of Berlin
2. Surrey with the fringe on top (w Marilyn Maxwell)
3. Thanks
4. Amor

KRAFT MUSIC HALL (3-9-44) w GEORGE MURPHY
1. Bombardier Song
2. Mexicali Rose
3. Here We Are (w M. Maxwell)
4. Going My Way
5. Whistling close

[Bing was absent the next two weeks.]

KRAFT MUSIC HALL (3-30-44) w GEORGE MURPHY
1. Hot Time in Town of Berlin
2. Take it Easy (w Marilyn Maxwell)
3. The Happy Cat Hit Parade (Charioteers)
4. Moonlight Bay
5. Amor

KRAFT MUSIC HALL (4-6-44) w KRAFT CHORAL GROUP
1. Love, Love, Love
2. Soldiers of God
3. Easter Parade (w Maxwell)
4. Stardust (Charioteers)
5. Going My Way

KRAFT MUSIC HALL (4-13-44) w BOB HOPE
1. Swinging on a star
2. Take it easy (w Trudy Erwin)
3. The one I love
4. Love, Love, Love (parody with Hope)
5. Amor

KRAFT MUSIC HALL (4-20-44) w DAVE SHELLY
1. San Fernando Valley
2. Milkman, keep those bottles quiet (Charioteers)
3. Night and day
4. Long ago and far away (from the 1944 film "Cover Girl")

KRAFT MUSIC HALL (4-27-44) w SONNY TUFTS
1. Swinging on a Star
2. Surrey with the Fringe on Top (w M Maxwell)
3. Swanee River
4. Going My Way
5. I Couldn't Sleep a Wink Last Night (w Tufts)

KRAFT MUSIC HALL (5-4-44) w GENE KELLY
1. Love, Love, Love
2. I'll be around (Charioteers)
3. I Never Knew (M Maxwell)
4. My Old Kentucky Home
5. Long Ago and Far Away

KRAFT MUSIC HALL (5-11-44) w KEENAN WYNN
1. Great Day
2. Stormy Weather (Charioteers)
3. Take it Easy (w Marilyn Maxwell)
4. San Fernando Valley (w Wynn)
5. Dearly Beloved
6. Going My Way

KRAFT MUSIC HALL (5-18-44) w JACK CARSON
1. Love, Love, Love
2. It Could Happen to You
3. Side by Side (w Maxwell)
4. Amor

KRAFT MUSIC HALL (5-25-44) w RICHARD HADYN
1. Bless 'em all
2. Milkman Keep Those Bottles Quiet (Marilyn Maxwell)
3. Louise
4. I'll Get By (Charioteers)
5. I'll be seeing you

KRAFT MUSIC HALL (6-1-44) w KATINA PAXINOU
1. San Fernando Valley
2. I Love You
3. Don't talk too much (Charioteers)
4. Something to remember you by (w Marilyn Maxwell)
5. Long ago and far away

KRAFT MUSIC HALL (6-8-44) w CECIL B. DeMILLE
1. News of the invasion of Europe
2. Swinging on a Star
3. It could happen to you
4. Small Hotel (w Marilyn Maxwell)
5. Old Glory

KRAFT MUSIC HALL (6-15-44) w BOB HOPE
1. Bless 'em all
2. Milkman, Keep Those Bottles Quiet (Charioteers)
3. Day after forever
4. Together (w Trudy Erwin)
5. Put it there, pal (w Hope)
6. I'll be seeing you

KRAFT MUSIC HALL (6-22-44) w GEORGE MURPHY
1. Hot Time in Town of Berlin
2. Stardust (Charioteers)
3. Is You Is Or Is You Ain't My Baby (Maxwell)
4. Take Me Out to the Ballgame (group)
4. Too-Ra-Loo-Ra-Loo-Ral (An Irish Lullaby)
6. Long Ago and Far Away

KRAFT MUSIC HALL (6-29-44) w ROY ROGERS
1. Swinging on a Star
2. Small Hotel (w Marilyn Maxwell)
3. It Had to Be You
4. Going My Way

KRAFT MUSIC HALL (7-6-44) w DORSEY BROTHERS
1. Snoqualmie Jo
2. Together (w M Maxwell)
3. Tumbling Tumbleweeds (Charioteers)
4. I'll Get By (from 1943 film "A Guy Named Joe")
5. Amor

KRAFT MUSIC HALL (7-13-44) w KEENAN WYNN
1. Bless em All
2. Let Me Call You Sweetheart
3. Day After Forever

KRAFT MUSIC HALL (7-20-44) w SONNY TUFTS
1. Snoqualmie Jo
2. I'll Remember April (from the Abbott and Costello film 
"Ride 'em Cowboy")
3. Red River Valley (Charioteers)
4. Side by Side
5. Amor

KRAFT MUSIC HALL (7-27-44) w SONNY TUFTS
1. Swinging on a Star
2. It Had to Be You
3. Come Out Wherever You Are (Charioteers)
4. Together (w Marilyn Maxwell)
5. I'll Be Seeing You

[Bing is absent while he entertains the troops in Europe.]

KRAFT MUSIC HALL (10-12-44) w BOB HOPE, SPIKE JONES, 
GEORGE MURPHY, MARILYN MAXWELL
(Bing returns from a tour of Europe)
1. Thou Swell (Murphy, Maxwell)
2. Cocktails for Two (Jones)
3. Swinging on a Star
4. White Christmas

(Bing is absent the next 3 weeks.)

KRAFT MUSIC HALL (11-9-44) w ETHEL SMITH
1. Is You Is Or Is You Ain't My Baby
2. Always (w Eugenie Baird)
3. I'll remember April
4. It could happen to you (Baird)
"Going My Way" film medley:
5. Day after forever
6. Swinging on a star
7. Too-Ra-Loo-Ra-Loo-Ral (An Irish Lullaby)

KRAFT MUSIC HALL (11-16-44) w FRANK SINATRA
1. Accentuate the Positive
2. Sleigh Ride in July (from the 1944 film "The Belle of the Yukon")
3. Don't Take Your Love From Me (Eugenie Baird)
4. These Foolish Things (Sinatra)
5. "Pennies from Heaven" film medley

KRAFT MUSIC HALL (11-23-44) w RISE STEVENS
1. Dance by the Light of the Moon
2. I didn't know about you (Charioteers)
3. I Dream of You (Eugenie Baird)
4. Let's Take the Long Way Home
5. Through the Years (Rise Stevens)
6. How Many Hearts Have You Broken
"Dixie" film medley:
7. Sunday, Monday, Always
8. She's from Missouri
9. Swing Low Sweet Chariot

KRAFT MUSIC HALL (11-30-44) w SPIKE JONES
1. Is You Is Or Is You Ain't My Baby
2. I promise you a faithful heart
3. The One I Love (Eugenie Baird)
4. Jeepers Creepers (Charioteers)
4. Glow worm (Spike Jones)
5. I'm making believe (from the 1944 film "Sweet And Low-Down" 
starring Benny Goodman)
6. "Here is My Heart" film medley: With every breath; 
    Love is just around the corner; June in January

KRAFT MUSIC HALL (12-7-44) w DIANA LYNN
1. Hot Time in Berlin
2. Brother Bill (Charioteers)
3. Don't Take Your Love from Me (Eugenie Baird)
4. What a difference a day makes
5. I'll be home for Xmas
"Waikiki" film medley:
6. Blue Hawaii
7. Hula Heaven (w chorus)
8. Sweet Leilani (w chorus)

KRAFT MUSIC HALL (12-14-44) w JERRY COLONNA
1. Don't fence me in
2. Straighten up and fly right (Charioteers)
3. More and more
4. My heart sings (Eugenie Baird)
5. Caroline (Colonna)
6. "Holiday Inn" film medley

KRAFT MUSIC HALL (12-21-44) w KRAFT CHORAL SOCIETY
1. Adeste Fidelis
2. Jingle Bells
3. I'm Making Believe
4. Don't Talk too Much
5. What a difference a day makes
6. Silent Night

KRAFT MUSIC HALL (12-28-44) w BEATRICE KAY, LES PAUL
1. Accentuate the Positive
2. Strange music in my ears
3. Always (w Eugenie Baird)
4. Steamboat Bill (Beatrice Kay)
5. Let's take the long way home
6. "Rhythm on the River" film medley

THE ANDREWS SISTERS SHOW (12-31-44) w BING CROSBY, GABBEY HAYES
1. Trolley song
2. Don't blame me
3. Don't fence me in (w Bing)
4. Accentuate the Positive (Bing)

KRAFT MUSIC HALL (1-4-45) w JOHNNY MERCER
1. Don't fence me in
2. Sleigh ride in July
3. Way down yonder in New Orleans (Charioteers)
4. My poor old heart (Mercer)
5. Evalina
"Birth of the Blues" film medley:
6. Birth of the Blues
7. Wait til the sun shines Nellie
8. Waiter, Porter & Upstairs Maid (w Mercer)
9. My melancholy baby

KRAFT MUSIC HALL (1-11-45) w SPIKE JONES
1. Gonna dance by light of moon
2. What a difference a day makes
3. Making Believe (Eugenie Baird)
4. Cocktails for two (Spike Jones)
5. More and more
6. "College Humor" film medley: 
Old Ox Road; Learn to Croon; Moonstruck

KRAFT MUSIC HALL (1-18-45) w DUKE ELLINGTON
1. Accentuate the Positive
2. There Goes That Song Again (Eugenie Baird)
3. Running Wild (Charioteers)
4. Frankie and Johnnie (Duke)
5. You got me where you want me (w Eugenie Baird)
6. "Mississippi" film medley: 
Down by the River; Easy to Remember; Soon

KRAFT MUSIC HALL (1-25-45) w ANDREWS SISTERS
1. Don't fence me in (w Andrews Sisters)
2. Strange Music
3. Jesus is a Rock in the Weary Land (Charioteers)
4. This heart of mine (Eugenie Baird)
5. One meat ball (w Andrews Sisters)
6. Sleigh ride in July
7. "Rhythm on the River" film medley

AFRS MUSIC HALL (2-1-45) w EUGENIE BAIRD
1. Evelina
2. Abraham
3. I'm making believe
4. Swinging on a star parody (w Ken Carpenter)
5. Straighten up and fly right (Charioteers)
6. Don't You Know I Care?
7. "Here Come the Waves" film medley

KRAFT MUSIC HALL (2-8-45) w FRED LOWERY (whistler), 
VIVIENNE DELLA CHIESA (soprano), EUGENIE BAIRD, CHARIOTEERS
1. Saturday Night is the Loneliest Night of the Week
2. Holiday for Strings (Lowry whistles)
3. Sweet Dreams Sweetheart (Baird)
4. How Big Can You Get (Charioteers)
5. Magic is the Moonlight
6. "Going Hollywood" film medley

KRAFT MUSIC HALL (2-15-45) w EDDIE HAYWOOD, ELLA LOGAN 
(Wendell Niles announces)
1. Dance by the Light of the Moon
2. Begin the Beguine (Haywood)
3. There Goes that Song Again (Eugenie Baird)
4. Git on Board (Charioteers)
5. Laugh Clown Laugh (Logan)
6. Don't Ever Change
7. "She Loves Me Not" film medley

KRAFT MUSIC HALL (2-22-45) w MARIAN ANDERSON
1. Ac-cent-tchu-ate the Positive
2. Don't You Know I Care?
3. You Belong to My Heart
4. "Big Broadcast" film medley: Here Lies Love, Dinah, Please
5. Sometimes I Feel Like a Motherless Child (Marian Anderson)

KRAFT MUSIC HALL (3-1-45) w SAUNDRA BERKOVA (11-year-old violinist)
1. Evalina
2. In His Care (Charioteers)
3. You Got Me Where You Want Me (w Eugenie Baird)
4. Magic is the Moonlight
5. This Heart of Mine
6. "If I Had My Way" film medley

KRAFT MUSIC HALL (3-8-45) w JOE VENUTI, SOLITA DESOLAS 
(Spanish concert pianist)
1. Accentuate the positive
2. I dream of you
3. More and more (Eugenie Baird)
4. Dear old girl (w Charioteers)
"Anything Goes" film medley:
5. Anything goes
6. You're the top
7. My heart and I

KRAFT MUSIC HALL (3-15-45) w ARTIE SHAW
1. McNamara's Band
2. I Didn´t Know About You (Eugenie Baird)
3. I Was Doing Allright (Shaw)
4. You Belong To My Heart
5. I´m Beginning To See The Light (Charioteers)
6. You Took Advantage Of Me (Shaw)
7. Beautiful Love
8. "Double Or Nothing" film medley:
Smarty, All You Want To Do is Dance, The Moon Got In My Eyes
(Following the live broadcast, Bing attended the 
Academy Awards ceremony where he received the Oscar 
for best actor for his 1944 film Going My Way.) 

KRAFT MUSIC HALL (3-22-45) w FRANKIE CARLE
Bing talks of his Academy Award.
1. Saturday Night is the Loneliest Night of the Week
2. All by Myself (Jeannie Baird)
3. The Little White Horse and the Little Gray Mare (Charioteers)
3. After Awhile
4. Strange Music
5. "Road to Singapore" film medley

AFRS MUSIC HALL (3-29-45) w EUGENIE BAIRD
1. The Fifth Marines
2. Music Master (Charioteers)
3. More and More
4. My Heart Sings (Baird)
5. Didn't Know about You (Charioteers)
6. I Dream of You (Baird)
7. Strange Music
8. Let's Take the Long Way Home
"Star Spangled Rhythm" film medley:
9. That Old Black Magic
10. Hit the Road to Dreamland
11. Old Glory
12. Old Blue instrumental

KRAFT MUSIC HALL (4-5-45) w NAT KING COLE
1. A little on the lonely side
2. Bye and Bye (Charioteers)
2. After awhile
3. It's Only a Paper Moon (Nat King Cole)
4. You belong to my heart
5. "Road to Zanzibar" film medley

KRAFT MUSIC HALL (4-12-45) CANCELLED DUE TO DEATH OF FDR

NBC Tribute to FDR (4-15-45)
Ronald Coleman; Battle Hymn of Republic - John Charles Thomas; 
Home on the Range; Fibber McGee and Molly; Kay Kyser; 
Serenade for Strings; Song of the Sea - Dick Powell;
James Cagney; Eddie Cantor; Amos and Andy; Ave Maria - Deanna Durbin; 
Will Hayes; Ken Carpenter; Shirley Ross; Betty Davis/Robert Young; 
Jack Benny; Oh, Beautiful - Shirley Ross; Hall Perry; Ronald Coleman; 
Edgar Bergen; Brahms Lullaby, Faith of Our Fathers - Bing Crosby;
Bob Hope, Bing Crosby remember FDR; Ingrid Bergman; Star Spangled Banner

KRAFT MUSIC HALL (4-19-45) w YEHUDI MENUHIN
1. My dreams are getting better all the time
2. My mother's waltz
3. Like someone in love
4. An apple for the teacher
5. For a man and his dream

KRAFT MUSIC HALL (4-26-45) w CARMEN CAVALLARO, FLORENCE ALBA
1. Candy
2. All By Myself (Eugenie Baird)
3. Rolling (Charioteers)
4. Remember When
5. This Heart of Mine
6. "East Side of Heaven" film medley

KRAFT MUSIC HALL (5-3-45) w NAT KING COLE
1. Sentimental Journey (w Charioteers)
2. All of my life
3. Kentucky babe (w Charioteers)
4. Please Don't Say No (Cole)
5. Sweet Georgia Brown (Cole)
6. "We're Not Dressing" film medley

KRAFT MUSIC HALL (5-10-45) w CASS DALEY
1. My dreams are getting better all the time
2. The man I love (Eugenie Baird)
3. My mother's waltz
4. I Want Some Huggin' (Cass Daley)
5. After awhile
6. A fine romance
7. The way you look tonight

KRAFT MUSIC HALL (5-17-45) w FLORENCE ALBA, EDDIE HAYWOOD
1. Candy
2. All of my life (Eugenie Baird)
3. Moonlight Bay
4. A friend of yours
5. Sentimental journey
6. Tangerine
7. Arthur Murray taught me dancing in a hurry
8. I remember you

[BING MISSES THE NEXT FIVE BROADCASTS AS HE TRAVELS THE COUNTRY
VISITING MILITARY HOSPITALS AND RAISING MONEY FOR THE WAR EFFORT.]

KRAFT MUSIC HALL (6-28-45) w CARMEN CAVALLERO
1. Atchison, Topeka and the Santa Fe
2. A Friend of Yours
3. You Belong to My Heart
4. "Paris Honeymoon" film medley: Funny Old Hills, A Friend of Yours, I Have Eyes

[BING IN CONTRACT DISPUTE WITH NBC AND KRAFT;
DOES NOT RETURN UNTIL 2-7-46.]

KRAFT MUSIC HALL (2-7-46) w EDDY DUCHIN, FRANK MORGAN
1. Aren't you glad you're you?
2. I can't begin to tell you
3. Personality
4. These foolish things

KRAFT MUSIC HALL (2-14-46) w LES PAUL, EDDY DUCHIN, FRANK MORGAN
1. Let it snow
2. It's been a long long time
3. I can't believe you're in love with me
4. In the land of beginning again

KRAFT MUSIC HALL (2-21-46) w EDDY DUCHIN, FRANK MORGAN
1. Doctor, Lawyer, Indian Chief (w Charioteers, who arrive late)
2. Symphony
3. One More Dream (Charioteers)
4. I can't begin to tell you
5. I'm always chasing rainbows

KRAFT MUSIC HALL (2-28-46) w JERRY COLONNA, MARTHA TILTON, EDDY DUCHIN
1. Let it snow
2. It might as well be spring
3. A small hotel
4. Day by day

AFRS MUSIC HALL (3-7-46) w EDDY DUCHIN
1. Doctor, Lawyer, Indian Chief
2. I Can't Begin to Tell You
3. Welcome to My Dream
4. Personality (Lena Romai)
5. Chasing Rainbows
6. Oodles of Noodles (Charioteers)
7. Just You Wait and See

KRAFT MUSIC HALL (3-14-46) w Former President HERBERT HOOVER, EDDY DUCHIN
1. Aren't You Glad You're You?
2. Dear Old Donegal
3. Lord What a Morning (Charioteers)
4. A Small Hotel
5. Shoo-Fly Pie and Apple Pan Dowdy (w Charioteers)
6. Oh! What It Seemed to Be (Just a Neighborhood Dance)
President Hoover speaks about the world famine.

KRAFT MUSIC HALL (3-21-46) w SLIM GAILORD TRIO, CULLY RICHARDS

KRAFT MUSIC HALL (3-28-46) w FRANK MORGAN, GEORGIA GIBBS

KRAFT MUSIC HALL (4-4-46) w FRANK MORGAN, GEORGIA GIBBS, EDDY DUCHIN
1. Sioux City Sue
2. All Through the Day
3. Sunny Side of the Street (Gibbs)
4. Little David (Charioteers)
5. You Are Too Beautiful
6. Welcome to My Dream

KRAFT MUSIC HALL (4-11-46) w MARILYN MAXWELL, LES PAUL TRIO, EDDY DUCHIN
1. Shoo-Fly Pie and Apple Pan Dowdy
2. Day by day
3. Bye and Bye (Charioteers)
4. It's Only a Paper Moon
5. You Won't Be Satisfied (Maxwell)
6. On the trail with me

KRAFT MUSIC HALL (4-18-46) w TRUDY ERWIN, KRAFT CHORAL CLUB, EDDY DUCHIN
1. Sioux City Sue
2. It's anybody's spring
3. Didn't old pharaoh get lost (Charioteers)
4. Easter Parade (w Trudy Erwin)
5. You are too beautiful
6. All through the day

KRAFT MUSIC HALL (4-25-46) [Bing is absent from this broadcast.]

KRAFT MUSIC HALL (5-2-46) w JOE FRISCO, PEGGY LEE, EDDY DUCHIN, 
BOB HOPE (birthday surprise)
1. Shoo-Fly Pie and Apple Pan Dowdy (w Charioteers)
2. It's anybody's spring
3. Beautiful love
4. Happy Birthday (Hope)
5. All through the day (mangled by Bing)

KRAFT MUSIC HALL (5-9-46) w SPIKE JONES, DOROTHY CLAIRE, EDDY DUCHIN 
(Bing's last KMH)
1. It's Only a Paper Moon
2. They say it's wonderful
3. Swanee River
4. I dream of Brownie with the Light Blue Jeans (Jones)

---