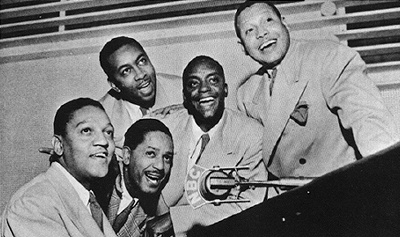 The Charioteers were a 5-man black gospel "quartet" formed in Ohio in 1930 by Wilfred "Billy" Williams (1910-72). By 1937 the group consisted of Williams (lead tenor), Edward "Eddie" Jackson (second tenor), Ira Williams (baritone), Howard Daniel (bass) and James Sherman (piano). They recorded mostly negro spirituals for the Vocalion label until they signed with Columbia in 1940. Columbia wanted to remake the group into a pop rival to Decca's Ink Spots. Soon the Charioteers were in the pop music charts with their recording of Russ Morgan's 1940 song "So Long." Although they never achieved the phenomenal success of the Ink Spots, the Charioteers' gospel-pop sound did produce a total of 7 hits of their own in the 1940s and two more in support of other artists.
The Charioteers became regulars on Bing Crosby's Kraft Music Hall in October of 1942 and continued on radio with Bing through the first season of the Philco show. Although the Charioteers did not commercially record with Bing (they were under contract to different record companies), they did record with other top vocalists, and produced two top 30 hits with Frank Sinatra ("Don't Forget Tomorrow Night") and Buddy Clark ("Now is the Hour"). Their seven solo hits include "So Long" (1940), "On the Boardwalk in Atlantic City" (1946), "Open the Door Richard" (1947), "Chi-Baba" (1947), "What Did He Say?" (1948), "Look-A-There Ain't She Pretty" (1948), and "A Kiss and a Rose" (1949). During this same period the Ink Spots produced more than 3 dozen top 30 hits.
In 1950 Billy Williams was asked to form a group to perform regularly on TV in Sid Caesar's Your Show of Shows. The TV producers thought the Charioteers were too old. So Williams left the Charioteers and formed The Billy Williams Quartet. The Charioteers sans Williams continued to perform throughout most of the 1950s but without their previous chart success. The group disbanded in 1957. Williams eventually became a solo artist and was the first in-person guest on American Bandstand. Williams died in Chicago on Oct. 17, 1972.
---