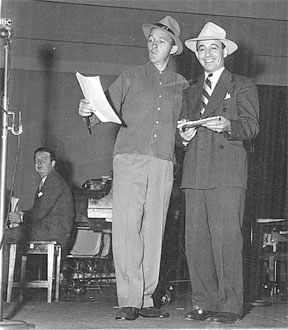 Leo
"Ukie"
Sherin
Leo "Ukie" Sherin (1909-1981) was born in the Bronx and started doing odd jobs on the "Borscht circuit" ("Jewish Alps") in New York's Catskill Mountains in the late 1920s. His nickname came from the instrument he played. In the 1930s he worked as a gag write for Warner Vitaphone studios in Brooklyn until he migrated to Hollywood in 1937 where he wrote for Edgar Bergen and Bert Wheeler. Ukie became friends with Jerry Lester, the resident comedian on the Kraft Music Hall following the exit of Bob Burns. Through Lester he got hired to write for the Kraft show. When Lester and Victor Borge left the show Ukie became the on-air comedic stooge for Bing throughout 1943 and '44. He also co-wrote Bing's 1943 movie, Dixie, in which he briefly performed. He can be spotted in the crowd at a racetrack in Bing's 1950 movie "Riding High."
Ukie told an interviewer in 1944: "I'm really sittin' pretty. My ambition to star with Bing has been realized. I'm crazy about steaks, Bing Crosby, golf, Bing Crosby, moonlit nights, Bing Crosby, boogie woogie .. and Bing Crosby. I'm so happy that the other day I actually gave a gag away." (Pittsburgh Press, 29 Oct 1944)
One of Ukie's assignments during the Kraft years was to "warm up" the studio audience. On occasion he would pretend to be a member of the audience and climb over people always searching for a better seat and ask people irritating questions. He would point to a stage picture of Bing and ask the people next to him innocently "Who's that guy?"
Sometimes Ukie was the victim of Bing's pranks. In one of Ukie's warmup routines he would scan the crowd and announce "I see tonight we have a very special guest in the audience -- Mr. Boris Karloff." The audience would twist and squirm. Then Ukie would say, "Oh, pardon me, madame." One evening after announcing Karloff's presence Ukie was surprised when Boris Karloff stood up in the audience. Ukie was speechless. Bing had arranged for Karloff to be smuggled in.
Another frequent Ukie routine was to order a piece of toast with his meal. The waiter would ask whether he wanted whole wheat or white. Ukie would reply, "It doesn't matter. I'm putting it under the table to keep it from shaking." In the dining car on a train from San Francisco with Bing, Ukie got a surprise when he did his toast routine. The waiter fired back, "Do you want whole wheat or white, or are you just going to use it to keep the table from shaking?" Bing had tipped off the waiter.
On another occasion Bing and Ukie were driving back to Los Angeles from a charity event in San Francisco. It was about 3:30 in the morning and Bing asked Ukie to stop at a nearby farm house for a drink of water. The house was dark. Bing knocked on the door. Eventually a man came to the door and asked "Has somebody been hurt?" Bing replied, "No, I need a drink of water." The man rubbed his eyes and said, "Are you Bing Crosby?" Bing replied in the affirmative and the man got him a glass of water. They all sat on the porch while Bing sipped his water and sang a couple songs. Then he and Ukie headed home. Ukie asked Bing why he troubled that poor fellow for a drink of water. Bing replied, "For the rest of his life he'll be telling his friends that Bing Crosby stopped by his home at 3:30 in the morning for a drink of water, and nobody will believe him." (Milwaukee Sentinel, 29 March 1962)
Ukie retired to Palm Springs, California, where he suffered a disabling stroke in 1977. He died 27 June 1981 from lung cancer.
Ukie's nephew, Jack, dropped by the Bing Crosby Internet Museum and left this biography of his uncle:

I was very excited to find your Bing Crosby Kraft Music Hall page on the web with a picture of my uncle, Leo "Ukie" Sherin and a complete radio show in which he appeared. I have passed this on to other members of my family...my father (Ukie's brother) who is 88 years old, his sister who is 97 years old and his brother who is 95 years. Ukie died many years ago.

Ukie is legendary in my family and there are other pictures of Ukie with Bing, Dorothy Lamour, Bob Hope, Frank Sinatra, Edgar Bergen & Charlie McCarthy, and others.

My Uncle Ukie also wrote a song: "Dont' Forget Tonight Tomorrow" in the 40's which was recorded by Frank Sinatra. (I have the recording). In the 50's he became a nightclub entertainer and worked in Dallas. He was there when JFK was assasinated and I found out later that he was a friend of Jack Ruby (who shot Lee Harvey Oswald). Ukie visited Jack Ruby in jail and Ruby told him (in Yiddish) that he had no role in the Kennedy assassination. Also in the mid-50's Ukie produced a comedy album: "Let's Make Friends with Ukie Sherin" which was pretty corny. (I also have this recording)

For years my father had claimed that Ukie actually appeared on the Kraft Music Hall and the radio show you posted is the first solid proof for me. His role as a writer is verified in the new version of "The Encyclopedia of Old Time Radio." It is also rumored that he later wrote for Jack Benny's radio show.

-- Jack Sherin in New York City
---