Bing migrated from radio to television slowly, in part because of the greater demands of the new medium. His first major television effort was co-hosting with Bob Hope an all-night telethon to raise money for the U.S. Olympic team in June 1952. The telethon was transmitted on both CBS and NBC networks and its goal was to raise $500,000. The telethon drew more than a million dollars in pledges, but less than half of that was received.
Bing's first television special was broadcast Jan. 3, 1954, with Jack Benny as his special guest. The show was sponsored by General Electric, his radio program sponsor at the time, and broadcast over CBS. Bing's first special was filmed and has since been released in many formats. In the spring of '54 Bing and George Burns were guests on Jack Benny's final show of the season. The photo below of Benny, Crosby and Burns is from that show. For many years Bing seemed satisfied hosting specials and making guest appearances on TV. Among his many specials were the first made-for-tv movie, "High Tor," which co-starred Julie Andrews in 1956, "The Edsel Show" with Frank Sinatra, Louis Armstrong and Rosemary Clooney in 1957, and "The Timex Show" with Frank Sinatra, Dean Martin and Mitzi Gaynor in 1959.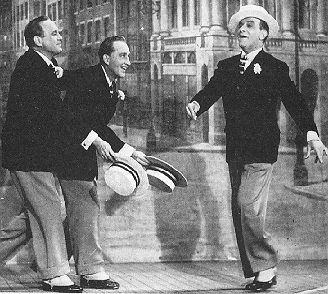 Bing's first TV Christmas special aired on ABC in 1957 with Frank Sinatra as co-host. His second TV Christmas special did not appear until 1961, although the only thing Christmas about this show were the commercials and Bing's singing "White Christmas" at the end. A Bing Christmas special became an annual TV event from then until his death. His 1962 Christmas special was ABC's first special to be broadcast in color. In 1963 Bing made his first of many appearances hunting, fishing and lecturing on conservation on ABC's "The American Sportsman" hosted by Curt Gowdy. In 1964 Bing plunged big-time into television. On January 4 he appeared as the first host of a new ABC variety show, The Hollywood Palace, which was a mid-season replacement for the Jerry Lewis show, which had been cancelled. The "Palace" lasted until 1970, when Bing hosted the series finale Feb. 7. All together Bing hosted 32 of the hour-long shows, more than any other host. Bing hosted only two of the shows during the first year and a half, when the show was broadcast in black-and-white. Bing's other 30 hosting chores were from the colorful years, beginning with the fall 1965 season. Also in 1964 Bing began work on a weekly situation comedy for ABC TV. Bing starred as "Bing Collins" in a domestic musical-comedy that co-starred Beverly Garland as his wife and Frank McHugh as a freeloading friend of the family (McHugh played Bing's priestly pal in "Going My Way"). Guests on the show included Phil Harris and son Gary. Despite the critic's initial approval, the show was cancelled after the first season.

In 1966 Bing and Bob Hope appeared on a Danny Thomas special, "The Road to Lebanon," which spoofed the Road pictures. The following year Bing was offered the role of detective "Columbo" in a TV movie launch of a proposed TV series. Bing replied that he liked the script and the character, but "I'm retired now, I'm playing golf" and "television is a real rat race and a meat grinder." Instead, Peter Falk was recruited for the role. In 1970 Bing and his second family starred in the partially animated NBC musical "Goldilocks." In 1971 Bing starred as a despotic physician in a 90-minute ABC movie Dr. Cook's Garden.
On 3 March 1977 Bing recorded a 90-minute celebration of his 50 years in show business that was broadcast March 20 on CBS. The show was sponsored by Kraft Foods through their advertising agency, J. Walter Thompson. The venue was Ambassador Auditorium in Pasadena, California. Performing guests included Bob Hope, the Mills Brothers, Rosemary Clooney, Pearl Bailey and Bette Midler. At the end of the show Bing fell into an orchestra pit and ruptured a disc in his back. In May, following a month-long stay in the hospital, he was interviewed at his home for Barbara Walter's third celebrity special, which aired later that month. Bing's final TV special was his last Christmas show, co-starring Twiggy and David Bowie, which was recorded in September, 1977, in London and aired following his death.
---
More Bing FAQs ||| BCIM Home Page ||| Written by Steven Lewis