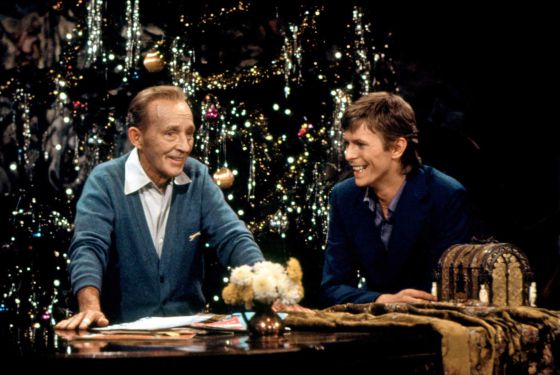 One of the more surreal moments in pop music history took place Sept. 11, 1977, when the leading American pop star of the first half of the Twentieth Century met and performed with one of the more innovative rock 'n' rollers of the last half of the Century. Bing was in London on a concert tour and to tape his yearly TV Christmas special. It was Bing's idea that he should have as a guest on his TV show a young star. Someone suggested David Bowie. Bing had never heard of Bowie, but his kids had, and so an invitation was sent to the rock star. Bowie's mom, as it turned out, was a fan of Der Bingle and her son jumped at the chance to perform with him.
Bing's idea was that he and Bowie would perform "The Little Drummer Boy" as a duet. Bowie felt the song did not showcase his voice very well, so the writers added "Peace on Earth," which suited Bowie's voice quite well. The two musical spokesmen of different generations met for the first time on the morning of the taping, rehearsed for an hour and finished their duet in only three takes. Bing was impressed with Bowie, and gave him his phone number at the end of the taping. Bing told an interviewer four days later that he considered Bowie "a clean cut kid and a real fine asset to the show. He sings well, has a great voice and reads lines well. He could be a good actor if he wanted."
Bing died a month later, and the public did not see their performance until after his death. The duet generated much interest, and was excerpted to become a perennial TV music video, a best-selling 45-rpm single, a computer CD-ROM and a ubiquitous internet video, often parodied. Some viewed the joint performance of Bing and Bowie as a symbol of the end of the intergenerational wars of the 1960s and '70s. In 1999 TV Guide chose the duet as one of the 25 best musical television moments of the century (June 5 issue).
---
Bing's Xmas TV Shows ||| BCIM Home Page ||| Developed by Steven Lewis