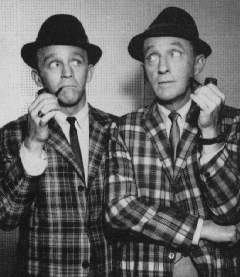 Gary Crosby is dead.
LOS ANGELES, Aug. 25, 1995 -- Gary Crosby, the eldest son of Bing Crosby, died Thursday at St. Joseph Medical Center in Burbank. He was 62. The cause was lung cancer, said Crosby's manager, Paul Volpe.
His death follows that of two of his three brothers -- Lindsay (1989) and Dennis (1991) -- both of whom committed suicide.
Although Gary tried to follow in his father's footsteps as a singer and actor, his career was largely confined to small parts in television and the movies. His greatest success came from the 9 duets he recorded with his father for commercial release in the early 1950s. Two of these duets became the first double-sided gold record in history, 'Sam's Song' and 'Play a Simple Melody,' in 1950.
Gary Crosby and his three brothers, Lindsay and the twins, Philip and Dennis, formed their own singing group in the 1950's but had little success. The brothers, Crosby's sons from his first marriage to Dixie Lee Crosby, were better known as Hollywood 'bad boys' who were constantly getting into trouble because of their drinking. Their group eventually broke up because the boys could not get along. Gary acknowledged that he was an alcoholic in 1967.
In 1983, after a series of career and health setbacks, Gary produced a sensational autobiography, Going My Own Way, in which he accused his father of child abuse and marital infidelity. The younger Crosby had a weight problem and he wrote that his father would weigh him every week as a boy and whip him with a cane if he had gained weight. Although Gary later admitted that the book "got out of hand," it nevertheless further alienated him from his brothers and from his father's second family.
Gary's acting debut came when he was 9, playing himself in 'Star-Spangled Rhythm' in 1942. The film starred his father and Betty Hutton. After several more acting parts, he concentrated on his education, graduating from Stanford University before returning to Hollywood to play in a series of films in the 1950's, never in starring roles. They included 'Holiday for Lovers,' 'A Private's Affair' and 'Mardi Gras.' His most recent film was 'The Night Stalker' in 1987.
On television, he was best known as Officer Ed Wells on 'Adam 12,' which ran from 1968 to 1975. He also played Eddie on 'The Bill Dana Show' from 1963 to 1964 and had a regular role on 'Hunter' in the mid-1980's. He made guest appearances on a number of shows, including 'Twilight Zone,' 'Matlock,' 'Murder, She Wrote' and those of his father's.
He is survived by a son, Steve, of Santa Barbara, Calif., and his brother Philip.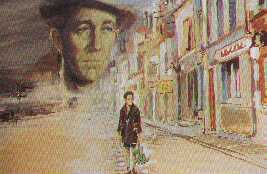 Fate's final twist:
sober, in love, his demons at rest,
Gary Crosby dies of cancer at 62.
People Weekly, Sept 11, 1995
Two weeks before Gary Crosby's death, his theatrical agent Ernie Dade, unaware that his client was ill, phoned to say he had set up an appointment. "I don't think I'll be going on any appointments -- I'm dying of cancer," Crosby, 62, told him. "Wouldn't you know it? I finally got my s--t together. I stopped drinking. I stopped smoking. I stopped fighting the fact that Bing Crosby was my father. And now look what's happened."
Crosby's haunted life ended on Aug. 24, when he succumbed in Burbank, Calif., to complications of lung cancer, which had been diagnosed in June. "We thought he had bronchitis," says Bobbi Boyle, 64, his fiancee. "When it didn't go away, Gary went for tests at UCLA. That's when we learned that he had inoperable lung cancer."
The eldest of four sons born to Bing Crosby and his first wife, actress Dixie Lee, Gary--named for Bing's friend Gary Cooper--fought a lifelong battle against alcoholism and the ghosts of his childhood. In his 1983 memoir, Going My Own Way, he stripped away his famous father's good-guy facade, revealing a childhood of beatings and emotional violence. Whenever Gary gained weight, he wrote, his father, who called him Bucket Butt in public and insisted on weekly weigh-ins, beat him with a belt until he bled.
Although best known as a TV supporting actor -- he played Officer Ed Wells on Adam-12 from 1968 to 1975 and had a regular role on Hunter in the '80s -- Crosby owned a little bit of recording history. In 1950 he and Bing teamed up to sing two duets, "Sam's Song" and "Play a Simple Melody," that became part of the first double-sided gold record ever. He and his brothers--two of whom, Lindsay and Dennis, later committed suicide--briefly sang together during the '50s. Just before his death Gary was working on an album in which, like the 1991 Natalie Cole-Nat "King" Cole Unforgettable album, he would be paired electronically with his late father.
Separated from third wife Carol (their divorce became final a week before his death), Crosby, who had one son, Steve, 40, planned to marry Boyle at Christmastime. "He was a sweet guy," she says. "And he never meant to bad-mouth his father; he just wanted people to know the truth."

---