Lindsay Crosby Suicide
December 13, 1989 | ASHLEY DUNN | L.A. TIMES STAFF WRITER

Lindsay "Linny" Harry Crosby (05 Jan 1938 - 11 Dec 1989), the youngest son of Bing Crosby from the famed crooner's first marriage, shot himself to death in a Las Virgenes apartment after learning that the inheritance he relied on to support his family was gone, a family spokeswoman said Tuesday.

Just 11 days earlier, Crosby and his three brothers had been told by attorneys that the oil investments their late mother, Wilma Wyatt, made for them had gone broke, said Marilyn Reiss, spokeswoman for Lindsay's older brother, Gary.

For Lindsay, the news was the "last straw" after years of battling alcoholism, depression and the strain of living under the shadow of his famous father, Reiss said.

"Maybe if he had been a meaner person, he could have handled it," Reiss reported Gary Crosby saying after learning of his brother's death. "He was too sensitive."

Crosby, 51, was found dead late Monday afternoon from a single gunshot wound to his head. A small-caliber rifle was nearby.

Crosby had been staying at the apartment on Bravo Lane while undergoing treatment for alcoholism in nearby Calabasas, Reiss said. He was due to return home to his third wife, Susan, and two sons in Sherman Oaks this weekend, she said. Crosby had two other sons by previous marriages.

Alcoholism was only one of many problems that seemed to dog Lindsay, Reiss said. He had a nervous breakdown in 1962, went through two divorces and was arrested several times for drunk driving and battery.

He never held a steady job, and his own attempts at an entertainment career, including appearances in such low-budget films as "The Glory Stompers," and "Free Grass," were dismal failures.

In 1983, Lindsay sided with his brother, Gary, who had written a book, Going My Own Way, in which he described Bing Crosby as an abusive tyrant who beat his sons.

"I hope it clears up a lot of old lies," Lindsay said at the time.

Bing Crosby married actress Kathryn Grant in 1957 and raised a second family. At his death in 1977 at age 73, he left his money in a blind trust, which none of the sons--whose youthful escapades were well documented by the news media--could touch until age 65.

Phillip Crosby, another of the Crosby brothers, said in a magazine interview six years ago: "My father thought, 'How much trouble will they be able to get into then?' "

Reiss said the recent glut in the oil markets wreaked havoc on Wyatt's investments. Gary Crosby told Reiss that the four brothers, who also include Dennis, Phillip's twin, were shocked.

But he said for himself: "My life is one shock after another. I'll find a job as a backup singer, or a gofer on a studio lot."

No one knew the depth of Lindsay 's despair--except now, in retrospect, Reiss said.
---
by Robert G. Smith, National Enquirer, December 26, 1989
Bing Crosby's son Lindsay killed himself during the Yuletide season because he couldn't bear facing another Christmas -- a holiday that brought back graphic, hated memories of the father he despised.
All his life Lindsay had carried the scars of being physically and emotionally abused as a child by Bing -- who often beat him at Christmas.
Everyone revered Bing because of his famous song and movie White Christmas. So Lindsay once vowed to a friend that if he ever killed himself, he would do it at Christmas -- just to show the world what a rat his dad really was.
And on December 11 -- less than 24 hours after watching White Christmas on TV -- 51-year-old Lindsay blew his brains out.
Christmas had always been a bad time for Lindsay, but this year had been the worst of all. He'd been so severely depressed in recent weeks that he had to be hospitalized. Then he suffered serious financial setbacks -- and finally, a breakup with his girlfriend had left him shattered.
And always, hovering over his tragic life like a black cloud, were his dark depressing memories of Bing.
Said Lindsay's first cousin Carolyn Michels:
"Every time he heard the voice of his father Bing crooning White Christmas -- probably the most-heard carol on car radios and in shopping malls -- it was another reminder of what a failure his own life had turned out to be.
"His brother Dennis recently told me Lindsay felt everything he did, everything he touched, was doomed to fail -- and Lindsay dreaded the approach of Christmas with all its pain and sad memories. Lindsay felt his whole life was one big colossal waste. Being Bing's son ruined his life."
For Lindsay there were no White Christmases, only black ones -- and he'd even threatened to commit suicide during the holiday season, revealed Robert Slatzer, coauthor of the 1981 biography Bing Crosby -- The Hollow Man.
Slatzer told The ENQUIRER: "Lindsay told me a few years ago 'I hate Christmas because of Pop and I always will. It brings back the pain and fear I suffered as a child. And if I ever do myself in, it will be at Christmastime. That will show the world what I think of Bing Crosby's White Christmas.'"
Confided Slatzer, a Crosby family friend for many years:
"Lindsay hated his father with a passion. He could never forgive Bing for the way he'd been treated as a child -- especially at Christmastime. Instead of being a time of joy and love and peace, Bing had made Christmas a time of pain and suffering for Lindsay and his three brothers Gary, Dennis and Phillip. During the Christmas holidays Bing often took his boys to his ranch in Elko, Nevada, and worked the hell out of them. If they didn't do enough work, he would beat them. They lived in fear of these brutal beatings. These childhood experiences ruined the holiday season for Lindsay -- and scarred him for life."
Bing was cold, distant and imposed harsh rules on his sons -- and when they broke those rules, they were beaten until they bled, say insiders. He also constantly belittled the boys, calling them "stupid asses who won't amount to anything."
Lindsay was the most sensitive son ... and his dad's abuses and lack of affection hit him the hardest, coloring his entire life.
Said Slatzer: "Lindsay was never able to find happiness. He became a hard-drinking hell-raiser who went from woman to woman and couldn't find peace or success.
"Lindsay once told me: 'People think Bing Crosby personifies the Christmas spirit because he sings White Christmas. But he was a total phony. He was no Father Christmas -- he was a cold, cruel Ebenezer Scrooge. His meanness and cruelty has dominated my life. And when I hear my old man singing White Christmas on the radio, it makes my skin crawl. I have to run out of the room.'"
Incredibly, in recent years Lindsay -- who lived in Calabasas, California -- often "tortured himself around Christmastime by listening to his father's records," said a close friend -- who added: "He was in bad shape, getting more and more depressed."
This year, Lindsay reached his lowest point ever.
For years he'd been a manic-depressive who had to take drugs to keep from going over the edge. But by September he had grown so severely depressed he had to check into a psychiatric hospital for six weeks, said a close friend.
"Lindsay's behavior became more and more bizarre in the past year," the friend confided. "For example, he wouldn't buy anything at the grocery store unless he had a coupon for it -- yet he'd often buy a hamburger at a restaurant and leave the waitress a $100 tip."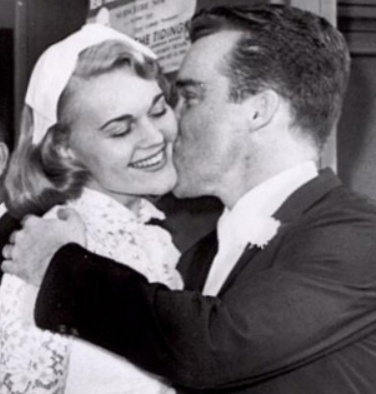 Then came another blow: Lindsay -- a three-time loser in marriage -- broke up with his girlfriend, Pam Desnon, because she couldn't stand his bizarre mood swings. They managed a reconciliation, but the relationship remained very rocky.
Lindsay also was having worsening money problems -- adding to his depression, says a pal. Even his car recently was repossessed.
"Lindsay had severe money problems. The money from his trust fund was declining due to investments that were not doing well. And he had to split the trust fund income with an ex-wife. He told me, 'I'm a financial ruin.'"
On the night of December 10, Bing's movie White Christmas aired on TV.
"Lindsay told his girlfriend Pam he was going to watch it -- even though he said he hated it," said a close friend.
And less than 24 hours after watching the movie, Lindsay ended his life by putting a bullet through his brain. The pain had finally ended.
---