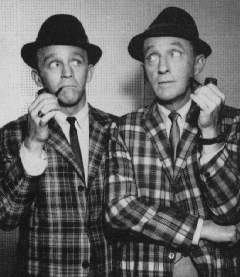 Bing's oldest son, Gary, seemed the most talented to Bing and the most interested in a career in show business. Bing helped his son break into the business by recording nine duets with him for commercial release in the early '50s. Their first two recordings, "Sam's Song" and "Play a Simple Melody," were recorded when Gary was 16 years old and released as "Gary Crosby and Friend." The record became the first double-sided gold disc in history. Bing also invited Gary to appear often on his radio and TV shows and turned his radio show over to Gary during the summer 1954. Their duets were:
June 23, 1950


March 22, 1951
Moonlight Bay

March 27, 1951
When You and I Were Young, Maggie, Blues

November 17, 1952
Fatherly Advice

November 4, 1953
What a Little Moonlight Can Do
Down by the Riverside

December 31, 1953
Cornbelt Symphony
Call of the South

The Hollywood Reporter (27 February 1995 issue) reported that Gary had reached agreement with MCA-Universal to add his own voice to recordings made by his father for release as a new collection of duets on compact disc. Shortly thereafter Gary was diagnosed with lung cancer and died later that year before the project could be recorded.
---