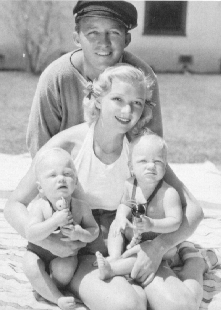 Bing married twice. His first marriage was to a shy 20-year-old actress, Wilma Wyatt, whose stage name was "Dixie Lee." Her father and friends generally opposed the marriage to Bing, age 27, on the grounds that he was an irresponsible playboy. On their wedding day -- 29 September 1930 -- Dixie was the more famous of the two and so press accounts of the marriage focused on her rather than Bing. Six months later Dixie left Bing and made plans to divorce him on account of his drinking and partying. Bing pleaded with Dixie for just one more chance. They reconciled, and Bing's alcohol abuse came to an abrupt end. Dixie retired from show business within 5 years of her marriage. Her final film was "Redheads on Parade" in 1935. In 1933 Dixie and Bing began a family.
Bing and Dixie had 4 sons: Gary (1933-95), twins Phillip (1934-2004) and Dennis (1934-91), and Lindsay (1938-89). Ironically, after sobering up her husband, Dixie soon fell prey to her own alcohol abuse as her husband's fame and absences grew. Dixie's disintegration was no secret in Hollywood, which released a movie starring Susan Hayward (Smash Up - The Story of a Woman) in 1947 loosely based on the troubles in the Crosby marriage. Bing attempted to divorce Dixie following World War II to marry actress Joan Caulfield. The Catholic hierarchy denied Bing's request, and Caulfield was sent packing. In 1952 Bing learned that Dixie was dying of ovarian cancer while he was in France filming "Little Boy Lost." She died Nov. 1, 1952, a week after his return home and three days before her 43rd birthday. Contemporary newspaper accounts listed her age as 40, but similar to her husband she had lied about her date of birth in pursuit of a show-business career. Both Bing's and Dixie's gravestones list their misleading 'Hollywood' birthdates. Bing's children and friends noted that Bing was devastated by his wife's death, despite their close encounters with divorce.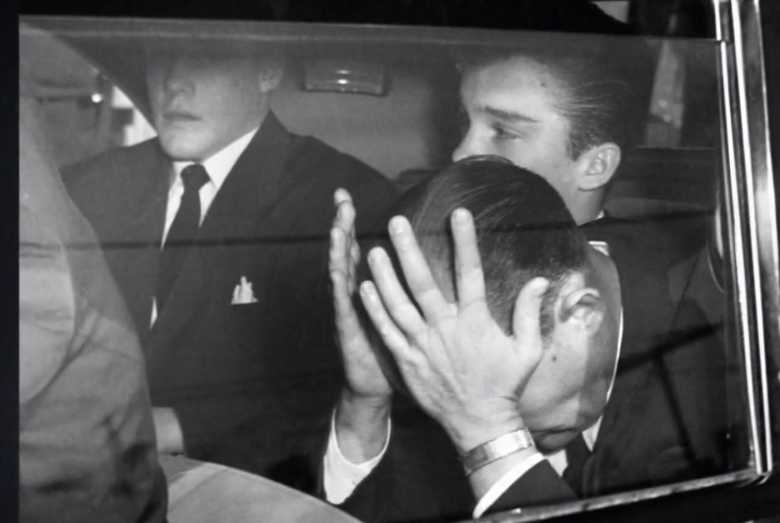 The lives of Bing's sons from his marriage to Dixie were manna from heaven for the tabloids. They boozed, brawled and balled their way in and out of the gossip columns, much to Bing's embarrassment. Following Bing's death in 1977 son Gary -- soaked in alcohol, short on cash and recovering from open heart surgery -- put his name to a ghost-written "Daddy Dearest" book, Going My Own Way, in which he accused his father of physical and emotional abuse. Gary died of lung cancer a decade later, but after two of his brothers, Dennis and Lindsay, committed suicide, The tabloids blamed Bing for their violent ends. Phillip, the last of the first Crosby clan and the most outspoken defender of his father in the wake of Gary's book, died of a heart attack in 2004.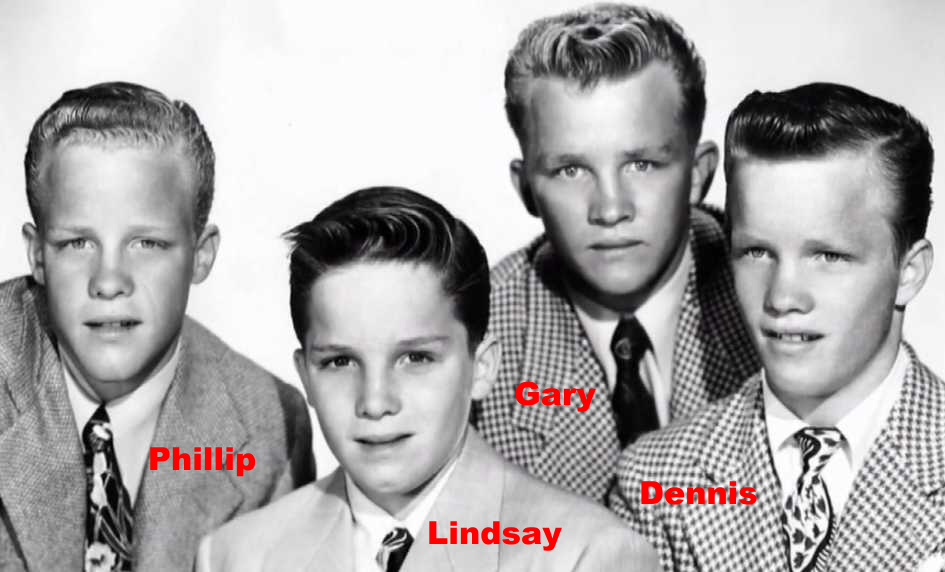 Following his wife's death, Bing dated numerous Hollywood starlets, invariably young enough to be his daughters. The eventual winner was Texas beauty queen Kathryn Grandstaff, whose stage name was Kathryn Grant, after 4 tortuous years of promises made and broken.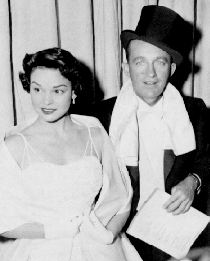 Bing first met Kathryn at Paramount while filming interior scenes for the movie "Little Boy Lost" in February 1953. Kathryn was 30 years younger than Bing and not Catholic, although she would eventually convert. Bing first proposed to her in November 1954. He told her that he expected to live only another 10 years. She accepted anyway, after which she did not hear from Bing again for nearly two months. In December Kathryn phoned Bing and Bing suggested they get married February 7, 1955. Bing postponed the wedding after an attack of kidney stones required surgery. The wedding was rescheduled for May 13. Bing didn't show on that blessed day either, but phoned on the 14th to cite film work and business dealings as the need to postpone the wedding until Sept. 10. On Sept. 7 Bing announced that a "complication" in his life necessitated postponing the marriage again. This "complication" may have included an unrequited affair with Grace Kelly, whose interest in Bing was shifting to Prince Rainier of Monaco. The Prince was 20 years Bing's junior and just as wealthy. Rainier and his future princess met in May, 1955, and announced their engagement the following December. Bing and Kathy next set their wedding date for March 17, 1956. Bing again postponed the blessed event to have eye surgery. "It's as if Bing were waiting for the right moment to tell his wife about me," Kathryn lamented in her biography. The wedding was rescheduled for September, but Bing once again backed away. Part of Bing's reluctance to marry Kathryn may have been that his mother did not approve of the marriage.
During the next few months Kathryn matched Bing's cold feet with her cold shoulders. In the meantime Bing had an affair with 23-year-old Inger Stevens, his co-star in "Man on Fire," apparently leading her to believe he would marry her. In July 1957 Kathryn left for Spain to film The Seventh Voyage of Sinbad. They agreed not to speak until she returned in September. When she returned Kathryn wrote to Bing that she still loved him but no longer wished to marry him. Bing wrote her in October that he was miserable without her and begged to see her. Kathryn demurred. On Oct. 22 Kathryn received one more letter from Bing, begging her to marry him and including his phone number for her response. Through her aunt, Kathryn arranged to marry Bing in Las Vegas. At last Kathryn's ordeal was over. Bing and Kathy said the magic words on Oct. 24, 1957.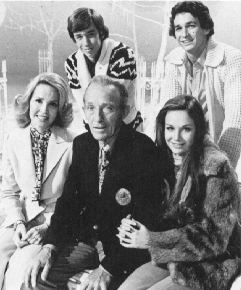 Kathryn and Bing had 3 kids: Harry (1958), Mary Frances (1959) and Nathaniel (1961). Bing was more attentive to the needs of his second family than he had been to his first and Kathryn seemed much more able to deal with Bing's fame than Dixie had been. The marriage lasted until Bing's death, after which Kathryn wrote two affectionate biographies of her life with Bing, My Life with Bing and My Last Years with Bing.
To the surprise of Bing's fans Kathryn revealed in 2008 that she had been married for 8 years to her long-time companion, Maurice William Sullivan. Dr. Sullivan was a prominent educator, linguist and chess enthusiast hired by Bing and Kathryn as a consultant for their 3 children. Following Bing's death he became trustee of the Crosby estate. The couple lived since 1986 in Genoa, Nevada, near Carson City. Dr. Sullivan, 85, was at the wheel Nov. 4, 2010, when he lost control on the California side of the Sierra Nevada and crashed into a boulder. He was ejected from the car and killed. His wife was seriously injured and hospitalized for more than a month.

---
Bing's family woes in perspective ||| More Bing FAQs ||| Bing's Home Page |||