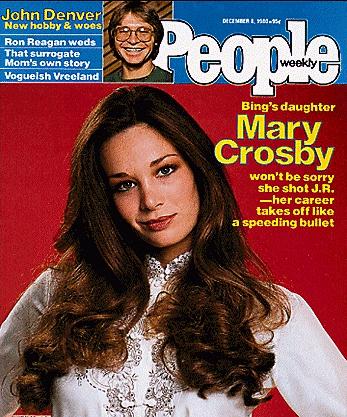 PISTOL PACKIN' MARY CROSBY
by Sue Reilly, 1980
To some of the show's estimated 350 million fans around the world, the Dallas denouement scene they had waited exactly eight months for was perhaps an anticlimax. For actress Mary Crosby, who herself did not know the outcome until that night, it was the turning point of all her 21 struggling years. It was a vindication that no one could appreciate more than Larry Hagman, the actor she was revealed to have plugged. After all, no headline in any of the 57 countries concerned had declared: MARY MARTIN'S SON IS SHOT BY BING CROSBY'S DAUGHTER.
"All of my life people have thought of me as Bing Crosby's daughter. Now they'll remember me as the person who shot J.R.," whoops the lovely woman who is cast as sloe-eyed siren Kristin Shepard. "I didn't have anything to do with being born to my mother and father. But I had a lot to do with Kristin Shepard's notoriety. I'm proud of the work I did on Dallas," beams the actress who before this fall was confused by many Americans with Cathy Lee ("That's Incredible!") Crosby. (They aren't even related.) "Kristin was really a high-class whore, but my parents taught us that we should play whatever was offered and learn from every opportunity. This is a tremendous boost for my career." Grins Hagman of his young co-star: "Look out! She's hot."
Indeed, gawkers and paparazzi have tried to corral Mary in the modest Malibu hilltop home she rents with her husband of two years, songwriter Edmund "Eb" Lottimer, 29. Last week she left "Dallas" for the indefinite future, explaining that "the character can't go any further. She's slept with her brother-in-law, driven her sister to drink, become a blackmailer. What else is left?" But Crosby is scheduled to appear on the CBS spin-off "Knots Landing" and is pondering the numerous offers that poured in within days of the dramatic disclosure. She's just begun filming the Doris Day role in NBC's scheduled remake of "Midnight Lace" and has completed an ABC pilot, "Golden Gate," in which she co-stars with Jean Simmons, Richard Kiley and John Saxon. "I play a nice crazy lady whose morals are right but who is really foundering," says Mary.
Ironically, that's the way she felt about her own career just 18 months back. "I got off to an okay start -- a "Starsky and Hutch," a "CHiPs" -- and then I screwed up," Mary remembers. "I did a horrendously awful series for NBC called Brothers and Sisters, which bombed. People wouldn't even let me read for parts for six months afterward. I can enjoy a vacation as well as the next person," she cracks, "as long as I know it's a vacation and not a premature retirement." Thus she calls Dallas producer Leonard Katzman "like a second father to me" and credits him with saving her "stalled" career and helping her to establish finally an identity free from what she calls "the double-edged sword" of her legacy.
"I had a head start in acting," Mary freely admits. "Because of my parents, I had a SAG card, an agent and a recognizable name. But I knew if I screwed up, people would never forget. I'd be dead." Equally troubling was the scrutiny paid to her personal life because of her famous father. In a memorable 1977 interview with Barbara Walters, Bing, a martinet on morals, said he would disown his only daughter if she lived with a man out of wedlock. At the time, the then 17-year-old Mary was already, in her words, "damn near living with" Lottimer.
They had met at the coaxing of Eb's brother, a New York disco manager and acquaintance of Mary's. Having previously moved out of her family's lavish Hillsborough estate, she was living in a San Francisco apartment. Eb, the son of a Virginia investment man and his landscape architect wife, was, he says, "a starving student" at the University of California 70 miles south in Santa Cruz. They rendezvoused for a first-date picnic on a deserted beach midway between their homes. "She was so much prettier than I thought she would be," says Lottimer. "She looked so much like her father, and I loved her feistiness and openness." Says Crosby: "He looked much thinner than I expected, but he was so open and honest, so loving." They moved in together three months after Bing's death in October 1977, amid reports that her mother, Kathryn Grant Crosby, was aghast.
"There were so many stories about Bing's daughter living in sin," Mary recalls. "We weren't hurting anyone. We were living in love. I couldn't understand why people were trying to hurt us and hurt our families." She does think that her father would have come to accept the situation. "I believe his love and trust would eventually have won out over his anger," she says. An astrologer friend helped set the 1978 wedding date. Mary insists that the absence of her family was strictly circumstantial: "My mother was doing a play, my brother Harry was in England and my brother Nathaniel was playing a golf tournament. We have very strong family bonds," Mary continues. "Harry camps out here often. So does Nat when he's in town. We're close."
Certainly she has the right sort of roots to deal with the "Dallas" hullaballoo. As Bing's second child by Kathy -- he also had four sons by his late first wife -- Mary was national news the day she was born. At 2 she became the youngest person in the U.S. to pass the Red Cross beginner's swim test. "I could read and write by 3," recalls Mary. "That was my mother's trip. She taught me. So I skipped grades in high school and graduated when I was 15." At 6 she made her stage debut with her mother in a Bay Area production of "Peter Pan" and promptly proclaimed that she would become an actress. Her childhood included bit stage parts with her mother, the family's annual Christmas TV specials and Hemingway-esque field trips with Der Bingle.
"He just didn't know what to make of a girl in the family, so he treated me like one of his sons," Mary remembers fondly. "He used to take me to ball games and fishing and hunting. One year on safari I outshot him [killing an ancient but nonetheless threatening crocodile]. He was very proud of that." At home she went for smaller game. "l beat the crap out of my brothers until I was 11," she smiles, "and then they got bigger than I was. But I learned the value of feminine wiles, which are really more dangerous."
She spent her high school sophomore year as an exchange student with a Mexican family with seven children ("I came home with a new respect for the responsibilities parents have") and after graduation enrolled at the University of Texas. Briefly. "I didn't need to learn how to be a good Tri Delt, or catch a husband or hold my liquor," notes Crosby. "So I went to San Francisco and auditioned for the American Conservatory Theatre," the eminent rep company where her mother was active. "I was the youngest person ever accepted." It was there, while rehearsing for "Julius Caesar," that she learned of Bing's death"but finished her scene before leaving. "My father would have expected it of me," says Mary. "He was a total professional."
Still, Crosby admits to having been "awfully green" when she joined the Dallas cast last year. "I was terrified," she recalls. "My first week, walking around in a teeny bikini, I kept crossing my arms over my chest because I was afraid I was going to fall out of the top of the suit. And I didn't know anything about technique or lighting." Hagman, as considerate as J.R. is contemptible, coached her and became a close friend along the way. "I was nervous about having him pat my ass on TV, so he suggested to the director that stroking my back would be more seductive," reports Crosby. "He saved me from any confrontations. For all his crazy hats and his wild sense of humor, Larry is totally grounded, the sanest person I know. He and his wife, Maj, have a wonderful marriage."
Having just celebrated their second anniversary, Crosby and Lottimer profess similar solidity, even if her career at present has leapfrogged his. Eb has started his own small recording and production company while waiting for his "adult-contemporary" stylings to reach the charts. "If my career were taking off at the same time as Mary's, I couldn't enjoy her success nearly as well," says Lottimer. "This way, I am a part of her success, and when I hit, she will enjoy that with me." Adds Mary: "It's a five-day-a-week job with him, and he does serious work. But when I get a day off I try to get his attention by doing little things, like walking around the house nude." At their one-bedroom wooden chalet, with a sweeping view of hills and ocean, there are no neighbors in sight. "We love the rural life away from the show business craziness," says Mary, who lists their pastimes as reading, riding the Arabian mare Eb gave her last Christmas and writing love songs to each other. "The things that are really important to me are my man, my animals [they also have two sheep dogs and two cats] and my books. I don't need anything else." Except, of course, fulfilling work. "I'll miss everyone on Dallas so much, but I have a wonderful career ahead of me," says Mary. "I can feel it."
Go to Mary Crosby's 1980 interview about her father.
---