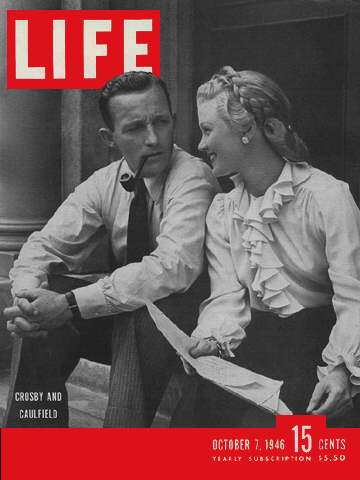 Welcome Stranger!
Written 2003 by Steven Lewis
Joan Caulfield was an unknown 22-year-old actress when she got the call in 1945 to play the leading lady in Bing Crosby's motion picture Blue Skies. Mark Sandrich, who was preparing to produce and direct the movie, discovered Caulfield in the rushes of her first Paramount movie, Miss Susie Slagle's. He was so impressed by her beauty that he wanted to cast her as a song-and-dance star in the Crosby musical -- if Joan could dance. Joan let her enthusiasm overwhelm her honesty and assured Sandrich she could indeed dance. She couldn't. Sandrich sent her to Carmalita Maracci's dance school at her own expense in the hope that her role could be salvaged.
Sandrich died suddenly on March 4, 1945, at the age of 44, before filming could begin. His replacements were much less sympathetic toward Joan, especially since Crosby's co-star and choreographer, tap-dancer Paul Draper, also wanted Joan out. He did not want a leading lady with two left feet, even if they were pretty feet. Joan's name disappeared from the cast sheets and press releases. Meanwhile, Draper began auditioning other actresses for Joan's part.
Then, suddenly, Joan was reinstated, Draper was fired, the script was rewritten and Fred Astaire was coaxed out of retirement to replace Draper. Why were these extraordinary steps taken for an unknown actress? (Joan's first movie, Miss Susie Slagle's, would not be released until 1946.) Obviously, someone very powerful had taken an interest in Joan and was determined to keep her in that movie. That someone most likely was Bing Crosby, who had just won the Oscar for his role as Father O'Malley in Going My Way. Not only was he Hollywood's leading box-office attraction, Bing was also a major stockholder in Paramount.
Most likely Bing met Joan late in 1944 during the filming of Paramount's all-star movie version of the radio show Duffy's Tavern. Bing, Joan and the four Crosby boys all made an appearance in this film. He and Joan became friends and were seen in public together socially. They recorded the radio version of Bing's movie Sing You Sinners for the Lux Radio Theatre on April 6, 1945.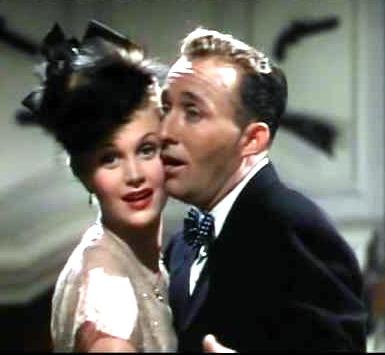 That Joan and Bing had grown close was widely rumored around Hollywood. Moreover, neither Blue Skies nor Miss Susie Slagle's had been released when Paramount announced that Bing's next movie, Welcome Stranger, would also co-star Caulfield. Clearly a special relationship had developed between the two. In 1954 Joan admitted to a relationship with a "top film star" who was also a married man with children who eventually chose his wife and children over her.
That this "top film star" was Bing Crosby was confirmed by actress Patricia Neal, who shared a cruise ship to England with Caulfield in 1948. At the time Neal was having her own affair with a much older married actor, Bing's friend Gary Cooper. Like Bing, Coop eventually decided to stay with his family too. Neal wrote:
She [Joan Caulfield] was a lovely girl and we had some good talks. She, too, was in love with an older married man who was quite as famous as Gary [Cooper]. She confided to me that she desperately wanted to marry Bing Crosby. We were in the same boat in more ways than one, but I could not tell her so." (Neal, As I Am, Simon and Schuster, 1988, p109)
In his 1983 biography, Bing's son Gary reported overhearing some of Bing's friends who were visiting the Crosby home in 1950:
They were swapping yarns about the good old days, when one of them came up with a story that blew my head off. "Anyone remember the one about Bing and the cutie in the big picture hat? They were slinking out of someone's house about seven-thirty in the morning, all bleary-eyed from the night before, and just as they hit the front gate they're spotted by a civilian on his way to work. Well, the guy couldn't believe his eyes. He did a double take, slammed on his brakes and yelped, 'Father O'Malley?' and then sped off like the devil himself was after him." Everyone thought the anecdote was hilarious, but to my seventeen-year-old way of thinking it signaled the end of the universe.... Father O'Malley. That meant it was after Going My Way, and the good old days they were talking about weren't all that old. (Crosby, Going My Own Way, 143-44)
Bing requested permission from the Catholic hierarchy to divorce his wife, Dixie, so he could marry Caulfield. The church denied his request and Bing remained with Dixie until her death in 1952. In 1950 Joan married Hollywood producer Frank Ross. They divorced nine years later. She married her dentist in 1960. They divorced in 1966. She never remarried. Each marriage produced a son. Joan died of cancer on June 18, 1991.
---