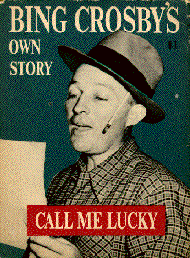 Barnes, Ken. The Crosby Years. New York: St. Martin's Press, 1980. (Barnes produced several of Crosby's albums during his last 3 years. He offers great insight into the later Crosby. The book also includes a discography.)
Bauer, Barbara. Bing Crosby: A Pyramid Illustrated History of the Movies. New York: Pyramid Publications, 1977.
Bishop, Bert and Basset, John. Bing -- Just for the Record. England: John Joyce & Son, 1980.
Bookbinder, Robert. The films of Bing Crosby. Secaucus, N.J.: The Citadel Press. 1977.
Bowser, James W. and Koenig, Joseph. Bing Crosby - A Pictorial Tribute. Dell, 1977, 85 pages.
Carpozi, George. The Fabulous Life of Bing Crosby. New York: Manor Books, 1977. (A superficial survey of Bing's life.)
Crosby, Bing. Call Me Lucky. New York: Simon and Schuster, 1953. (Reprinted, 1993, with a new preface by Gary Giddins.)
Crosby, Gary and Firestone, Ross. Going My Own Way. Garden City, New York: Doubleday and Co., 1983.
Crosby, Kathryn. Bing and Other Things. New York: Meredith Press, 1967.
Crosby, Kathryn. My Life with Bing. Wheeling, Illinois: Collage, Inc., 1983.
Crosby, Kathryn. My Last Years with Bing. Collage Books Inc., November 2002.
Crosby, Nathaniel and Strege, John. 18 Holes with Bing. HarperCollins, May 2016.
Crosby, Ted. The Story of Bing Crosby. Cleveland: The World Publishing Co., 1946.
Crosby, Ted and Larry. Bing. Los Angeles: Bolton Printing Co., 1937.
Freedland, Michael. Bing Crosby: the Illustrated Biography. Andre Deutsch Publisher, 1999. "It is riddled with mistakes and seems put together quickly from memory. There is little original research so overall it is a disappointment." Malcolm Macfarlane, editor of BING.
Giddins, Gary. Pocketful of Dreams: The Early Bing Crosby (1903-40), Little, Brown and Company, 2001. The first volume of a biography from a prominent jazz authority.
Giddins, Gary. Bing Crosby, Swinging On a Star, the War Years, 1940-1946. Volume 2 of a trilogy published by Little, Brown and Company, 2018.
Grudens, Richard. Bing Crosby -- Crooner of the Century. Celebrity Profiles Publishing, 2002.
Hamann, G.D. Bing Crosby in the '50s. Hollywood: Filming Today Press, 1998. (A collection of newspaper articles about Bing in the 1950s.)
Hamann, G.D. Bing Crosby in the '40s. Hollywood: Filming Today Press, 1997. (A collection of newspaper articles about Bing in the 1940s.)
Hamann, G.D. Bing Crosby in the '30s. Hollywood: Filming Today Press, 1996. (A collection of newspaper articles about Bing in the 1930s.)
Koenig, Joseph L. Bing. New York: Dell Purse Book, 64 pages, 1977.
MacFarlane, Malcolm. Bing Crosby: Day by Day. Scarecrow Press, December 2001. (An expanded version of Bing Crosby A Diary of a Lifetime published for members of the International Club Crosby.)
Mello, Edward J. and McBride, Tom. Crosby on Record, 1926-1950. San Francisco: Mello's Music, 1950.
Mielke, Randall G. The Road to Box Office: The Seven Film Comedies of Bing Crosby, Bob Hope and Dorothy Lamour, 1940-1962. McFarland & Co, 1997. "Mielke's book does not hold much interest for the scholarly reader, except as a collection of interesting, more or less reliable pieces of information, which, however, may well inspire a renewed interest in and further work on this important comedy team." (Historical Journal of Film, Radio and Television, Aug. 1998)
Mize, J.T.H. Bing Crosby and the Bing Crosby Style. Chicago: Who Is Who In Music, Inc., 1946.
Morgereth, Timothy A. Bing Crosby: A Discography, Radio Program List and Filmography. Jefferson, N.C.: McFarland and Co., 1987. (The discography includes only 78 rpm recordings; the radio program list includes songs sung on each show.)
Netland, Dwayne. The Crosby, greatest show in golf. Foreword by Bing Crosby. Garden City, N.Y.: Doubleday, 1975.
O'Connell, Sheldon. Bing: A Voice for All Seasons. Printed in Ireland by the Kerryman, 1984. (Based on hours of taped interviews with Bing by Gord Atkinson. Includes many photos not found elsewhere.)
Osterholm, J. Roger. Bing Crosby: A Bio-Bibliography. Greenwood Press, Westport, CT, 1994. (A detailed listing of Bing's recordings, films, radio shows and television appearances.)
Prigozy, Ruth and Raubicheck, Walter. Going My Way: Bing Crosby and American Culture. University of Rochester Press, 2007, 230 pages. (Transcript of seminars from the Crosby centennial celebration at Hofstra in 2003.)
Pugh, Colin. Alternate Bing Crosby, 2nd edition, Bristol, England: John Joyce, 1988.
Reilly, Jim. The Songs of Bing Crosby on Compact Discs, 1996.
Reynolds, Fred. The Crosby Collection 1926-1977. Volumes 1-5, privately published. (This is a detailed discography of Crosby's work in 5 volumes available from the International Crosby Circle.)
Reynolds, Fred. Road to Hollywood (The Bing Crosby Film Book). England, 1986.
Schneider, Carolyn. Me and Uncle Bing. Xlibris, 160 pages, 2006.
Shepherd, Donald and Slatzer, Robert. Bing Crosby: The Hollow Man. New York: St. Martin's Press. (This nasty Bing biography was disputed by Al Rinker and discredited by Gary Giddins. Slatzer's fantasy life did not end with Bing bashing; he claimed in another book that he [Slatzer] was once secretly married to Marilyn Monroe and that the Kennedy's had her murdered.)
Thomas, Bob. The One and Only Bing. New York: Grosset and Dunlap, 1977.
Thompson, Charles. Bing: the Authorized Biography. New York: David McKay Co., 1975.
Ulanov, Barry. The Incredible Crosby. New York: Whittlesey House, 1948.
Wolfe, Norman. Troubadour -- Bing Crosby and the Invention of Pop Singing, International Club Crosby, 2005. (A serious, thorough and honest investigation of the life of Bing.)
Zwisohn, Laurence J. Bing Crosby: A Lifetime of Music. Los Angeles Pal Tree Library, 1978.
---