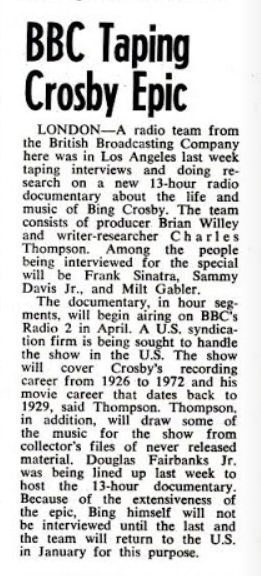 Radio Biographies of Bing:
Bing was more a radio star than a television star, so it's appropriate that the most in-depth non-print biographies of Bing should be ones produced for radio. Three multi-episode radio biographies were produced in the 1970s detailing Bing's career -- first from England, second from Canada, and last from the United States.
"Bing: The story of a man who became a legend within a lifetime" BBC, 1973
Written by Charles Thompson and narrated by Douglas Fairbanks, Jr.
This was a 14-hour biography originally broadcast over BBC Radio 2 in 1973. It was produced with Bing's cooperation and included many candid interviews with Bing's co-stars, friends and family. Thompson later turned his research into an authorized print biography of Bing. Fairbanks was the son of the actor of the same name with whom Bing appeared in a 1930 film, Reaching for the Moon.

1: The Old Groaner
2: The Early Years 
3: The Road to Hollywood 
4: Bye Bye Blues 
5: Going Solo 
6: Sportsman Supreme 
7: On the Air 
9: Going My Way
10: The Business Bing
11: The Family Man
12: The World of Wax 
13: Mr Christmas
14: Prelude to Immortality 

Gord Atkinson's The Crosby Years, CFMO-FM radio, Ottawa, Canada, 1975.
This was another 14-part series of hour-long programs produced by a Canadian broadcaster and long-time admirer of Bing. Bing cooperated with the production, which included interviews with Bob Hope, Dorothy Lamour, Fred Astaire, Phil Harris, Frank Capra, James Van Heusen, Ken Carpenter, John Scott Trotter, Rosemary Clooney, Victor Borge, Tony Bennett, Peggy Lee, Perry Como, Dinah Shore and Bob, Gary, Larry and Kathryn Crosby. The series was originally broadcast in 1975. In 2003 it was released on compact disc with additional material.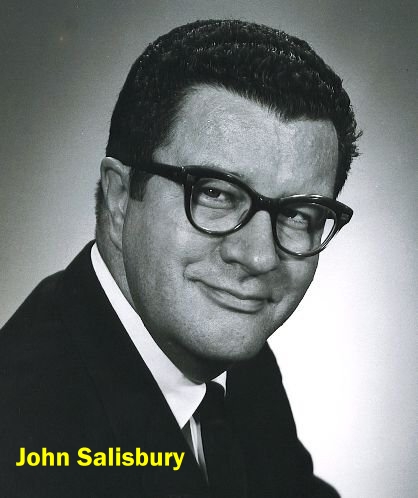 John Salisbury's The Crosby Years, KXL radio, Portland, Oregon, 1976.
John Salisbury, an award-winning Oregon news commentator and celebrity interviewer, narrated and wrote (with the help of Crosby scholar Vern Wesley Taylor) this 26-part series of hour-long retrospectives of the life and times of Bing. The full title of the series was "The Crosby Years: Fifty fabulous years, honoring Bing Crosby's fifty years in show business and KXL Radio's fifty years on the air." Bing sat for many hours of interviews with Salisbury, who first met and interviewed Bing in 1963. One of Salisbury's interviews with Bing created a controversy regarding Bing's views of Elvis Presley. Fifty Fabulous Years is unique in that it serves as much as an anthology of American popular culture in the 20th century as a biography of Bing. Earlier, Salisbury produced and narrated a similar audio history of the presidency of Franklin Roosevelt called The Roosevelt Years in 1973.
---