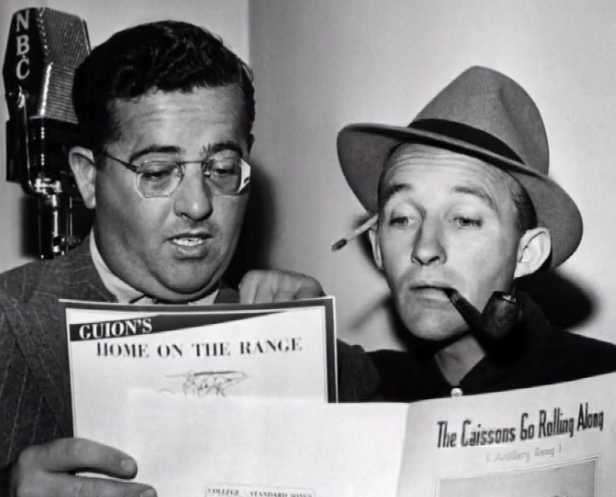 Bing's musical director during his hey-day was an easy-going mountain of a man, John Scott Trotter. Trotter weighed in at 12 pounds when he was born in Charlotte, North Carolina, in 1908. As an adult he weighed nearly 300 pounds. Trotter's professional music career began at the University of North Carolina in 1925 when he became pianist and arranger for a college band led by Hal Kemp. Trotter's first arrangement for the Kemp band was Muddy Water, which ironically was Bing's first solo hit recording in 1927. Trotter met Bing for the first time at the Manger Hotel (renamed the Taft Hotel in 1931) in New York City in 1930 while Bing was one of the Rhythm Boys with the Paul Whiteman orchestra.
Trotter's chance to work with Bing came when their mutual song-writing friend Johnny Burke recommended him for musical director of Bing's independent 1936 film Pennies from Heaven. Bing must have been pleased with Trotter's work. The following year he was summoned to Los Angeles from New York to replace Jimmy Dorsey as Bing's musical director on the Kraft Music Hall, an hour-long weekly radio program broadcast over NBC. Kraft insisted that the show include a concert spot of classical music. Trotter was classically trained, Dorsey was more into dance and jazz music.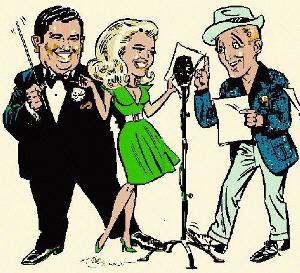 Trotter took over for Dorsey on the 8 July 1937 broadcast. Soon he was arranging and conducting for Crosby's Decca recordings as well. Their first Decca session was the up-tempo It's the Natural Thing to Do, recorded July 12, 1937.
Carroll Carroll, chief writer on the Kraft show, recalled Trotter's massive volume and appetite:
"Trotter, a monolith of a man, stood astride pop and 'long hair' music, as it was then called, like a colossus, and occasionally flew from Hollywood to New Orleans for the weekend (something not done often in the thirties) just to cater to his gourmet tastes with a decent plate of oysters Rockefeller. During the war, when home economist M.F.K. Fisher was a guest on the show to plug her wartime conservation cookbook, How to Cook a Wolf, she told Bing that her book explained how to use leftovers. The heartily-fed Trotter stepped to the mike and, in his most polite and gentle North Carolina drawl, asked, 'Pardon me, ma'am, but what are left-overs?'" (from The Old Time Radio Book by Ted Sennett, p70)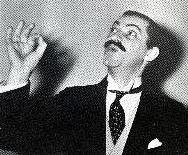 Trotter arranged and conducted on radio and records for Crosby for 17 years. During that time several members of his orchestra went on to greater fame. Jerry Colonna (1905-86) was Trotter's trombonist when his comedic skills were discovered. While playfully singing "On the Road to Mandalay" with Trotter at the organ, Colonna began on a high note reminiscent of an air raid siren and went up from there. The next week he was featured as the guest 'concert star' on the Kraft show. Soon Colonna joined Bob Hope's radio show as his comedy side-kick.

Trotter hired Lindley "Spike" Jones (1911-65) in 1937 to beat the drums in his orchestra. Jones became a celebrity during World War II when he moonlighted on a novelty song called "Der Fuhrer's Face." The song became such a hit that Jones left the Trotter orchestra late in 1942 to make a career for himself as conductor of a not-so-serious band, the City Slickers. Jones' raucous sound was invented by Trotter's orchestra to accompany (and cover) the discordant notes of comedian Bob Burns on the bazooka. Later Jones and his City Slickers returned as guests on the Crosby show. After the City Slickers accompanied Bing on a song, Crosby was heard to say, "John Scott, don't ever leave me!"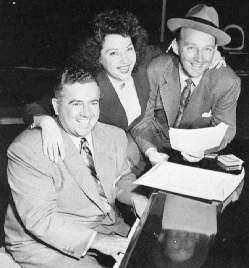 Trotter remained as Crosby's musical director until 1954. Their last recordings together included "In the Good Old Summertime." That summer Bing decided to end his big-budget radio variety show and with it went his need for a large orchestra and full-time musical director. Bing wrote Trotter on Sept. 9: "I certainly hate to see the wonderful organization we have break up, and it gives me a wrench to be an instrument in its dissolution. I shall never forget all the good years you and I had together, and all the wonderful unselfish things you did for me and my interests. You had a great deal to put up with at times, and your patience and forbearance was always incredible. You must know how grateful I am to you for everything that you have done."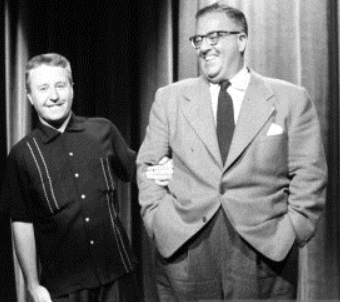 Trotter moved on to television, becoming musical director for the George Gobel show from 1954-60. On the premier episode of the Gobel show, 2 October 1954, George asked him to play the sheet music from the top of the stack on his piano. Trotter cued the orchestra and they began playing Where the Blue of the Night Meets the Gold of the Day. Trotter removed his glasses, wiped away his tears, and left the stage.
Trotter remained friends with Bing and was a frequent visitor to Bing's home, even helping redecorate Bing's San Francisco mansion. Trotter served as musical director of several of Bing's TV specials as well as his 1964-65 ABC situation comedy, The Bing Crosby Show. Later he directed the music for the Charlie Brown cartoon specials. In 1970 Trotter was nominated for an Oscar and a Grammy for his musical score for the movie "A Boy Named Charlie Brown."
Trotter, along with Jack Kapp, have been criticized for mainstreaming Bing's style away from his jazz roots. The reality is that Bing chose his songs for his radio shows and had ultimate approval for anything he recorded to disk. He could've worked with any musical arranger but he chose Trotter for 17 years. Bing once said of Trotter, "I'm not musically educated enough to really describe what he was in music terms. I just knew he was very good and he had marvellous taste."
Trotter never married. He lived alone most of his life and travelled extensively. He died of cancer October 29, 1975, at Mount Sinai Hospital in Los Angeles, where he had been admitted 10 days earlier. He was survived by his sister, Margaret Kinghorn, and three brothers, William, Thomas and Robert. Trotter's last project was arranging a Boston Pops special for PBS a month before his death. He is buried in Sharon Memorial Park in Charlotte, North Carolina.
---
More Bing FAQs ||| Bing's Home Page ||| Written by Steven Lewis