There were seven Hope-Crosby-Lamour road pictures. All were major box office hits.
1940: Singapore (Paramount)
1941: Zanzibar (Paramount)
1942: Morocco (Paramount)
1946: Utopia (Paramount)
1947: Rio (Paramount)
1952: Bali (Paramount)
1962: Hong Kong (United Artists)
The Road films became a new musical-comedy genre to which many imitators would be compared, usually unfavorably. The characters played by Bing and Bob were con-men who openly acknowledged to the audience that they knew they were in a movie. They defied Paramount to have them killed because they had contracts to do more films. As the series progressed even the bad guys got wise to the action. For example, the patty-cake routine that Bing and Bob used to escape trouble didn't always work because the bad guys, too, had seen the previous picture. The Road to Utopia employed a movie critic who intervenes from time to time to evaluate the movie for the audience, even suggesting when it would be best to go for popcorn, usually, of course, while Crosby was singing.
At the series outset Dorothy Lamour was nearly as big a star as Crosby and Hope, but as the series unfolded her star progressively dimmed, in the end leaving her only a brief appearance in the final Road flic. By the 1960s Lamour had retired from show business to devote more time to her family in Baltimore. Crosby wanted Brigitte Bardot to play the female lead in "Road to Hong Kong," but in the end had to settle for Joan Collins. An 8th road picture was to be filmed in 1978. It had been tentatively called "Road to the Fountain of Youth" and would have reunited Bing, Bob and Dorothy. The script was in rewrite when Bing fell dead of a sudden heart attack in Spain.
ROAD TO SINGAPORE
(Paramount, director Victor Schertzinger, 84 minutes, b&w)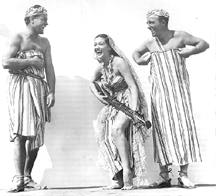 CAST: Bing Crosby (Josh Mallon), Dorothy Lamour, Bob Hope (Ace Lannigan), Charles Coburn, Judith Barrett, Anthony Quinn, Jerry Colonna, Ed Gargan, Kitty Kelly. SONGS: "Captain Custard," "The Moon and the Willow Tree," "An Apple for the Teacher," "Sweet Potato Piper" and "Too Romantic." PLOT: To escape their girlfriends and familial business obligations Bing and Bob run away to the South Seas where they meet Dorothy wrapped in a sarong. They invite her to move in with them and then compete for her affections. At the time Dorothy was as big a box office star as Bing and Bob. She later wrote that her first day on the set convinced her that she had wasted her time memorizing her script. The Road to Singapore was such a box-office hit that it led to six more such trips, all box-office smashes. Singapore is usually ranked near the bottom of the series.

ROAD TO ZANZIBAR
(Paramount, director Victor Schertzinger, 89 minutes, b&w)
CAST: Bing Crosby (Chuck Reardon), Dorothy Lamour, Bob Hope (Fearless Frazier), Una Merkel, Joan Marsh, Eric Blore, Iris Adrian, Ethel Greer, Leo Gorcey, Ken Carpenter. SONGS: "It's Always You," "You Lucky People You," and "African Etude." Lamour sings "Your Dangerous" and Hope 'sings' "Home Sweet Home." PLOT: Bing and Bob are two carnies who sell a phony diamond mine to a mobster, and then flee to Africa, where they join forces with Lamour and Merkel.

ROAD TO MOROCCO (Paramount, director David Butler, 83 minutes, b&w)


CAST: Bing Crosby (Jeffrey Peters), Bob Hope (Turkey Jackson), Dorothy Lamour, Anthony Quinn, Dona Drake, Yvonne de Carlo. SONGS: "Road to Morocco," "Ain't Got a Dime to My Name," "Constantly," "Moonlight Becomes You." PLOT: Not that it matters, but Bing sells Bob to a slave trader, and in guilt goes looking for him, finding Lamour along the way. Morocco includes the classic spontaneous scene where an ad-libbing camel spits in Hope's face, and Crosby congratulates the beast for its good taste. The best of the first three Road flicks, this one was nominated for two Oscars (best screenplay and best sound recording). Lamour's value had depreciated since Zanzibar as she slid to third billing behind Hope.

ROAD TO UTOPIA (Paramount, director Hal Walker, 90 minutes, b&w)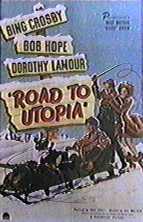 CAST: Bing Crosby (Duke Johnson), Bob Hope (Chester Hooton), Dorothy Lamour, Hillary Brooke, Douglas Dumbrille, Jack LaRue, Robert Benchley, Jim Thorpe. SONGS: "Sunday Monday or Always," "Goodtime Charlie," "It's Anybody's Spring," "Personality," "Welcome to My Dream," "Put It There Pal" and "Would You?" PLOT: A new team of screenwriters took over for this fourth jaunt down the road, and the results are rated by many as the best of the Road films. This fourth in the series begins as the elderly trio reflect on their youthful experiences searching for gold in Alaska. During the filming Bob fell on Bing and injured Bing's back, and a bear bruised Bob's arm. A highlight of the movie is when Bing and Bob enter a bar full of ruffians and Bob orders a lemonade. Bing nudges him and Bob growls "In a dirty glass!" Robert Benchley, the film's narrator and principal critic, died before its release. Filming on Utopia began in 1943 and completed in early 1944, but the film was not released until January '46 in order not to detract from the sale of Bing's image as Father O'Malley.
ROAD TO RIO (Paramount, director Norman McLeod, 100 minutes, b&w)
CAST: Bing Crosby (Scat Sweeney), Bob Hope (Hot Lips Barton), Dorothy Lamour, Gale Sondergaard, Frank Faylen, Stone-Barton Puppeteers, Carioca Boys, Weire Brothers, Andrews Sisters, Jerry Colonna. SONGS: "Apalachicola F-L-A," "But Beautiful" "For What?" "Experience" and "You Don't Have to Know the Language." PLOT: The fifth trip down the road for the Paramount con-men is also the longest Road picture. Rio is more subdued than Utopia, but nevertheless sustains the level of excellence achieved in the previous two Road films. Bob and Bing play musicians trying to wrest Dorothy from the hypnotic spell of her sinister aunt. This was the first Road flic in which Bing, Bob and Paramount shared the profits. Dorothy was salaried.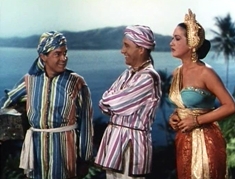 ROAD TO BALI (Paramount, director Hal Walker, 91 minutes, COLOR)
CAST: Bing Crosby (George Cochran), Bob Hope (Harold Gridley), Dorothy Lamour, Ralph Moody, Murvyn Vye, Peter Coe, Bob Crosby, Jane Russell, Humphrey Bogart, Dean Martin, Jerry Lewis. SONGS: "Road to Bali," "Chicago Style," "Whiffenpoof Song," "Hoot Mon," "To See You" and "The Merry-Go-Runaround." PLOT: Dorothy Lamour's film career seemed all but finished, her Paramount contract about to expire, when she got the call to return for one more fitting into a sarong -- her 'sarong song.' Bali was the sixth and final Road picture for Paramount and the only Road picture filmed in color. To avoid their shotgun weddings, Bing and Bob flee Australia and take a job diving for sunken treasures. There they meet up with Dorothy, whom they save from an evil prince and assorted jungle perils. Lots of guest cameos, including Jane Russell, whom Hope conjures up at the end of the movie to be his girl, only to find that Jane prefers Bing too! Bing and Bob and Paramount shared the profits from the film whereas Dorothy was paid a salary. When Dorothy demanded a third of the profits to record the soundtrack album, Bing and Bob hired Peggy Lee to do the album instead.

THE ROAD TO HONG KONG
(United Artists, director Norman Panama, 91 minutes, b&w)
CAST: Bing Crosby (Harry Turner), Bob Hope (Chester Babcock), Joan Collins, Dorothy Lamour, Robert Morley, Robert Ayres, Peter Sellers, Frank Sinatra, Dean Martin, David Niven, Jerry Colonna. SONGS: "Teamwork," "Road to Hong Kong," "Let's Not Be Sensible," "It's the Only Way to Travel" and "Personality." PLOT: Bob is knocked unconscious while he and Bing try to sell space suits to Asian natives. He awakens with amnesia. Bing takes him to the high lama in Tibet for treatment. Bob's memory returns better than ever -- total recall. A Russian agent mistakes Bob for her contact and slips him the secret formula for rocket fuel, which Bob memorizes and destroys. When the agent discovers her mistake, a chase ensues, leading Bing and Bob to Dorothy Lamour, who hides them. This was the last of the Road pictures, and the only one to be filmed outside the United States (in England). Lamour was hurt that Joan Collins, not her, was given the female lead. She agreed to appear in the movie only after the part she was offered was rewritten and enlarged. The movie was another box-office success, although in quality it ranks near the bottom of the Road journeys.

---
Films of Bing Crosby ||| Bing's Home Page ||| Developed by Steven Lewis