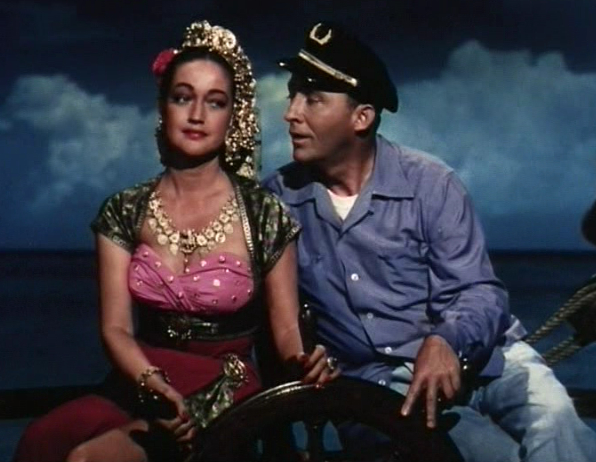 Queen of the Road
People Weekly, Oct 7, 1996, v46, n15, p69(1).
"She was a lady of quality, beauty and class," Bob Hope, 93, noted last week of his onetime costar Dorothy Lamour, who died at 81 on Sept. 21. Wrapped in her trademark sarong for 1936's The Jungle Princess or conventionally clad for 1952's The Greatest Show on Earth, the sultry brunette was one of the '40s' most popular stars -- and a stellar saleswoman for war bonds. But it was her seven turns with Hope and Bing Crosby, from 1940's Road to Singapore to '62's The Road to Hong Kong, that made her, in her own words, "the happiest and highest-paid straight woman in the business."
Hers was a rags-to-sarong story. Born Mary Leta Dorothy Slaton in the charity ward of a New Orleans hospital, Lamour rose to $450,000-a-picture leading lady (her last role: a murder victim in 1987's Creepshow 2). Despite a total lack of training, she began as a singer by auditioning for bandleader Herbie Kay. She got the job -- and also Kay, whom she wed in 1935. (They divorced in 1939. In 1943 she married ad exec William Ross Howard III, and they stayed together, raising two sons and a stepson, until Howard died in 1978.)
During her movie screen test, recalled Edith Head, who designed Lamour's outfit for Jungle Princess, "Dorothy let down her waist-length hair, stuck a flower in it and got the part." Says a friend, actor Len Hughes, 66: "She was a little embarrassed by the sarong. She felt it revealed too much. Later she would laugh about it because actresses reveal a whole lot more today."
She also "hated fanfare," says her assistant Donna Matsook, 43, who took Lamour to St. Vincents Medical Center, near her North Hollywood home, after diverticulitis started causing pain. On Saturday night, Lamour suffered cardiac arrest. Says Matsook: "It was very quick. She was able to keep her dignity to the end."
Another Tribute to Dorothy Lamour
---