Bing was not the only offspring of Harry and Kate Crosby to be successful in show business. Bing's youngest sibling, Bob, followed in Bing's footsteps, first as a singer, then as a bandleader. The year Bing became a national phenomenon, 1931, Bob, only 18 years old at the time, got a telegram from Anson Weeks offering him a job singing with his band in San Francisco. Bob accepted, and within four years Bob was leading his own orchestra, even though he could not play an instrument. Bob's most famous band was a small Dixieland jazz group called the Bobcats. Bob had his own 15-minute radio show called "Club 15" from 1946 thru 1952 and a half hour daytime show from 1953-1955 titled "The Bob Crosby Show," both on CBS. He replaced Phil Harris as bandleader on Jack Benny's radio show in 1952, where he remained through the end of the radio show in 1955.
Bob's recordings topped the charts four times: "In a Little Gypsy Tea Room" in 1935, "Whispers in the Dark" in 1937, and "Day In, Day Out" in 1939. Bing first recorded with Bob's orchestra in 1938, and their first session produced a No. 1 hit, "You Must Have Been a Beautiful Baby." Also among Bob's musical hits were "South Rampart Street Parade," "March of the Bobcats" and "Dolores" (with Bing). During World War II Bob spent 18 months in the Marines touring with bands in the Pacific. In the photo Bing is shown shining Bob's brass.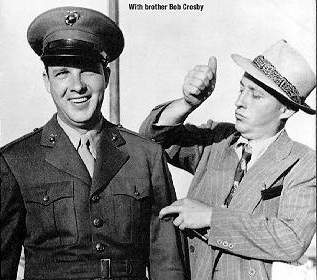 Here are the songs that Bing recorded with brother Bob's orchestra, including their peak position on the pop charts:


October 14, 1938

You Must Have Been a Beautiful Baby (1)
Old Folks
My Reverie (3)

December 13, 1940
Tea for Two (with Connie Boswell)
Yes Indeed! (with Connie Boswell)

December 16, 1940
New San Antonio Rose (7)
It Makes No Difference Now (23)

December 23, 1940
Dolores (2)
Pale Moon

May 25, 1942
Lazy
Let's Start the New Year Right (18)
I've Got Plenty to be Thankful for

May 27, 1942
I'll Capture Your Heart (with Fred Astaire)
When My Dreamboat Comes Home
Walking the Floor over You

December 17, 1946
That's How Much I Love You (17)
Rosa of Santa Rosa

Bob performed into the 1980s with his Bobcats. The last of Bing's siblings born, he was also the last to die, March 9, 1993, of cancer.

---
More Bing FAQs ||| Bing's Home Page ||| Developed by Steven Lewis