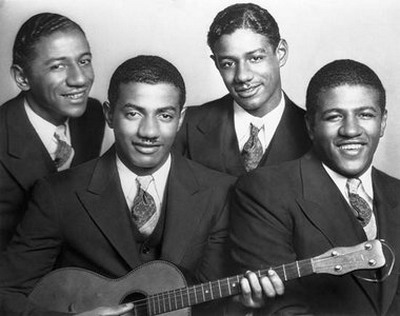 Mills Brothers remain
in the hearts of many
Donald Mills, the last surviving member of the Mills Brothers who delighted music fans with their effortless harmonies for more than half a century, died of pneumonia on Nov. 13, 1999, at Cedars-Sinai Medical Center in Los Angeles. Mills, who had been hospitalized since April, had suffered a broken hip in a fall at Los Angeles International Airport in 1997, but continued performing until early this year.
The Mills Brothers quartet imitated musical instruments and was among the first black singing groups to cross racial lines, performing for royalty and broadcasting its own radio show.
In 1998 the Recording Academy recognized the Mills family's contributions to popular music when it presented Don Mills, as the surviving member, with a Grammy Award for Life Achievement.
Perhaps the group's best-known hit was ``Paper Doll,'' which was recorded in 1942 and sold more than 6 million copies. But that was only one of a long list of million-selling records that stretched from ``Tiger Rag'' in 1928 to well into the mid-1960s with such classics as ``Glow Worm,'' ``Lazy River,'' ``Opus One,'' ``You're Nobody Till Somebody Loves You,'' ``Yellow Bird,'' ``You Always Hurt the One You Love,'' ``Cab Driver'' and ``Basin Street Blues.''
The Mills Brothers produced more than 2,000 recordings that sold more than 50 million copies and garnered at least three dozen gold records. They performed numerous times with Bing Crosby on records, radio, movies and television. Among their recordings with Bing were "My Honey's Lovin' Arms," "Shine" and "Dinah." Dinah became a No. 1 hit for Bing and the Brothers in 1931. From 1933-35 the Brothers were regular performers on Bing's weekly Woodbury radio show on CBS, helping to chip away at the color barrier then in place in the popular media long before Benny Goodman signed Teddy Wilson and Jack Benny signed Eddie "Rochester" Anderson. Their last performance with Bing was in March, 1977, on the CBS salute to Bing's 50th anniversary in show business. Bing died 7 months later.
The Mills Brothers appeared in several movies, beginning with The Big Broadcast of 1932 starring Crosby, George Burns and Gracie Allen and ended with the 1958 film "The Big Beat." Among their other films were: ``Operator 13'' with Gary Cooper, ``Strictly Dynamite'' with Jimmy Durante, ``Twenty Million Sweethearts,'' ``Broadway Gondolier,'' ``Reveille with Beverly,'' ``Rhythm Parade,'' ``Cowboy Canteen'' and ``When You're Smiling.''
Band leader Artie Shaw summed up the talent and popularity of the Mills Brothers with one simple statement: "To me, one of the most spontaneous sounding groups in the music business is the Mills Brothers. Every time they sing a song, they sound as if they're doing it for the first time."
The Mills Brothers began their singing careers in the home town of Piqua, Ohio as Four Boys and a Guitar in 1925. The name change came shortly thereafter and reflected a family affair that continues.
The 4 brothers were taught the art of singing by their father, John Sr., a barber and a member of a barbershop quartet. Often the father accompanied the boys on guitar. From 1925 to 1936 the lineup of the Mills Brothers included Herbert, Harry, Donald and John Jr. When John Jr. died in 1936 his father, John Sr., became his replacement. When the father retired in 1956 the quartet became a trio. A year later the trio proved they were still viable with the hit recording ``Queen of the Senior Prom.'' John Sr. died in 1968, Harry died in 1982, and Herbert died in 1989.
After Harry's death and Herbert's retirement in 1982, Donald brought his oldest son, John, into the act, and the two continued to entertain Mills Brothers fans for the next 17 years.
In a 1995 interview Donald recalled, "Originally, we formed the quartet when I was 7 years old. I'm the youngest of the brothers. The others were 8, 9, and 10 when we started out. By the time I was 10, we were performing on radio, eventually going to CBS in New York in the late 1920s to join other performers such as Bing Crosby and Kate Smith."
From there, throughout the 1930s, '40s and '50s, the Mills Brothers continued to be synonymous with smooth harmonies, and crossed generational lines.
How and why have the sounds lasted so long?
"I think it's sheer simplicity," Donald said. "We've been doing things that the people want to hear and doing them so that everyone can understand the words. It's as simple as that, I think. I can think of no other explanation for it."
---