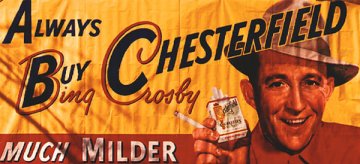 CHESTERFIELD SHOW 1950-51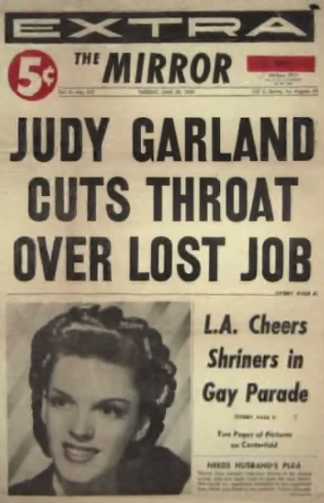 Bing's second season with Chesterfield helped resurrect Judy Garland's career. Judy's drug addiction and unreliability had led MGM to release her in September 1950. Depressed and broke, Judy was invited to became a semi-regular on Bing's show, appearing 8 times during the season, until she secured a concert engagement at the London Palladium in April of 1951.
This season also featured Bing's wife, Dixie, and their 4 boys on the annual Christmas special. It would be Mrs. Crosby's first and last appearance on her husband's radio show. Within 2 years she would be dead of cancer.
CBS and Paramount declared the month of January "Bing's Month" in honor of Bing's 20th year as a solo artist in show business. Art Linkletter hosted a half-hour tribute to Bing over CBS radio Jan. 9. On Jan. 7 the Liberty Broadcasting System from its Los Angeles affiliate KMPC broadcast an hour-long tribute to Bing hosted by Ross Mulholland and featuring interviews with Paul Whiteman, Tommy Dorsey, Russ Morgan, Jane Wyman, the Andrews Sisters, Johnny Burke, Jerry Lewis, Victor Young, Frank Capra and others.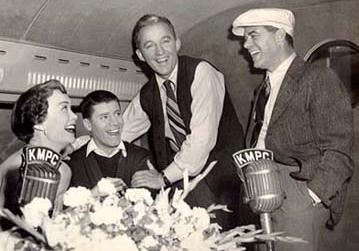 What follows is a list of the broadcasts, principal guests and songs sung by Bing from his second Chesterfield season. Joining Bing throughout the season are his announcer, Ken Carpenter, the John Scott Trotter Orchestra and Judy Garland.

CHESTERFIELD SHOW (10-11-50) w JUDY GARLAND, BOB HOPE
1. Sam's song (w Garland)
2. Get happy (Garland)
3. I cross my fingers
4. Mona Lisa
5. Goodnight Irene (w Hope, Garland)

CHESTERFIELD SHOW (10-18-50) w JUDY GARLAND, BOB HOPE
1. Tzena (w Garland)
2. All my love
3. Friendly star (Garland)
4. Third man theme (w Hope, Garland)
5. High on the list

CHESTERFIELD SHOW (10-25-50) w CLAUDETTE COLBERT
1. Life is So Peculiar
2. Harbor Lights
3. La Vie en Rose
4. Mona Lisa

CHESTERFIELD SHOW (11-1-50) w DOROTHY KIRSTEN
1. Cold Cold Winter*
2. All My Love
3. Let's Do It Again*
4. Accidents Will Happen (w Kirsten)
5. Indian Summer (w Kirsten)
6. Beyond the Reef

CHESTERFIELD SHOW (11-8-50) w DICK POWELL
1. Life is So Peculiar
2. Harbor Lights
3. Simple Melody (w Powell)
4. I Only Have Eyes for You (w Powell)
5. You Must've Been a Beautiful Baby (w Powell)
6. Jeepers Creepers
7. Lullaby of Broadway (w Powell)
8. Autumn Leaves

CHESTERFIELD SHOW (11-15-50) w BOB CROSBY
(Al Jolson was the scheduled guest for this show but died
of a heart attack Oct. 23, a day before the planned recording.)
1. Silver Bells (w Toni Arden)
2. Let's Do It Again (w Bob)
3. Beyond the Reef

CHESTERFIELD SHOW (11-22-50) w PAUL DOUGLAS
1. Mele Kalikimaka
2. Accidents will Happen
3. All My Love
4. Nevertheless I'm in Love
5. That Christmas Feeling

CHESTERFIELD SHOW (11-29-50) w ELLA FITZGERALD, FIREHOUSE FIVE
1. Marshmallow World (w Ella)
2. Can Anyone Explain (Ella)
3. Five Foot Two Eyes of Blue
4. Silver Bells (w Ella)
5. Memphis (w Ella)
6. Autumn Leaves

CHESTERFIELD SHOW (12-6-50) w JUDY GARLAND
1. Rudolph the reindeer (w Judy)
2. Rockabye my baby (Judy)
3. Tortured
4. Boise Idaho (w Judy)
5. Papa Santa Claus
6. Harbor Lights

CHESTERFIELD SHOW (12-13-50) w PEGGY LEE, HOPALONG CASSIDY
1. Bushell and a Peck (Peggy & Bing)
2. And You'll Be Home (Bing) from "Mr. Music"
3. Orange Colored Sky (Peggy)
4. Silver Bells (Peggy & Bing) from "The Lemon Drop Kid"
5. White Christmas (Bing)

CHESTERFIELD SHOW (12-20-50) w MRS. CROSBY AND THEIR 4 BOYS
(This was the only time Mrs. Crosby was a guest on Bing's show.)
1. Adeste Fidelis
2. Jingle bells (w Gary)
3. Xmas feeling (w Gary)
4. Hitch a ride (w twins)
5. Snowman (twins)
6. Silent night

CHESTERFIELD SHOW (12-27-50) w DINAH SHORE, LOUIS ARMSTRONG, JACK TEAGARDEN
1. A Bushel And A Peck (w Shore)
2. Accidents Will Happen
3. Nice Work If You Can Get It (Shore)
4. Blueberry Hill (w Armstrong)
5. Rockiní Chair (w Armstrong, Teagarden, Shore)
6. Tennessee Waltz

CHESTERFIELD SHOW (1-3-51) w FRED ASTAIRE
1. Life is So Peculiar
2. Nevertheless I'm in Love with You
3. The Thing (w Fred)
4. Just One More Chance
5. Beyond the Reef

CBS SALUTE TO BING CROSBY (1-9-51) -- HOST: ART LINKLETTER
GUESTS: Edgar Bergen, Charlie McCarthy, Mary Martin (I'm in
love), William S. Paley, Ella Fitzgerald (Can Anyone
Explain), Amos and Andy, Dorothy Kirsten, Louis Armstrong,
Jack Teagarten, Judy Garland (Rockabye your baby), Bing's
mother, Bob Hope, Bing ("I surrender dear")

CHESTERFIELD SHOW (1-10-51) w BOB CROSBY, BOB HOPE
1. Cold Cold Winter
2. Forevermore
3. Moonlight and Roses (w Bob Crosby)
4. Song salute to Bing
5. Tennessee Waltz

CHESTERFIELD SHOW (1-17-51) w LOUIS ARMSTRONG, TONI ARDEN
1. Marshmallow World
2. Follow Your Dreams (Toni Arden)
3. La Vie en Rose (Armstrong)
4. Lazy Bones (w Armstrong)
5. Baby Please Come Home (Joe Venuti)
6. My Honey's Loving Arms (w Arden)
7. I Surrender Dear

BIRTH OF THE BLUES (1-18-51) w CROSBY, DINAH SHORE, PHIL HARRIS
1. Basin Street Blues
2. What I Like About the South (Harris)
3. Ida Sweet as Apple Cider
1. Wait Til the Sun Shines Nellie (w Shore)
2. Dixieland Band (Shore)
3. Way Down Yonder in New Orleans
4. Waiter, Porter and Maid
5. St. Louis Blues
6. Birth of the Blues

CHESTERFIELD SHOW (1-24-51) w JIMMY STEWART, TONI ARDEN
1. You're Just in Love (w Toni Arden)
2. Autumn Leaves
3. May the Lord Bless and Keep You

CHESTERFIELD SHOW (1-31-51) w BOB HOPE, TONI ARDEN, FIREHOUSE FIVE
1. Let's Do It Again (w Arden)
2. Follow Your Dreams
3. But Beautiful (Arden)
4. Blues My Naughty Sweetie Gives To Me
5. Harbor Lights

CHESTERFIELD SHOW (2-7-51) w JUDY GARLAND
1. I like you ... (w Judy)
2. You and your eyes
3. My merry oldsmobile (w Judy)
4. Walkin my baby home (w Judy)
5. You made me love you (Judy)
6. May the Good Lord bless and keep you

CHESTERFIELD SHOW (2-14-51) w DOROTHY KIRSTEN
1. You and Your Beautiful Eyes
2. Follow Your Dreams
3. Can't Help Loving that Man (Kirsten)
4. The Night is Young
5. Whispering Hope (w Kirsten)

CHESTERFIELD SHOW (2-21-51) w TALLULAH BANKHEAD
1. I Like You the Way Your Are (w Peggy Lee)
2. Just a Gigolo
3. Beyond the Reef

CHESTERFIELD SHOW (2-28-51) w NAT KING COLE, ANDREWS SISTERS
(This would be the last guest appearance of the Andrews Sisters on Bing's show.)
1. All My Love
2. Lullaby of Broadway (Andrews Sisters)
3. Can Anyone Explain
4. Orange Colored Sky (Cole)
5. Sam's Song (w Cole)
6. Tennessee Waltz (w Andrews Sisters)
7. Mona Lisa (Cole)
8. Harbor Lights
9. May Good Lord Bless (all)

CHESTERFIELD SHOW (3-7-51) w JUDY GARLAND
1. Sparrow in the treetop
2. Sentimental music
3. You're mean to me (Garland)
4. You're just in love (w Garland)
5. If I hadn't the right to you *

CHESTERFIELD SHOW (3-14-51) w JUDY GARLAND
1. St. Patrick's Day parade
2. Anytown is Paris when you're young
3. When you're smiling (Garland)
4. If I hadn't the right to you

CHESTERFIELD SHOW (3-21-51) w JUDY GARLAND, LES PAUL, MARY FORD
1. You and Your Beautiful Eyes
2. Sentimental Music
3. Mockingbird Hill (w Les & Mary)
4. Carolina in the Morning (Judy)
5. Would I Love You

U.S. DEFENSE BONDS (Spring 1951) w BING CROSBY, BOB HOPE
1. Sparrow in a Treetop
2. Any town is Paris

CHESTERFIELD SHOW (3-28-51) w JUDY GARLAND
1. Sparrow in the Treetop
2. If I Hadn't the Right to You
3. Rockaby Your Baby (Judy)
4. Limehouse Blues / April in Paris / Isle of Capris (w Judy)
5. Anytown is Paris

CHESTERFIELD SHOW (4-4-51) w HOPALONG CASSIDY, DINAH SHORE
1. Way Down Yonder in New Orleans
2. Mockingbird Hill
3. Would I Love You

CHESTERFIELD SHOW (4-11-51) w LOUIS ARMSTRONG
1. I Wonder Why (w Louis)
2. Ho Dee Hey (w Marilyn Maxwell)
3. Up a Lazy River (w Louis)
4. Moonlight Bay (w Lindsey)
5. May the Good Lord Bless You

CHESTERFIELD SHOW (4-18-51) w GARY CROSBY
1. Them there Eyes
2. Quizas
3. Play Ball
4. Mockingbird Hill
5. Maggie Blues (w Gary)
6. Moonlight Bay
7. Anytown is Paris

CHESTERFIELD SHOW (4-25-51) w ROSE MARIE, LOUIS ARMSTRONG
1. She was the roving kind
2. If I hadn't the right to you
3. Sunny side of street (Louis)
4. Gone fishin (w Louis)
5. Old soldiers never die

CHESTERFIELD SHOW (5-2-51) w WALTER O'KEEFE, BERT WHEELER
1. Sparrow in the Treetop
2. Quizas, Quizas, Quizas
3. Once Upon a Nickel (w O'Keefe, Wheeler)
4. On Mockingbird Hill

CHESTERFIELD SHOW (5-9-51) w FRED ASTAIRE, TERESA BREWER
1. Them there eyes
2. Maria Bonita
3. Never been kissed (w Astaire)
4. I apologize

CHESTERFIELD SHOW (5-16-51) w BURL IVES
1. Them there eyes
2. The roving kind
3. On top of old smoky (Ives)
4. Little white duck (w Ives)
5. Across the Wide Missouri (Shenandoah) -- from a 1951 Clark Gable film
6. Too late now (from the Fred Astaire film "Royal Wedding")

CHESTERFIELD SHOW (5-23-51) w LOUIS ARMSTRONG, T. BREWER
1. Way down yonder in New Orleans
2. Quizas, Quizas, Quizas
3. The Maggie blues (w Brewer)
4. Gone fishin (w Louis)
5. I apologize

CHESTERFIELD SHOW (5-30-51) w HELEN O'CONNELL, CHARLES DURAND (CHARLES DAVIS), GUY BRION (JAMES SHIGETA)
"Durand and Brion" was a stage name used by the Hawaiian-born Davis and Shigeta.
1. Whistle a happy tune
2. Tell me (w O'Connell)
3. Be my love (Durand and Brion)
4. Maria Bonita
5. Across the wide Missouri (Shenandoah) w Duran & Brion
6. Too late now

CHESTERFIELD SHOW (6-6-51) w GEORGE JESSEL, MARTHA TILTON
1. Row, row, row
2. Quizas, quizas, quizas
3. California moon (w Jessel)
4. I apologize

CHESTERFIELD SHOW (6-13-51) w BERT WHEELER, TERESA BREWER
1. How high the moon
2. On top of old smokey
3. Down by the Ohio (w Wheeler)
4. Anytown is Paris

CHESTERFIELD SHOW (6-20-51) w TERESA BREWER, TOMMY DORSEY, JOE VENUTI
1. Shanghai
2. Wang Wang Blues (Brewer)
3. Diane (w Tommy Dorsey)
4. Lady Be Good
5. Bonne Nuit

CHESTERFIELD SHOW (6-27-51) w BURL IVES, KEN MURRAY, LAURIE ANDERS
1. I've Got to Fall in Love Again
2. I Like the Wide Open Spaces (w Murray and Anders)
(Anders recorded this song with Arthur Godfrey.)
3. On Top of Old Smokey (w Ives)
4. May the Good Lord Bless You

\\\\\\\\\\\\\\\\\\ END OF SEASON \\\\\\\\\\\\\\\\\\\\\\\\\\\\\\\\