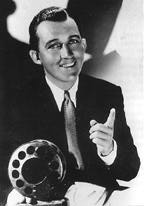 In June of 1931 the head of CBS radio, William Paley, heard Bing's recording of I Surrender Dear while aboard a ship to Europe and ordered him signed to a radio contract. Despite warnings of Bing's playboy reputation CBS signed Bing to an unsponsored daily 15-minute broadcast for a remarkable sum of $1500 a week -- equivalent to more than $25,000 in 2019 dollars. Bing was scheduled to debut in a live CBS network radio show on Monday, August 31, 1931. Bing arrived hoarse for an afternoon rehearsal at the New York studios of CBS. After 3 hours CBS decided to cancel the evening premier because of Bing's worsening laryngitis. After a second postponement, Bing finally made his network debut on Wednesday, Sept. 2. The opening theme, appropriately, was "Too Late" played by the CBS Studio Orchestra conducted by Victor Young with Tommy and Jimmy Dorsey, Artie Shaw, Eddie Lang, Joe Venuti and Jerry Colonna among the musicians. Bing sang 3 songs during the broadcast, the first song, appropriately, was Just One More Chance followed by I'm thru with Love. Bing finished on an optimistic note, singing I Found a Million Dollar Baby. Bing did not talk during the 15-minute broadcast. The announcer, Harry Von Zell, explained that Bing had missed the previous two shows because of laryngitis. Bing's network radio debut was recorded by rival network NBC, who signed Russ Columbo to compete with Bing, but only the half of the broadcast is known to exist today as an aircheck from a Los Angeles radio station, KHJ.

According to broadcast historian Elizabeth McLeod:
I wish that BMG would look in their vaults to see if there's any trace of the 16-inch matrix for the first Crosby broadcast, of 9/2/31. RCA Victor in Hollywood recorded the entire 15 minute show on a 16 inch master, and two of the individual songs on 78rpm masters. Only the 78rpm excerpts are known to have survived. I know the matrix number of the 16 inch platter -- PMVE 68312 -- but I've never been able to determine what became of this recording. It was made for NBC -- apparently they were interested in checking up on the competition!
Click on the icon to download Bing's first prime-time network radio show (MP3 audio format, 7:37 minutes, 1931)
On November 3 the American Tobacco Company began sponsoring Bing's nightly CBS broadcast. Instead of advertising Lucky Strike cigarettes, however, the company decided to turn Bing into "the Cremo singer," promoting the company's Cremo cigars. Bing's weekly salary doubled to $3000.
---
What song did Bing choose as his radio theme?
Bing on Radio: 1931-62 ||| Bing FAQs ||| Home ||| Developed by Steven Lewis