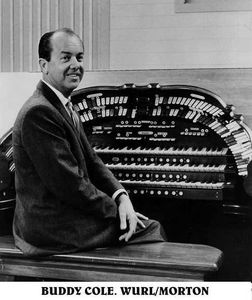 Bing recorded 225 songs from 1954-1960 with the Buddy Cole Trio for use on his daily CBS radio show. Most of these recordings have now been released commercially. The quality is highly variable. Bing wrote to his long-time music arranger, John Scott Trotter, in the summer of 1954 to explain his reason for retiring from his long-running radio musical variety show. He cited the deterioration of his singing voice and his declining interest in performing. However, later that year he agreed to do a daily CBS radio show accompanied only by the Buddy Cole "Trio," which usually included Buddy Cole on piano or organ, Nick Fatool on drums, Don Whitaker on bass and Vince Terri on guitar. The new recordings were mass produced at marathon sessions for insertion into Bing's daily CBS broadcast.
Ken Barnes (1933-2015), producer of several of Bing's last albums, reviewed the master tapes of these recordings early in 1978 and selected 73 songs to add full stereo orchestral and choral accompaniment, a procedure called "overdubbing." Pete Moore (1924-2013) arranged the new accompaniment, which involved supplementing, and sometimes replacing, the Buddy Cole Trio. The entire collection was released first on LP and in 1987 on 3 compact discs by Silver Eagle Records. These overdubbed recordings are listed below in the order they were orchestrated. The year that Bing recorded each vocal with the Buddy Cole Trio is in parentheses. An asterisk (*) indicates a particularly noteworthy recording. Pete Moore conducted the re-orchestration on all tracks, and the Johnny Evans Singers provided choral support.
1 9 7 8
Love's Old Sweet Song (1955)*
True Love (Rosemary Clooney, 1957)
Try a Little Tenderness (1955)
Straight Down the Middle (1957)*
Yes Sir That's My Baby (1956)
You're the Top (1956)
Unchained Melody (1955)*
It's Alright With Me (1955)
Nice Work If You Can Get It (1955)
Just You Just Me (1954)
You're in Kentucky Sure as You're Born (1954)
Count Your Blessings Instead of Sheep (1955)
Love Is the Sweetest Thing (1954)*
Manhattan (1956)
I Guess I'll Have to Change My Plan (1954)*
How Long Has This Been Going On? (1955)
What Is This Thing Called Love? (1955)
So Rare (1957)*
The Tender Trap (1955)
Moonglow and Theme from Picnic (1956)*
You're Sensational (1956)
They Didn't Believe Me (1956)
All Through the Night (1955)
1 9 7 9
Yours (1956)
I Wish You Love (1956)*
I See Your Face Before Me (1955)
I've Got a Crush on You (1956)
Where or When? (1960)
Papa Loves Mambo (1955)
I Can't Get Started (1956)*
I've Grown Accustomed to Her Face (1956)
At the Jazz Band Ball (1956)
Way Down Yonder in New Orleans (1956)
The Banjo's Back in Town (1955)
When the Red, Red Robin Comes Bob-Bob-Bobbin' Along (1956)
When My Baby Smiles at Me (1956)
Mandy (1954)
Keepin' Out of Mischief Now (1954)*
We're in the Money (1954)
What Is There to Say (1955)*
Don't Take Your Love from Me (1954)
We'll Be Together Again (1956)
Come Rain or Come Shine (1956)
Crazy Rhythm (1956)
You Turned the Tables on Me (1956)*
She's Funny That Way (1955)
Please Don't Talk About Me When I'm Gone (1957)
Ain't Misbehavin' (1954)*
Margie (1956)
Waitin' for the Evenin' Mail (1956)*
Isle of Capri (1956)
Old Cape Cod (1957)*
It's Not for Me to Say (1957)*
You'll Never Know (1957)*
Misty (1960)
Little Man You've Had a Busy Day (1956)*
Chances Are (1957)
My Funny Valentine (1956)
My Ideal (1955)*
The Lady is a Tramp (1955)
Sunday (1955)
Deed I Do (1955)*
This Can't Be Love (1954)
Don't Blame Me (1956)*
Meet Me Tonight in Dreamland (Rosemary Clooney, 1957)
Let's Put Out the Lights and Go to Sleep (1958)
My Baby Just Cares for Me (1956)
Just Around the Corner (1956)
Anything Goes (1956)
New Sun in the Sky (1955)*
Heartaches by the Number (1960)
At Sundown (1957)*
Smiles (1956)
In 2009 most of Bing's recordings with the Buddy Cole trio for his mid-1950s CBS radio show were released on 7 compact discs by Mosaic Records with their original Buddy Cole Trio monaural backings.
---
Return to 1956-77 ||| Bing's Albums ||| Bing's Home Page |||