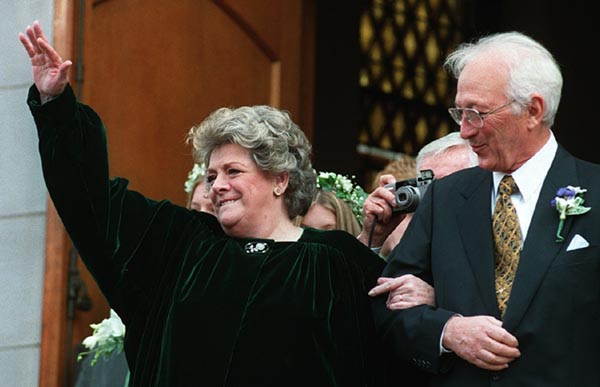 Wedding Bells for Rosie (1997)
The decades-long love story between Rosemary Clooney and her devoted companion had a happy ending when they finally said "I do" at a fabulous hometown wedding November 7, 1997. And old friend, Bob Hope, wrote the evening's climactic scene with his heartwarming entrance 15 minutes into the service. Rosemary was already at the altar of St. Patrick's Church in Maysville, Kentucky, with her beau Dante DiPaolo, when Hope, 94, walked down the aisle singing "Get Me to the Church on Time."
The crowd broke into applause, then laughter, as Rosemary's brother, Nick, interrupted his Bible reading at the lectern and said, "OK, Rosemary, top that!"
The bride and groom did just that minutes later when they tenderly exchanged 18-karat gold bands and Dante, 71, told his beloved Rosemary, 69: "I will love you all the days of my life."
Outside the church after the service, shopkeepers and bus drivers mingled with celeb guests Debby Boone, singer Michael Feinstein and Nick Clooney, father of ER star George and host of American Movie Classics. Designer Bob Mackie, who created Rosie's velvet dress, was also on hand. Rosie's nephew George was a no-show because he didn't want to steal the limelight, but her five kids from her late first husband Jose Ferrer were there to wish her and Dante well.
Rosemary and Dante first met 40 years ago when he was her dance teacher on a film. But it wasn't until her divorce from Jose in 1968 that their love blossomed. When asked why she finally tied the knot, Rosemary replied: "I did it for my grandkids. They should have a married grandma."
Rosemary's career in show business began as a teen-ager. At 23, she was an international celebrity with a hugely popular hit song. At 25, she made the cover of Time magazine. At 40, she had a complete physical and mental collapse that nearly derailed her career and her life.
Now, in the second half of her career, Clooney has found new success to rival her early fame and, more important, has discovered the private happiness that had eluded her for so long.
The arc of her career parallels that of another then-and-now star. On the phone from her Beverly Hills home, Clooney gives a throaty chuckle and says, "Tony Bennett and I look at each other and say, 'Can you believe this is happening?'"
Like Bennett, Clooney has found a new generation of fans by staying true to the music of the past - the music of her heart. She doesn't dance, she doesn't do rock, doesn't pretend to be anyone but a grandmother. Yet she is attracting younger audiences all the time, some of them drawn by her connection to George Clooney, the heartthrob star of NBC's ER.
"A lot of young girls come out to hear me because they're interested in my nephew George," Clooney says. "They say, `We love your music - where does your nephew live?'" They have no idea that, four decades ago, Rosemary Clooney was far more famous than her nephew is today.
Clooney grew up in Kentucky and was the product of what used to be called a broken home - her father was an alcoholic, her mother took off with another man. At 17, she and her younger sister, Betty, were discovered by a radio station in Cincinnati and went on the road with the Tony Pastor band. After becoming a solo act, Rosemary become an international sensation in 1951 with the faux-Italian pop song, Come On-a My House.
"I didn't mind all the success," she says today. "After Come On-a My House, I could get off a plane in Tokyo, and there would be a few thousand people there to meet me. That's a long way from Maysville, Ky."
She worked regularly with Bob Hope and Bing Crosby, had her own TV show and made the cover of Time in 1953. The following year, she starred with Crosby and Danny Kaye in White Christmas. She had a string of pop hits and was famous the world over as the "girl singer" with the big, open voice.
When she talks about Bing and Bob, Dean and Frank, they are not legends, but friends.
"I did Bing's radio show, always, and later we did a 15-minute daily show, five days a week that we taped in this room," she said. "We would sit around the table sort of like this, and then they'd set up the microphones, and we'd break out some Scotch." They would circle their own lines, but not read them in advance, so that when they performed the scripts, it was always spontaneous.
In a made-for-Hollywood wedding, she married actor Jose Ferrer (1909-92). But it turned out to be a tumultuous marriage - or, rather, two of them, since they were twice married and twice divorced. Her marriage to Ferrer produced five children in five years. (Bob Hope called it "Vatican Roulette," and after the third one, he and Crosby gave her track shoes and starting blocks; Tennessee Ernie Ford insisted, "You've got to find out what's causing this.") But Ferrer, 16 years her senior, was an incorrigible womanizer, as she learned on their honeymoon. They split up for good in 1966.
A heartbreaking and ill-fated affair with the arranger Nelson Riddle, the rise of rock 'n' roll and her own growing dependence on a rainbow arsenal of uppers and downers left Ms. Clooney on the edge. When her friend Robert F. Kennedy was assassinated in 1968 as she waited to greet him at the Ambassador Hotel in Los Angeles, she snapped. Weeks later, convinced Kennedy was still alive, she stormed off a stage in Reno and drove her white Cadillac covered with flower decals up the wrong side of a mountain road to Lake Tahoe in the dark, yelling, "That's one for you, God!" every time an oncoming car veered out of her way. That got her placed in the locked ward of Cedars-Sinai Hospital with other severely depressed patients.
"I was confused at first," Ms. Clooney said. "Not confused," she amended. "I was crazy. But Phil Silvers was there, and he was walking up and down the halls, really nervous, highly charged, and I thought, 'Well, this is just pretend, you know."' Her sense of unreality was heightened by the fact that one of the therapists on the ward was Betsy Drake, who had been married to Cary Grant. "Who could take that seriously?" she said.
It was serious enough: Ms. Clooney was in therapy for the next eight years, kicked her drug habit, and began to rebuild relationships with her children, then 8 to 13, who had been largely raised by Ms. Clooney's mother -- a bitter twist, since her mother had abandoned Rosemary and her younger sister, Betty, when they were young.
She never really reconciled with her mother before she died in 1973. It was only a few weeks later that she became reacquainted with DiPaolo. As she was stopped at a traffic light in Beverly Hills in her Corvette convertible, he pulled up in his Thunderbird and called out, "Rosella!" She had not laid eyes on him in 20 years, but she invited him to dinner.
Ms. Clooney's first autobiography, "This for Remembrance" (Playboy Press, 1977), was made into a television movie starring Sondra Locke, with Ms. Clooney dubbing the vocals. The book is out of print, and badly out of date, since it was published just as she was beginning a tentative comeback, with Crosby's help, after her nervous breakdown, years of addiction to prescription drugs and one-night stands in suburban Holiday Inns.
"I recently told my daughter, `I think the reason you weren't doing drugs in the '60s was that I was taking them all,'" Clooney says.
She had her music to ease her heart, though, and began to see first flickers of a reviving career. In 1976, Clooney joined Bing Crosby on a nationwide tour and rediscovered her voice and her ease in the spotlight. Drug-free for the first time in years, she learned not to be ashamed of her past or her shortcomings.
Though her favorite singer as a child was Billie Holiday - "Those were the first records I played over and over" - Clooney does not claim to be a jazz singer herself.
"I don't have that inventiveness," she acknowledges. "I don't have the musical training and ear for it. But I think I have good time and pretty good pitch. And I surround myself with great musicians."
She also has perfect diction, and to keep from stumbling over the words, she usually sings from lyric sheets.
"I'm the only instrument in the band with words," she explains.
With her straightforward approach, Clooney sounds like a female Frank Sinatra. She's not an embroiderer making lace curtains of her songs. She's a carpenter, swinging the hammer steady and true, nailing each note and each word right in the center. Her style is simple, yet something in her phrasing, some tiny quaver in her voice, some grain of solid oak makes Clooney's music strong, deep and, often, very touching. Maybe it's because she's singing more than just a song - she's singing about the laughter and tears of her own life.
"Every experience changes your approach to a song," she says. "All the songs I sing, I sing through the the sensibility of a 68-year-old woman."
That sensibility is unpretentious and easygoing, and after 45 minutes on the phone, you think Rosemary Clooney is the sweetest woman in the world. She's had a happy, stable relationship for years, she lives in George Gershwin's old house in Beverly Hills, she dotes on her nine grandchildren - and she's in heavy demand for recordings and concert appearances around the world.
"It hasn't been bad at all," she says.
---