CHESTERFIELD SHOW 1949-50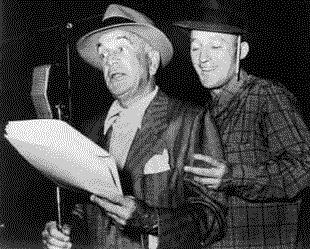 With the ban on recorded network radio programs all but history, Bing returned to his original home on radio, CBS, in a show sponsored by Chesterfield cigarettes. Part of the agreement with the sponsor was that Bing had to carry a pack of Chesterfields with him wherever he went. The Chesterfield Show lasted for 3 seasons.
In March, 1950, Jack Benny was named "the greatest radio personality during the last 25 years" by 330 U.S. radio editors in a Radio Daily poll. Bing Crosby ran a close second. Tied for third place was Bob Hope and Amos 'n' Andy. The almost unanimous write-in vote for the outstanding "noncommercial" personality was President Franklin D. Roosevelt.
What follows is a list of the broadcasts, principal guests and songs sung by Bing from his first Chesterfield season. Joining Bing throughout the season are his announcer, Ken Carpenter, the John Scott Trotter Orchestra and vocalist Peggy Lee. Hal Kanter and Bill Morrow followed Bing to CBS to continue writing his show. After a 2-year absence, Al Jolson rejoined Bing's show for 5 more memorable broadcasts following the cancellation of his Kraft Music Hall. An asterisk (*) indicates a memorable Bing performance.




CHESTERFIELD SHOW (9-21-49) w ABE BURROWS, PEGGY LEE
1. Top of the Morning
2. Katrina
3. Mr. Moon
4. Canadian Rockies (parody w Burrows & Lee)
5. Maybe it's because (w Peggy Lee)

CHESTERFIELD SHOW (9-28-49) w ABE BURROWS, PEGGY LEE
1. Cockeyed Optimist
2. The Last Mile Home
3. You're in Love with Someone (w Peggy Lee)

CHESTERFIELD SHOW (10-5-49) w JUDY GARLAND
1. The Donovans
2. Katrina
3. Maybe It's Because

CHESTERFIELD SHOW (10-12-49) w PEGGY LEE
1. How It Lies (w Lee)
2. Amor
3. A Small Cafe Mademoiselle
4. Cockeyed Optimist
5. Riders in the Sky
6. Make Believe You're Glad When You're Sorry
7. Some Enchanted Evening
8. I've Got a Crush on You
9. The Last Mile Home
10. Again (w Lee)

CHESTERFIELD SHOW (10-19-49) w FRANK FAY
1. It's More Fun than a Picnic (w Peggy Lee)
2. I've Got a Right to Sing the Blues (Peggy Lee)
3. That Lucky Old Sun
4. Dear Old Girl (w Fay)

CHESTERFIELD SHOW (10-26-49) w LUM AND ABNER
1. The Headless Horseman
2. Now That I Need You
3. Maybe It's Because
4. The Meadows of Heaven

CHESTERFIELD SHOW (11-2-49) w BOB HOPE
1. Dear Hearts, Gentle People
2. That Lucky Old Sun
3. Mule Train
4. Now That I Need You

CHESTERDIELD SHOW (11-9-49) w MILLS BROS., ELLA FITZGERALD
1. Old Fashioned Walk
2. I Can Dream Can't I
3. My Happiness (Ella)
4. Dreamer's Holiday (w Ella)
5. Sunday (Mills Bros)
6. Lazy River/Paper Doll (w Mills Bros)
7. Meadows of Heaven
8. Basin Street Blues (w Ella)
9. Way Back Home (w Ella & Mills Bros)

CHESTERFIELD SHOW (11-16-49) w BOB & CATHY CROSBY (Bob's daughter)
1. Dear Hearts, Gentle People
2. Mule Train
3. Dreamer's Holiday (w Cathy & Bob)
4. You're in Love with Someone
5. Whispering Hope (w Bob)

CHESTERFIELD SHOW (11-23-49) w FRANK FAY, JOE VENUTI
1. Rudolph the Red Nosed Reindeer
2. I Can Dream, Can't I
3. A Thousand Violins (w Peggy Lee)
4. Everything I Have
5. Way Back Home (w Peggy Lee)

CHESTERFIELD SHOW (11-30-49) w AL JOLSON, GRACIE ALLEN
1. Lovely Bunch of Cocoanuts
2. Toot Toot Tootsie (Jolson)
3. Your Own Backyard; Baby Face (w Jolson)
4. That Lucky Old Sun*

CHESTERFIELD SHOW (12-7-49) w HOPALONG CASSIDY
1. Here Comes Santa Claus (w Peggy Lee)
2. Dreamer's Holiday
3. Manana (w Peggy Lee)
4. Tumbling Tumbleweeds
5. Stay Well (w Peggy Lee)

CHESTERFIELD SHOW (12-14-49) w JIMMY STEWART, CAROLE RICHARDS
1. Rudolph the Red Nosed Reindeer
2. A Thousand Violins (from the Bob Hope film "The Great Lover")
3. Baby It's Cold Outside (w Stewart)
4. The Christmas Song

CHESTERFIELD SHOW (12-21-49) w ETHEL BARRYMORE
1. Adeste Fidelis
2. Here Comes Santa
3. Jingle Bells
4. The Christmas Song
5. Christmas medley
6. White Christmas
7. Silent Night

CHESTERFIELD SHOW (12-28-49) w AL JOLSON
1. Lovely Bunch of Cocoanuts
2. Sorry
3. Crosby/Jolson medley
4. I Can Dream Can't I?

CHESTERFIELD SHOW (1-4-50) w AL JOLSON
1. Dear Hearts, Gentle People
2. Bye Bye Baby
3. Crosby/Jolson medley

CHESTERFIELD SHOW (1-11-50) w GROUCHO MARX
1. Little Jack Frost Get Lost (w Peggy Lee)*
2. Big Movie Show in the Sky
3. When You Speak with Your Eyes (Peggy Lee)
4. The End of the Road
5. The Look in Your Eyes
6. Simple Melody (w Groucho)
7. You're Wonderful*

CHESTERFIELD SHOW (1-18-50) w GARY CROSBY, BARBARA WHITING
1. Quicksilver
2. Sorry
3. Dear Hearts, Gentle People (Gary Crosby)
4. Sure Thing

CHESTERFIELD SHOW (1-25-50) w LOUIS ARMSTRONG
1. Sunshine Cake (w Peggy Lee)
2. Chatanooga Shoe Shine Boy
3. I'm Coming Home (Peggy Lee)
4. Blueberry Hill; Lazy Bones (w Louis)

CHESTERFIELD SHOW (2-1-50) w BOB HOPE
1. Big Movie Show in the Sky
2. You're Wonderful
3. Have I told You Lately I Love You? (w Bob Hope)
4. Remind Me of You

CHESTERFIELD SHOW (2-8-50) w FRED ALLEN, PORTLAND HOFFA, AL JOLSON (cameo)
1. Sunshine Cake (w Peggy Lee)
2. A Dream is a Wish Your Heart Makes (Peggy Lee)
3. Lonesome in the Saddle (w Fred Allen)
4. Remind Me of You

CHESTERFIELD SHOW (2-15-50) w AL JOLSON
1. New Ashmoleon Marching Society
2. Happy Times (Wish on the moon)
3. California here I come (Jolson)
4. Al and Bing talk of modesty
5. Yuka Hoola (w Jolson)
6. Whispering (w Jolson)
7. Bye Bye Baby (w Jolson)
8. Robert E. Lee (w Jolson)
9. You're Wonderful

CHESTERFIELD SHOW (2-22-50) w ANDREWS SISTERS, FIREHOUSE FIVE
1. Bibbidy Bobbidy Boo (from Disney's "Cinderella")
2. Wedding Samba (w Andrews Sisters)
3. Have I told You Lately I Love You? (w Andrews Sisters)
4. Yes Sir That's My Baby
5. I Can Dream Can't I (w Andrews Sisters)
6. Sure Thing

CHESTERFIELD SHOW (3-1-50) w BOB CROSBY
1. Quicksilver
2. Chatanooga Shoe Shine Boy
3. Enjoy Yourself (w Bob Crosby)
4. The Old Grey House
5. Whispering Hope (w Bob Crosby)

CHESTERFIELD SHOW (3-8-50) w GARY COOPER, G. CROSBY
1. New Ashmolean Marching Society
2. Why Remind Me?
3. Play a Simple Melody (w Gary Crosby)
4. Dear Hearts (Gary Crosby)
5. My Foolish Heart

CHESTERFIELD SHOW (3-15-50) w DENNIS AND PHIL CROSBY
1. Copper Canyon
2. Sunshine Cake
3. Thanks (Phil Crosby)
4. Bibbity Bobbity Boo (Phil & Dennis)
5. Marta
6. My Foolish Heart

CHESTERFIELD SHOW (3-22-50) w ETHEL MERMAN, HOPALONG CASSIDY
1. Copper Canyon
2. Bye Bye Baby
3. Dearie (w Merman)
4. My Foolish Heart

CHESTERFIELD SHOW (3-29-50) w ANDREWS SISTERS, FIREHOUSE FIVE
1. Wilhelmina
2. You're Wonderful
3. That's a Plenty (Andrews Sisters)
4. Lock, Stock and Barrel (w Andrews Sisters)
5. Candy and Cake
6. Everybody Loves My Baby
7. A Dream Is A Wish Your Heart Makes (from Disney's "Cinderella")

CHESTERFIELD SHOW (4-5-50) w PERRY COMO, ARTHUR GODFREY
1. Music, Music, Music
2. On the Outgoing Time (Como)
3. Making Love Ukelele Style (Godfrey)
4. Candy and Cake (w Godfrey)
5. A Wish Your Heart Makes (w Como)
6. Dear Old Girl (w Como and Godfrey)

CHESTERFIELD SHOW (4-12-50) w MILDRED BAILEY, FIREHOUSE FIVE
1. Candy and Cake
2. Movie Show in the Sky
3. Georgia on My Mind (Bailey)
4. World on a String (w Bailey)
5. Please Don't Talk About Me When I'm Gone (w Firehouse Five)
6. With My Eyes Wide Open I'm Dreamin'
7. Marta

CHESTERFIELD SHOW (4-19-50) w CAROLE RICHARDS, LINDSAY CROSBY
1. Music, Music, Music
2. Lock, Stock and Barrel
3. Bye Bye Baby (Richards)
4. Rag Mop (Lindsay Crosby)
5. Sunshine Cake (w Richards)
6. Old Folks at Home (a.k.a. Swanee River) (w Lindsay)

CHESTERFIELD SHOW (4-26-50) w BEA LILLIE
1. Wilhelmina
2. Baby Say You Love Me
3. Sunshine Cake, Candy and Cake, Bake a Cake (w Lillie)
4. My Foolish Heart

CHESTERFIELD SHOW (5-3-50) w ELLA FITZGERALD, AL JOLSON
(Jolson's last performance with Bing.)
1. The horse told me
2. Chesterfield jingle
3. Stay with the happy people (w Ella)
4. Give my regards to Bdway (Jolson)
5. Rosey (w Jolson)
6. Avalon (w Jolson)
7. Lullaby of Broadway (w Jolson)
8. My old Kentucky home (w Jolson)

CHESTERFIELD SHOW (5-10-50) w MARY MARTIN
1. Stay with the Happy People
2. I'm in Love (Mary Martin)
3. Dearie (w Martin)
4. It Isn't Fair
5. Wait Til the Sun Shines Nellie (w Martin)
6. Whispering Hope (w Martin)

CHESTERFIELD SHOW (5-17-50) w FRED ALLEN               *
1. The Yodel blues
2. Baby won't you say you love me
3. Balled of Homer Tracy (w Allen)
4. It isn't fair*

CHESTERFIELD SHOW (5-24-50) w COMO, GODFREY, HOPE, CROSBY BOYS
(This show was compiled from previous broadcasts.)
1. Music, Music, Music
2. Mule Train
3. Dear Hearts (Gary Crosby)
4. A Dream Is A Wish Your Heart Makes (w Como)
5. Bibbity Bobbity Boo (Crosby boys)
6. Candy and Cake (w Godfrey)
7. Rag Mop (Lindsay Crosby)
8. I'd Baked a Cake (w Hope)
9. My Foolish Heart

\\\\\\\\\\\\\\\\\\ END OF SEASON \\\\\\\\\\\\\\\\\\\\\\\\\\\\\\\\

---