WHERE THE BLUE OF THE NIGHT (MEETS THE GOLD OF THE DAY)
(Roy Turk / Bing Crosby / Fred E. Ahlert)

Bing helped write the lyrics for this song in 1931, and by year's end had adopted it as his theme. He recorded Ol' Blue 3 times for commercial release: first for Brunswick on Nov. 23, 1931, accompanied by Bennie Krueger and his Orchestra; next for Decca on July 20, 1940, accompanied by the Paradise Island Trio; and again for Decca on July 17, 1945, accompanied by the John Scott Trotter Orchestra. Russ Columbo, an early rival of Bing, also recorded the song in 1931 and beat Bing's version onto the charts in Dec. 1931. Bing's recording entered the charts in Jan. 1932, where it remained for 7 weeks, reaching as high as No. 4. Bing's 1940 rendition also charted for one week at No. 27. His mellifluous 1945 version, however, is probably the more famous today.
Watch Bing sing his theme song.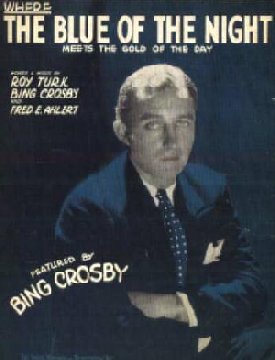 Where the blue of the night
Meets the gold of the day
Someone waits for me

And the gold of her hair
Crowns the blue of her eyes
Like a halo, tenderly

If only I could see her
Oh how happy I would be

Where the blue of the night
Meets the gold of the day
Someone waits for me

(Bing whistles)

Where the blue of the night
Meets the gold of the day
Someone waits for me