MANHATTAN BEACH, Calif. (Feb. 1997) -- Actress Marjorie Reynolds, wooed by rivals Bing Crosby and Fred Astaire in "Holiday Inn'' and later the long-suffering wife on television's "The Life of Riley", died Feb. 1, 1997, at age 79.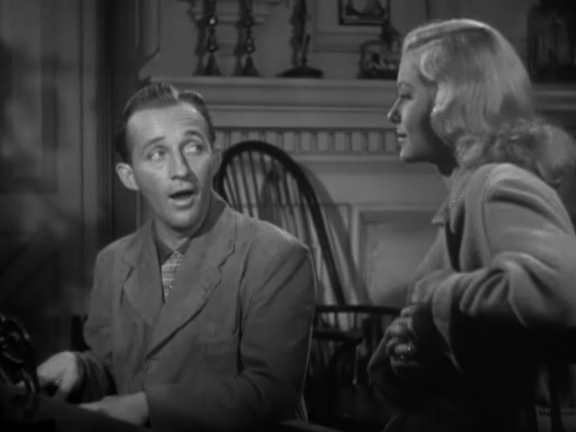 "Holiday Inn," the 1942 film that featured Crosby singing White Christmas, crowned Ms. Reynolds' hard-won place in Hollywood. She was offered the role of the female lead only after attempts to sign Mary Martin and then Rita Hayworth failed. Her singing voice in the movie was dubbed by Martha Mears (1910-1986). The following year Ms. Reynolds co-starred in Crosby's movie "Dixie," where she competed with Dorothy Lamour for the affection of Bing's character, songwriter Dan Emmett.
In 1944 she starred in the Fritz Lang drama "Ministry of Fear'' opposite Ray Milland. Later, she hammed it up in the comedy "Up in Mabel's Room'' opposite Dennis O'Keefe, and danced in another musical, "Bring On the Girls,'' with Eddie Bracken.
As Peg Riley, Ms. Reynolds became a familiar face in American living rooms. She played the role opposite William Bendix's Chester A. Riley, aircraft plant worker and lovable bumbler, from 1953 to 1958.
After the Riley television series, Ms. Reynolds appeared in the films "Juke Box Rhythm'' in 1959 and "The Silent Witness'' in 1962, but largely abandoned her acting career.
She was born Marjorie Goodspeed in Buhl, Idaho, and moved to Los Angeles with her family when she was a child. She began acting in her childhood under the stage name Marjorie Moore.
She changed her screen name after marrying production manager and screenwriter Jack Reynolds. After they divorced, she married film editor Jon M. Haffen.
Ms. Reynolds is survived by a daughter.
---